Affiliate Disclosure: If you buy something through some of the links on this post, you won't pay any extra, but we'll get a small commission. This helps us keep things running. Thanks for your support!
---
Beyblade X's release in Japan in summer 2023 has given Bladers ample opportunity and time to experience an entirely new way to play the game of Beyblade. Throughout the summer multiple releases made their way across shelfs and online carts. Each has demonstrated varying degrees of competitive viability, as we've discussed in our Beyblade X Buyer's Guide.
BX-15 Start Leon Claw 5-60P is one of these releases, and the subject of our curiosity in this article. In addition to the include gold and white Winder Launcher, it introduces three brand new parts into the Beyblade X series: the Leon Claw Blade, 5-60 Ratchet, and Point Bit. We will do a part-by-part teardown, comparing it to its contemporaries, seeing where it falls on the competitive viability spectrum.
Product Details
Brand: TAKARA-TOMY
Product Code: BX-15
Product Contents:

BX-15 X Winder & Launcher

Series: Beyblade X
Part Weights
Additional Notes:
Most tests in this article were done in the BX-10 Xtreme Stadium using two Bladers.
Matches saw both combos switch out Ratchets and Bits at the half-way point to account for part performance variation, as well as side switching and Blader switching.
Launch style was a basic hard launch parallel to the stadium unless specified.
Article written primarily by Dan. Additional writing, testing, editing, and photos by Blader Kei.
Finally, if you buy something through some of the links on this post, you won't pay any extra, but we'll get a small commission. This helps us keep things running. Thanks for your support!
---
Leon Claw Blade Review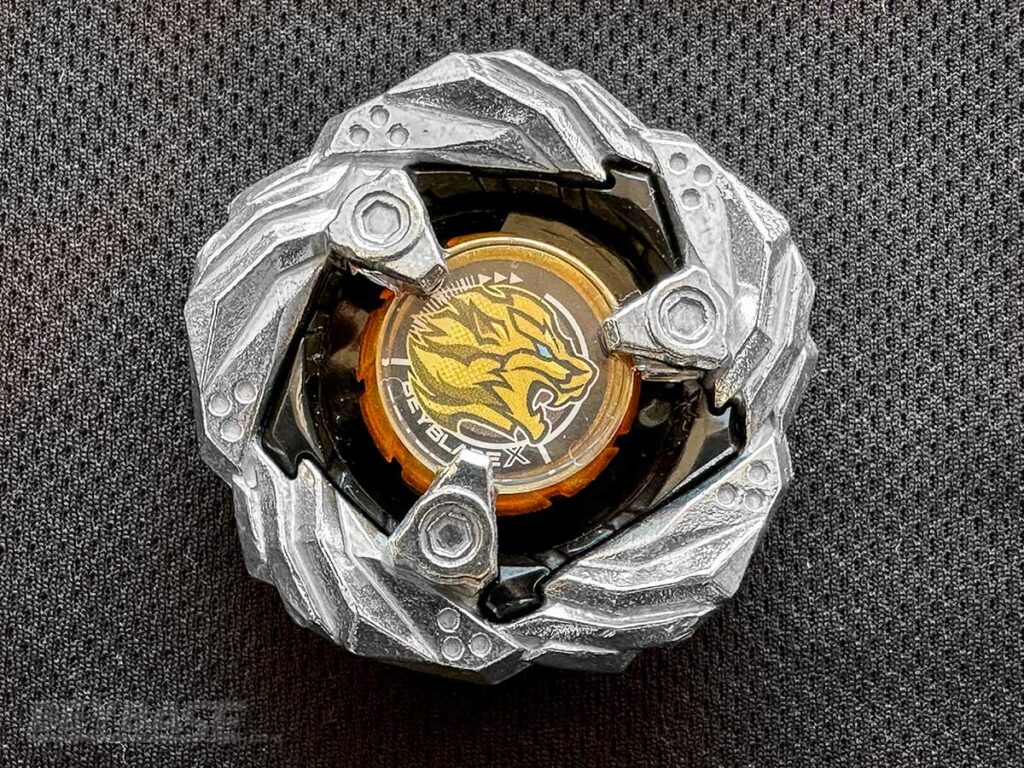 The Leon Claw Blade is a uniquely shaped part – a five-pointed hunk of metal with a very rounded yet angular design. It possesses both major vertical and minor horizontal projections that lead one to believe high recoil is in its nature compared to more conservative Blade designs.
What is different about Leon Claw compared to other X Blades?
As mentioned the Leon Claw Blade has quite a few contact points and within each of the five there are different angles at which it projects. Beyblade X has, for the most part, seen mostly circular (à la the Wizard Arrow Blade) or spiked (à la the Dran Sword Blade), yet Leon Claw seems to be a mixture of both.
Its deep upward projections make for points of very high Smash Attack while its shallower horizontal points are reminiscent of Hells Scythe. Does Leon Claw manage to perfect this balance of elements is our main question.
Is the Leon Claw Blade good for Attack type Beyblades?
Given its aggressive design and intended counter-attack purpose, we decided to see how Leon Claw does in a full attack-oriented setup. Does it flesh out the existing top-tier Attack type Blade roster dominated by the likes of the Shark Edge Blade, Dran Sword Blade, and Cobalt Drake Blade?
Leon Claw Blade vs. Hells Scythe 4-60B
We decided the first big test for Leon Claw's attack prowess was going to be a great all-around combo in Hells Scythe 4-60B – shortened to HS4-60B here.
This combo is excellent in terms of raw stamina and counter-attack potential, though it does do a bit weaker into pure attack combos compared to more specialized combos utilizing the Wizard Arrow Blade or Knight Shield Blade.
For Leon Claw it made most sense to put it on 5-60LF to give its vertical projections as much chance to make contact as possible. Here is how it went:
Though it doesn't really need to be pointed out, this was a particularly poor showing for Leon Claw. In general it lacked the consistency or raw Smash Attack potential required to push the Hells Scythe combo beyond the Xtreme Line and secure knock-outs of any kind.
For reference we decided to do a benchmark test using a worn Dran Sword Blade instead of Leon Claw:
A worn Dran Sword Blade is known to perform noticeably worse compared to a Dran Sword in mint condition due to the contact points being less ground down and not as potent, yet the worn Dran Sword benchmark performed much better than our mint Leon Claw as an attack combo.
While in some cases Leon Claw was able to get the perfect point of contact on Hells Scythe to earn a knock-out, and such power would also be enough to earn an Xtreme Finish too, its ability was far too inconsistent even into a Blade that has its own built-in recoil for Leon Claw to work with.
In general we think that Leon Claw's light weight (low 31g) and numerous but imperfect contact points make it a relatively weak choice for raw attack combo builds.
Is the Leon Claw Blade good for Stamina type Beyblades?
With how disappointing Leon Claw's attack capabilities were, there is hope that perhaps it is better suited to a Stamina build, where a high recoil bully-style Blade can shine against more passive opponents.
Leon Claw vs. Wizard Arrow: High Needle Bit Mirror Match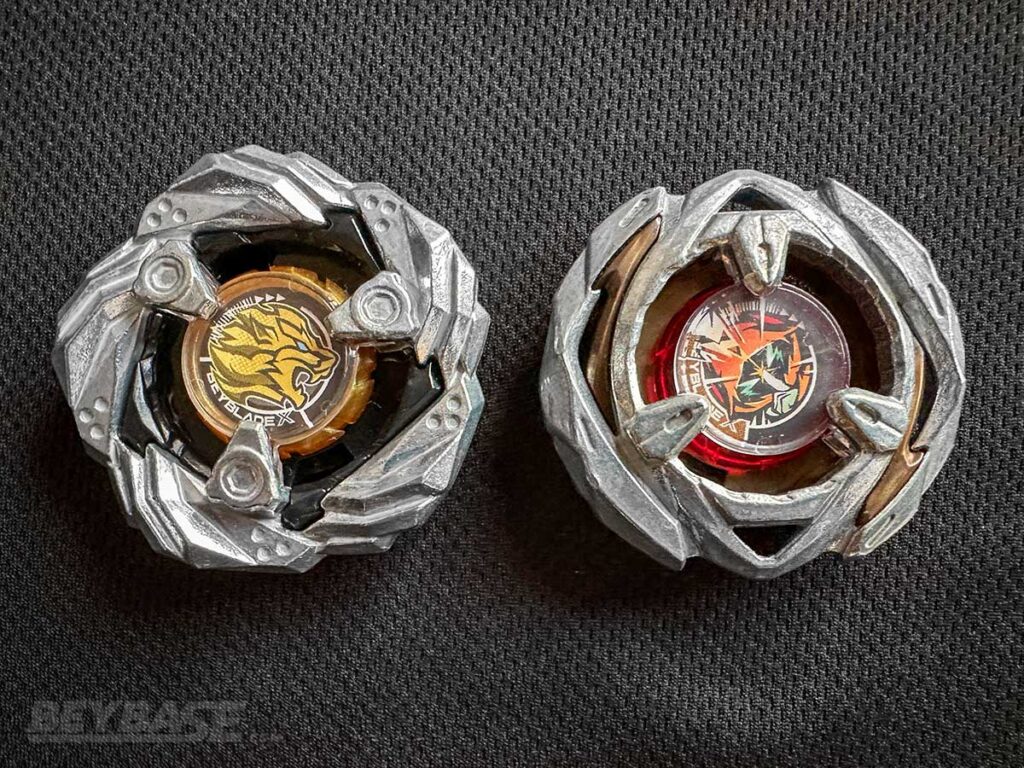 Apart from a few fortunate outcomes for Leon Claw, in general we saw Wizard Arrow take control of the matchup, handily achieving out spins with consistency. Leon Claw lacked the required Smash Attack to generate knockouts save for the very first contact, making it an uphill battle against a Blade like Wizard Arrow that has good Stamina.
Leon Claw vs. Hells Scythe: High Needle Bit Mirror Match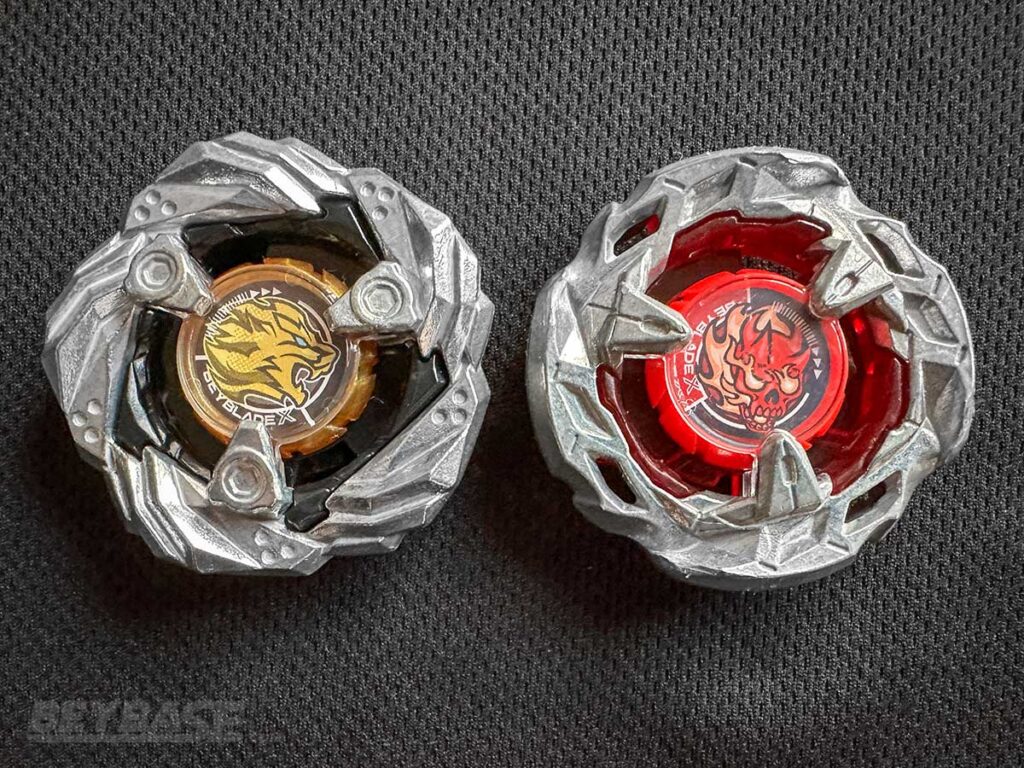 Here things were definitely interesting. In a way Hells Scythe Blade and Leon Claw Blade play the same game of high recoil bullying, and while Leon Claw didn't have a definitive edge particularly in terms of pure stamina potential, going toe-to-toe with Hells Scythe is no small feat.
In fact, looking at the points scored here rather than battle wins, Leon Claw was the technical winner with 10 points to Hells Scythe's 6. That being said, it is worth noting that the Hells Scythe Blade used was worn; Hells Scythe in this state do tend to perform slightly worse than mint ones. They aren't able to dish out hits as well as a mint one because the contact points are rounded off to a degree.
Regaedless, overall from these mirrors it is clear that while Leon Claw is not a bad pick into another high recoil Stamina combo, it suffers greatly against true low recoil Stamina like Wizard Arrow Blade due to its inherently low stamina potential.
Since Wizard Arrow was out of the question we decided to compare Leon Claw against Hells Scythe again, but this time using different Bits on each combo to see how performance varies.
Leon Claw vs. Hells Scythe: Non-Mirror Stamina Performance
It became clear that not only is the Leon Claw Blade ill-equipped for Attack-based combos, but it lacks the endurance or stability found in Hells Scythe to be a meaningful Stamina type across different Bit/Combo options. It achieved just one outspin against Hells Scythe in all three of the sets outlined above.
Leon Claw can definitely bully its opponent with its own recoil, but it couldn't actually outlast Hells Scythe with any consistency at all here, meaning its recoil is doing much more harm than good when outside of a pure mirror match where there can sometimes be some hope for it.
In general we found Leon Claw to be lacking despite a good performance here and there, and would advise against its use as a pure Stamina type.
Is the Leon Claw Blade good for Defense/Counter-Attack type X Beyblades?
Since Leon Claw's Attack and Stamina capabilities are shaky at best, the last serious archetype to look into was Defense.
Defense in Beyblade X, as in a few other generations, extends beyond docile and staunch, and into aggressive, so we tested both aggressive mobile hybrid combos on Taper as well as docile Needle options.
First up was traditional stationary Defense, using the Needle Bit. We also chose to launch Leon Claw at an angle at all times as to restrict its early match "hitbox" to just the upward protrusions of the Blade.
This is beneficial not only because this is by far the toughest part of the Blade, but also because its shape may allow for a Ratchet Burst Finish on unsuspecting opponents.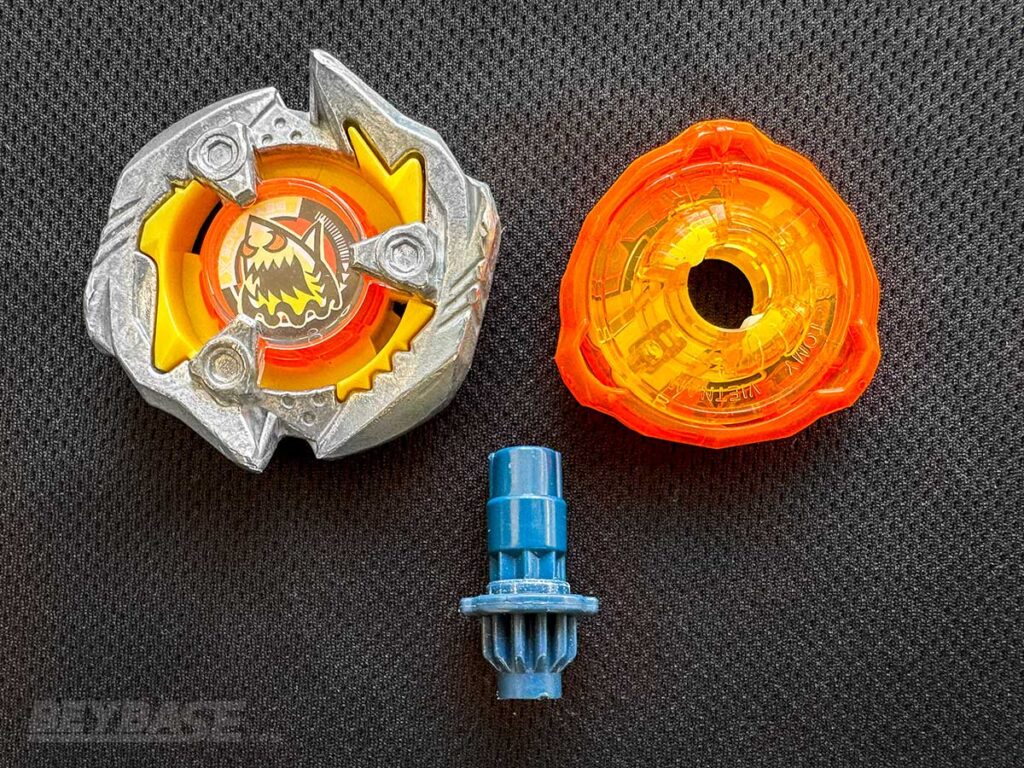 By tilting Leon Claw over we did open ourselves up to the potential outspin from Shark Edge's monstrous Smash Attack, but overall Needle Bit managed to stabilize and outspin the attack combo well. Of all the combos so far, this one feels the most straightforward to use and see some success with for Leon Claw despite what the point values may say.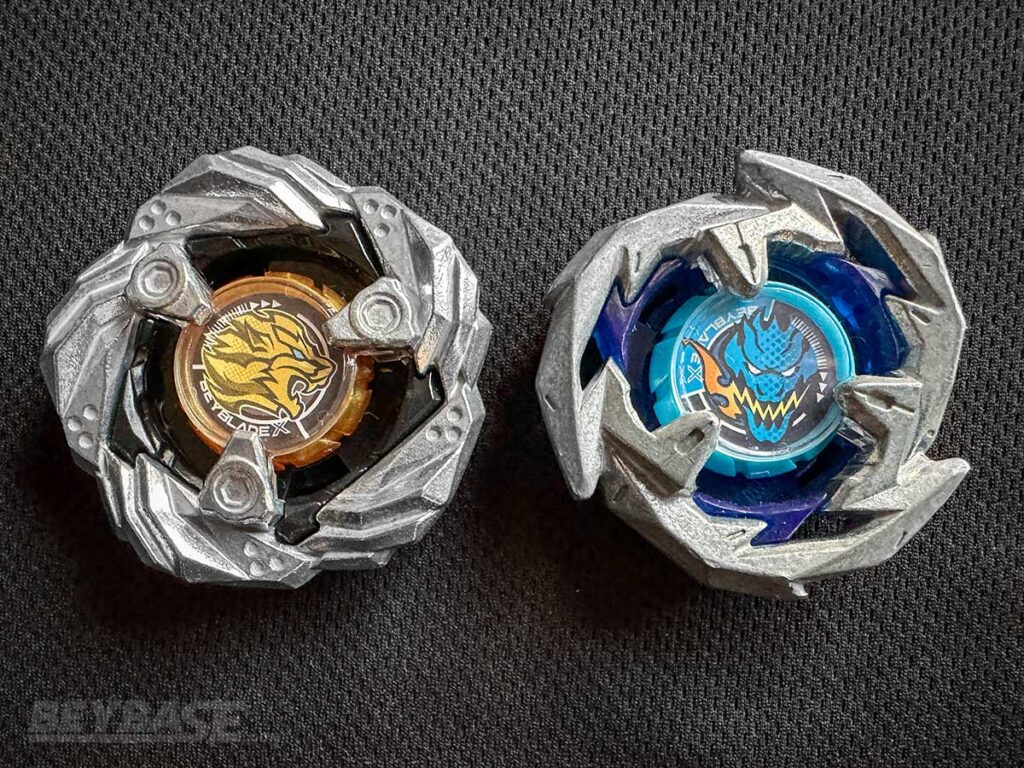 Here we saw a lot of back and forth, and while Leon Claw didn't drown against our worn Dran Sword combo, it certainly didn't have an edge. Compared to the likes of Knight Shield that can also find a home in a similar combo setup and find decent success with low effort, Leon Claw is much trickier to use.
The Verdict
The Leon Claw Blade leaves much to be desired in all fields. While its design gimmick is certainly entertaining and a good way to practice exposing different parts of a Blade with differing launch techniques, Leon Claw doesn't perform with enough consistency to feel like a dependable option in a competitive setting.
---
5-60 Ratchet Review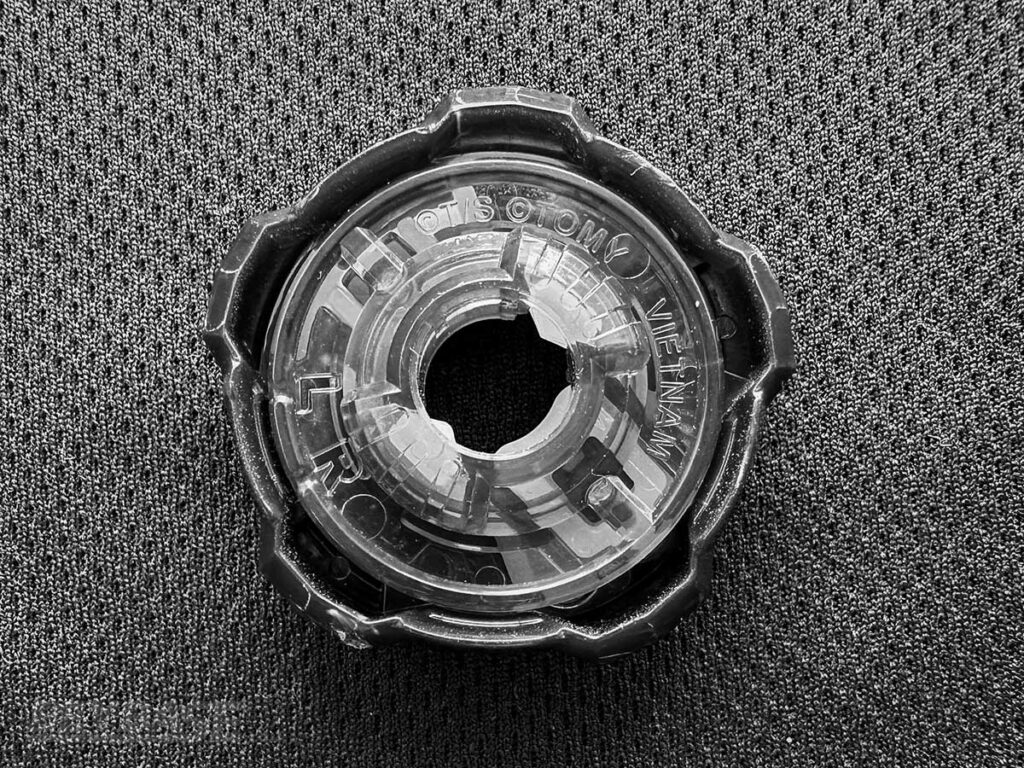 How is the 5-60 Ratchet Different From Others?
As its name implies, the 5-60 Bit is a 5-pointed, 60mm tall Ratchet featuring the same lock-mechanism strength as other 60mm Ratchets.
Prior to Leon Claw's release there were only two single 60 height Ratchet options, so with its inclusion there is finally a chance for a complete 60-height Deck in a competitive setting with no repeating parts or overlap.
Additionally, the 5-60 Ratchet's outer piece that rotates to lock it into place on Beyblades is thicker than other Ratchets released up to this point and overhangs lower towards the stadium floor.
How Burst Resistant is the 5-60 Ratchet?
As mentioned, the locking mechanism is no different than existing 60mm Ratchets, so noticeably weaker than 80mm Ratchets to offset their lower height making Ratchet contact less likely.
To test the Ratchets resistance we decided to do a benchmark mirror match that featured one of the 60 Height Ratchets on Needle and the other on High Needle. They are very docile Bits that ensure contact is common but knock-outs are not.
The idea behind this is that the 60 Ratchet that is on High Needle is more likely to make direct contact with the opposing Blade, so greater burst chance is expected through the course of a match.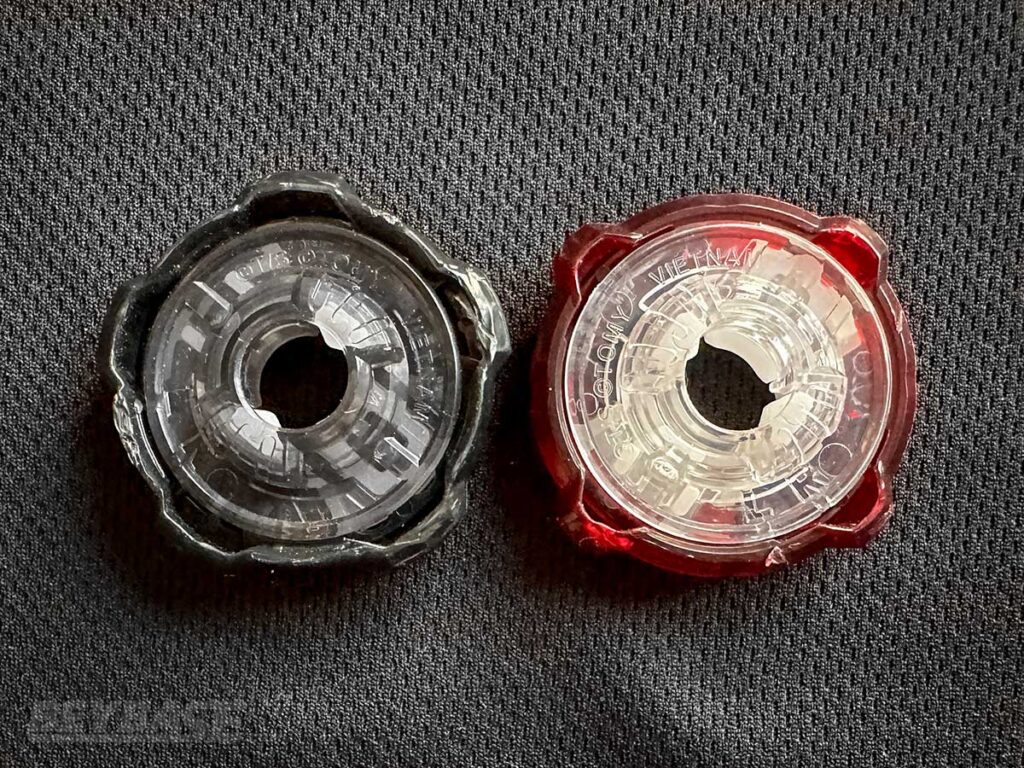 We compared our 5-60 to 4-60 to see if one or the other was more burst prone from above, basing results on Bursts vs. Completed Matches (no burst conditions met):
In this scenario the 5-60 Ratchet was on the taller Bit, meaning that we did expect a discrepancy in burst likelihood, since there is an innate height-contact disadvantage. The outcome was only a 1 in 10 match difference where the 5-60 Ratchet Burst and the 4-60 Ratchet did not, in spite of many great hits on both sides.
Here we swapped the Bits, putting the taller and hypothetically disadvantageous setup on the 4-60 Ratchet. What we found was that while compared to the previous set of tests the HN Bit did increase 4-60 Ratchet's likelihood of Bursting, the 5-60 Ratchet still Burst on the advantageous lower setup.
None of this is a guarantee that 5-60 is more or less burst prone than 4-60, but from these tests we can assume that at the very least the two are comparably burst prone, if not skewing just a bit towards 5-60 which did Burst in the N Bit setup where 4-60 did not.
Is the 5-60 Ratchet good for Defense type Beyblades?
Given its heavy weight and low profile, we considered the idea that among existing Ratchets, 5-60 is the most defensively oriented of the bunch. Naturally we have to put that to the test, as even minute alterations can have meaningful consequences in competitive settings.
Here we found that indeed 5-60 performed a hair better than its 4-sided lighter counterpart, but these results are far from conclusive, given the small sample size alone.
What we can be sure about, though, is that it is an increase in weight and does not hinder a Defense oriented combo into Attack in any meaningful way. For this reason, despite our results not being incredibly concrete, it is a technically superior choice for Defense based on weight alone.
Is the 5-60 Ratchet Good for Stamina type Beyblades?
While it might not seem like Ratchets would make a huge difference in stamina at first glance, the reality is that they do. Players of Metal Fight Beyblade will be well aware of the immense factor the varying height of Tracks played in determining what Beyblade might win a battle by Spin Finish.
Thus far in Beyblade X, generally speaking, it appears that 80mm height Ratchets tend to have an edge over 60mm height Ratchets. There hasn't been much variation in stamina potential among Ratchets of the same height. But this appears to have changed with the release of the 5-60 Ratchet (and presumably the 5-80 Ratchet too).
Competitive players to this point have tended to lean towards usage of the 3-60 Ratchet when they want the added safety of being at a lower height and (theoretically) reduced bursting potential of the three nubs around its perimeter versus the four of 4-60. But what both of these Ratchets had in common was that towards the end of any battle when scraping the stadium floor they tended to "jump" slightly when skipping over the nubs on their perimeter. Arguably, you could say that this effect might be lessened on 3-60, but it's such a minor difference that it is hard to perceive visually.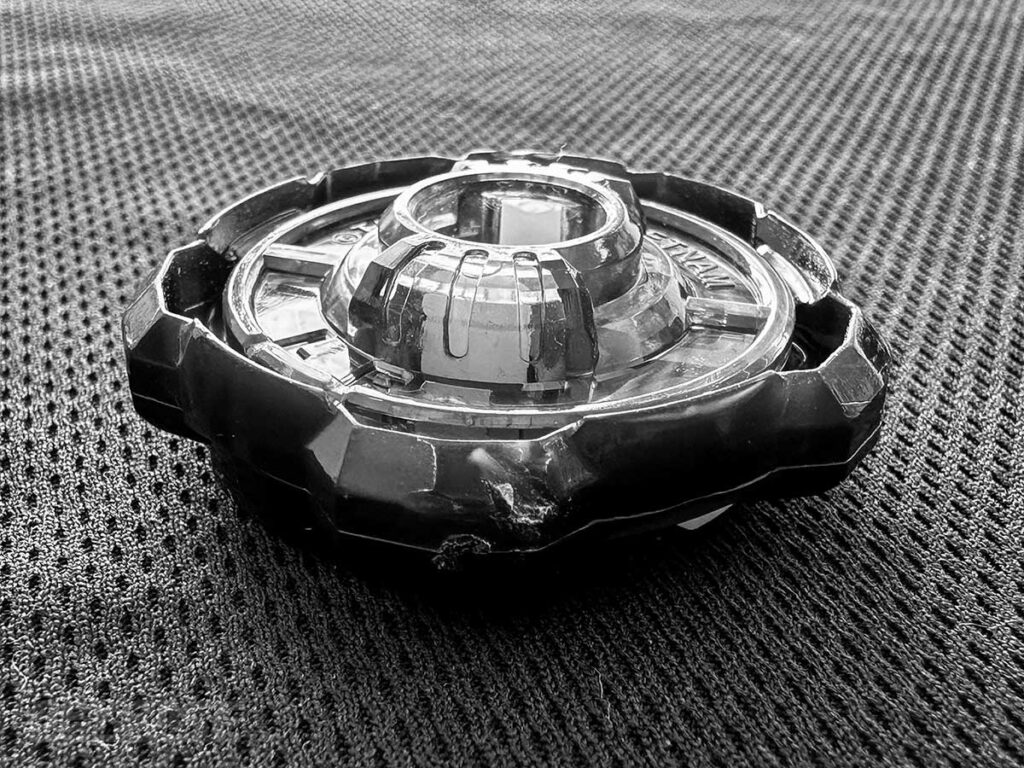 The 5-60 Ratchet is different. The bottom part of the locking piece around its perimeter is smooth and due to its lower profile compared to 3-60 and 4-60, it will scrape the stadium floor slightly–and visually perceivably–less erratically. We weren't able to measure the effect of this in battle, but it seems safe to assume that if all else is equal, 5-60 would spin ever so slightly longer than an opponent wielding the 3-60 or 4-60 Ratchets.
This might lead you to believe that 5-60 is the definitive best option for stamina among 60mm height Ratchets, but unfortunately it might not be that simple.
In preparation for the recent Sendai and Fukuoka Beyblade X Xtreme Cup G2 tournaments in Japan, Blader Kei spent some time optimizing and balance tuning his Hells Scythe on Ball. In doing so, he compared his best Hells Scythe 3-60B with his best Hells Scythe 5-60B in terms of solo spin time. Here are the results:
Both copies of Hells Scythe on Ball experienced a significant 10 second plus reduction in solo spin time when using the 5-60 Ratchet.
How you choose to take this information depends on your play style and strategy. If you are aiming for a last second spin finish, the 5-60 Ratchet should be better. If you're aiming to maintain a higher spin time to accomplish a different outcome 3-60 should be better. Stamina battles in Beyblade X are often not as straightforward as some past series like Beyblade X where a Spin Finish is all but guaranteed, so what might be advantageous is up for debate.
The Verdict
The 5-60 Ratchet is an excellent low-height Ratchet that can complement any combo or Deck – like all 60mm Ratchets released thus far. It is, on a technical level, the best choice for Defense oriented combos that want some extra weight for free.
---
Point Bit Review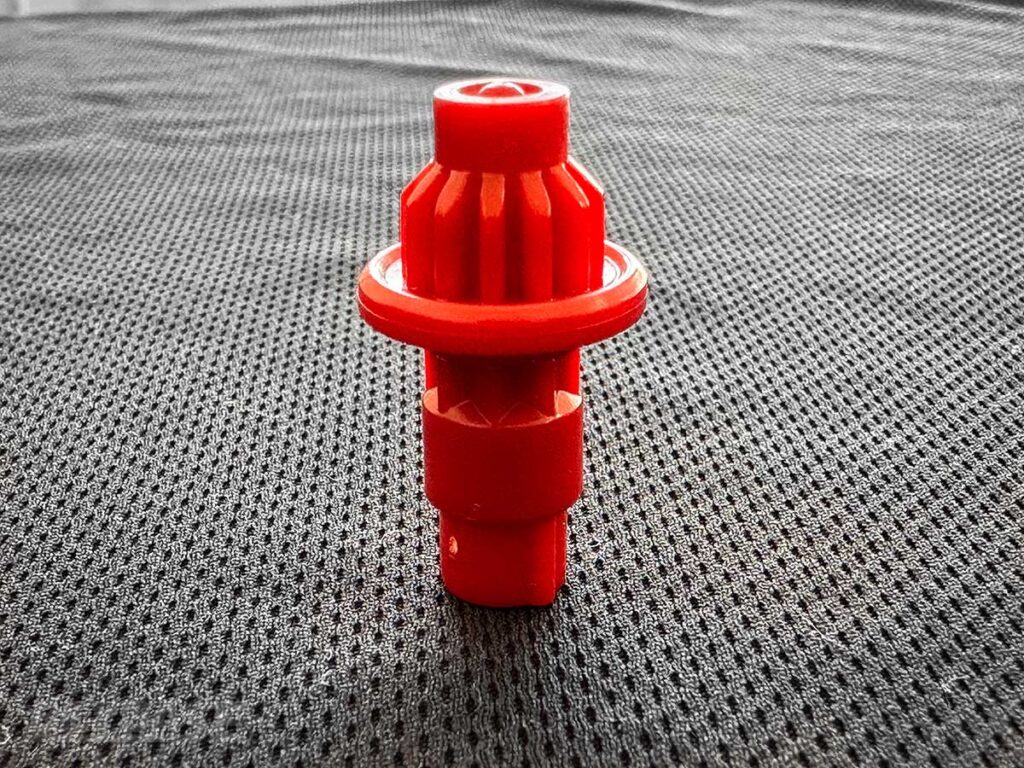 The Point Bit is easily one of the more intriguing Bit releases so far as its purposes and gimmicks are similar to Leon Claw Blade, a mishmash of both offensiveness and passiveness depending on launch style. This has the ability to open up a lot of doors for creative players.
The Point Bit features the height of Ball-style Bits with the burst resistance of the aggressive Flat-style Bits, really bringing home the fact it is a mix of both styles of play.
Is the Point Bit Good for Defense/Counter-Attack Type Combos?
After our Leon Claw testing led us towards the belief that this style of combo was its niche, we extended this thought to its Bit, Point.
We decided to use the Point Bit on some of the more common Defensive/counter-attack oriented Blades to see how they hold up against a powerful smash Attack combo like Dran Sword on Flat Bit:
Here we saw results not entirely different from the earlier Leon Claw on Taper matchup, overall it seemed like Knight Lance's recoil was a bit more of a liability than we'd like, as shown by numerous Dran Sword knock-outs.
For this reason we switched to the less aggressive Knight Shield on Point Bit: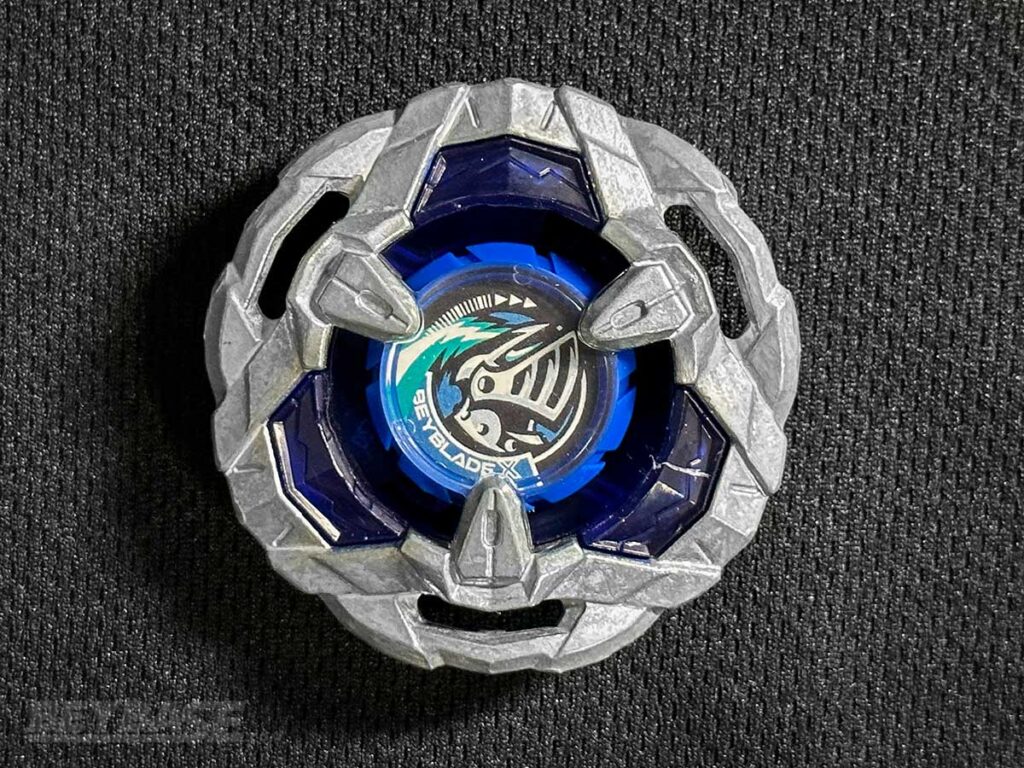 These are the kinds of results we were hoping for. While Dran Sword's worn state certainly skews the results a bit, Knight Shield's performance on Point epitomizes its power as a mobile Defense Bit, earning a variety of win conditions and consistently repelling knockouts and outspins.
We also found that Point Bit was a huge boon to Knight Shield's outspin potential since there were relatively less fears of self-inflicted knockout when launching very hard compared to something like the Taper Bit.
Is the Point Bit Good for Attack Type Combos?
While it is clear that Point Bit is an great choice for Defensive Blades, balancing aggression with decent Stamina to thwart oncoming attacks, we thought Point also had the ability to be used for pure Attack as well given its decent speed and security.
Of course we tested it out on the quintessential early X Attack Blade, Dran Sword:
These results are very interesting. On the surface the Point Bit was just as likely to win as the Flat Bit, even down to the same kind and frequency of win conditions achieved. What these results don't entirely show is the added safety experienced when using the Point Bit.
In our benchmark Hells Scythe achieved 1 Knockout victory that was self-induced, this is despite a fair amount of practice to reduce the likelihood of self-knockouts on our part.
On the other hand, the Point Bit easily stayed in the arena without much thought and in spite of wildly different launch techniques being used – sometimes tilted for aggressive first movement, sometimes flat for more stationary play.
This summarizes our thoughts on the Point Bit, a great alternative to the Flat and Low Flat Bits without the added risk of self-knockouts. While of course these are still technically possible, the launch power threshold for Point is noticeably higher than Flat or Low Flat.
This makes the Point Bit very attractive to those who are fine with a slight tradeoff in speed and power for similar if not identical performance with added safety.
The Verdict
The Point Bit is an incredible part, among the best Bits for both Attack and Defense uses. The flexibility of the Bit makes it a staple for fluid deck building and hard to pass up, especially for newer Attack type users or Defense enthusiasts. Given the right Blade in the future, it may also see use as a true Balance type Bit as well. It cannot be ignored at this point.
---
Should You Buy BX-15 Starter Leon Claw 5-60 Point?
Yes, we recommend buying BX-15 Starter Leon Claw 5-60 Point. It is a cost-effective introduction to the 5-60 Ratchet and the Point Bit, both of which are strong, competitive parts.
Despite the fact that Beyblade X has really only just begun, this release and its parts highlight something very important in competitive Beyblade: enduring parts. Very little in a new series is future-proof, especially early on, but the parts that normally see continued use are ones that occupy a niche very well.
There is an excellent chance that a Bit like Point meets that criteria given its great balance-type characteristics that can find a use at any point in the Beyblade X meta, especially if the game continues to be so aggressively-leaning.
In the case of 5-60 Ratchet it is among the best right now given both its height and weight, easily rounding off a low-standing Deck of 3. It is a must-have part for the immediate future.
Finally the awkward Leon Claw Blade. It is for all intents and purposes a counterattack or "anti-Attack" Blade. It lacks the consistency and power of true Attack Blades to secure knock-outs frequently or the Stamina to go head-to-head in an endurance battle. It is far from bad, but very difficult to use, with its ideal use cases being quite narrow.
Final Score: 8.5/10
---
What Do You Think of BX-15 Starter Leon Claw 5-60 Point?
If you're thinking of picking up Leon Claw 5-60P be sure to let us know below what you think about it!