Overview
Heads up: If you buy something through the Mall Of Toys or eBay Partner Program affiliate links on this article, you won't pay any extra, but I'll get a small commission. This helps me keep things running. Thanks for your support!
---
Introduction
Over the United States Thanksgiving long weekend (November 29 – December 1, 2019), the Los Angeles Beyblade community hosted Beyblade West, a series of three worldbeyblade.org tournaments which attracted a variety of the most competitive Bladers in North America.
If you're interested in learning about the top lessons I learned through my experience at 2019's most competitive Beyblade tournament, read on to find out more!
I talk about:
The weekend kicked off with a Metal Fight Limited event on Friday, followed by the marquee Burst Format event on Saturday, and finally the Burst Classic Format event finished things off on the Sunday of the long weekend.
This trip for Beyblade West was actually my second trip to California! I first went in February 2018 for Kei vs. The World: The Wakanda Trials in Los Angeles.
Check out my tournament report for that event here.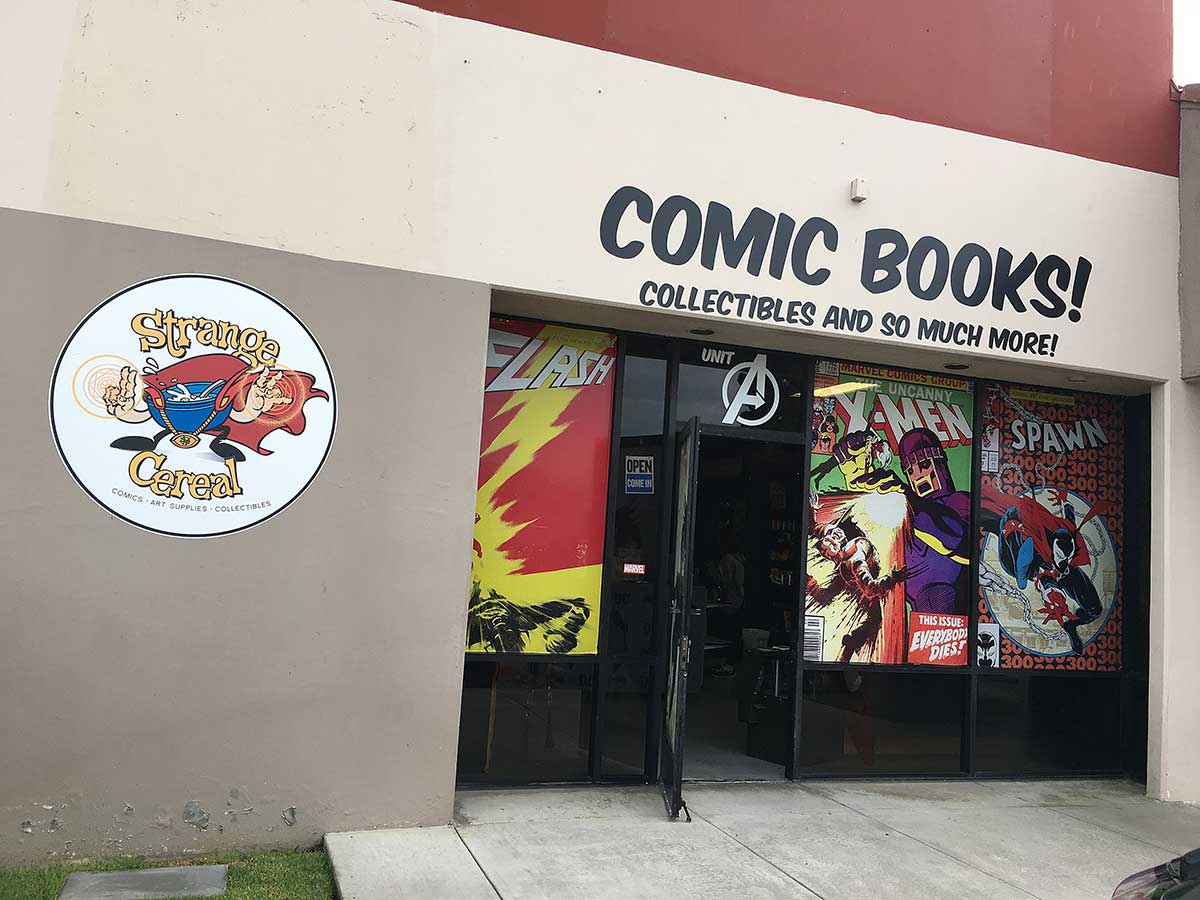 This report will focus on the Burst Format event held at Strange Cereal on November 30th, 2019 and hosted by JoJo [Jp0t].
Check out my recent interview with JoJo [Jp0t] to learn more about how this event came to be as well as her history with the Beyblade community, and more!
Event Details
Date: November 30th, 2019
Location: Strange Cereal – Huntington Beach, CA
Format: WBO Burst Format (Rulebook)
---
Preparation
Self-Imposed Pressure
Going into this event, I placed a lot of pressure on myself.
Reason being, I hadn't won a tournament since FISTS WON'T DO IT! back in July 2019 and hadn't placed in the top three at an event since August:
The above record might seem decent–I did make the finals in most of the events, after all–but it simply isn't acceptable to me.
In Beyblade there is inevitably an element of luck involved and you could attribute some aspects of my losses to that, but as a trend starts to emerge, clearly the issue becomes less about luck and more about the player.
I won't dive in detail to aspects of specific matches at each of the above events but suffice to say, some of the key issues I identified were:
1. Tipping too far into the direction of choosing something "fun"/unexpected
Rather than being serious about what would be required to win, lately there have been several cases where I've chosen combinations that are "fun" or unexpected.
I did this in the final against 1234beyblade at ALTERNATE BEY DIMENSION', choosing combinations using things like Bullet and Flare.
The battle ended up being extremely close and I did make a critical selection mistake near the end of the battle, but there was some luck involved that benefited me too.
This streak I've been on lately made me really question what my goal is in entering Beyblade tournaments. Do I want to have fun in an unserious way? Or fun in a serious way? Do I want to win?
Choosing combinations which are fun or expected is certainly a valid strategy in specific situations–and perhaps against a very strong blader like 1234beyblade it was valid and I am being too critical of myself–but it can be hard to define the line between something which is fun but a legitimate choice that will help you win and something which is fun, but not really effective enough.
In the end, there's a reason certain combinations are thought of as being as at the top of the metagame. It's because they win. Plain and simple.
I've struggled a bit lately trying to diverge from them because it felt useless to play mirror matches.
I wanted to find something combination-wise which could give me an edge over everyone else, but in several instances maybe I've pushed things too far.
That said, to be clear: embracing a spirit of experimentation is a positive quality and I don't want to discourage others from it.
But perhaps one of the marks of a great player is knowing how and precisely when to walk the path well-traveled or when to take a step outside the box into the unknown.
… as a trend starts to emerge, clearly the issue becomes less about luck and more about the player.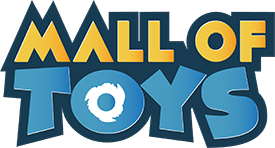 Sponsored: Order the
newest Beyblades

at malloftoys.com!
---
Heads up: If you buy something through Mall of Toys, you won't pay any extra, but I'll get a small commission. This helps me keep things running. Thanks for your support!
2. Aiming for Perfection vs. Aiming for a Top 3 Finish
It dawned on me that there is a inherent difference between aiming for perfection at a Beyblade tournament and aiming for a top three finish.
The worldbeyblade.org ranking system as it stands now encourages perfection inherently because every loss means you will lose points. And as a highly ranked player, it means I will always lose more points than I can gain.
And as everyone knows, perfection is unattainable.
Between July 2018 and June 2019 I got the closest I ever probably will to "perfection": 77 wins and 10 losses (89.5% win rate), with three consecutive tournaments undefeated during that span.
But even this isn't perfect. You can go undefeated in a Beyblade tournament from time to time, but perfection over time simply isn't possible.
So, I wondered, how should I deal with this reality?
I decided that I always will try my best to win … but maybe what really matters is the ability for a player to simply win tournaments.
You don't need to be perfect to win a tournament, and in fact, I would say that anyone who is a champion probably understands the value of loss better than anyone else.
With this in mind, the way in which one approaches Beyblade tournaments becomes much different. You care a little bit less about losing a match or two and more about how you can get to the finals of an event and to the top three.
I would say that anyone who is a champion probably understands the value of loss better than anyone else.
3. Losing Confidence in Attack Types
Attack types have been stronger than they ever have been in Beyblade Burst throughout 2019, yet ironically, I found myself losing confidence in them over this summer.
Attack types previously required more precision and skill. This made them difficult to use for anyone but the top players. However, the barrier to entry was lowered considerably with the release of Judgment. This has been both a blessing and a curse.
When you consider my extremely high win rate between July 2018 and June 2019–while there are other factors to consider–it's interesting that this period lines up pretty closely with the release date of Xtreme' with Shadow Amaterios (August 2018) and Judgment Joker (end of May 2019).
It seems to support the idea I've had that the lowered skill cap for Attack types beginning with the release of Judgment has made it more difficult for players to manufacture skill-based advantages over opponents because there are more attack vs. attack and high recoil situations now. Although, I will say that after the initial rush of Judgment and Zwei combinations over the summer, I have seen their usage at least in the first stage be reduced thanks to things like Lord.
I've been very well aware of what the metagame is like throughout the year and actively tried to find ways to counter it, but each time fell short when it mattered the most.
And it was ironic that in most cases it was due to a regression in my launching ability with them since I had become more apprehensive about using them due to their popularity (since attack vs attack matches are a bit of a toss up).
I placed a lot of emphasis on correcting this over the past few months and have been able to get myself back to a respectable level of confidence.
Pre-Tournament Scouting Report
To prepare for this event in particular, because there was going to be many players from different communities attending that I either had never played before or hadn't played in a long time, I decided to put together a scouting report utilizing information from the WBO's Winning Combnations data.
The report included as much information as I could find about players attending Beyblade West so that I could at least get a feel for the types of combinations they like to use.
The intel garnered from this ended up being pretty accurate in the matches I ended up playing against people who were on it.
This, combined with observation during the event itself was pretty helpful!
If anyone is interested in getting a copy of the template, let me know and maybe I'll post it or send it out to my newsletter subscribers in the future.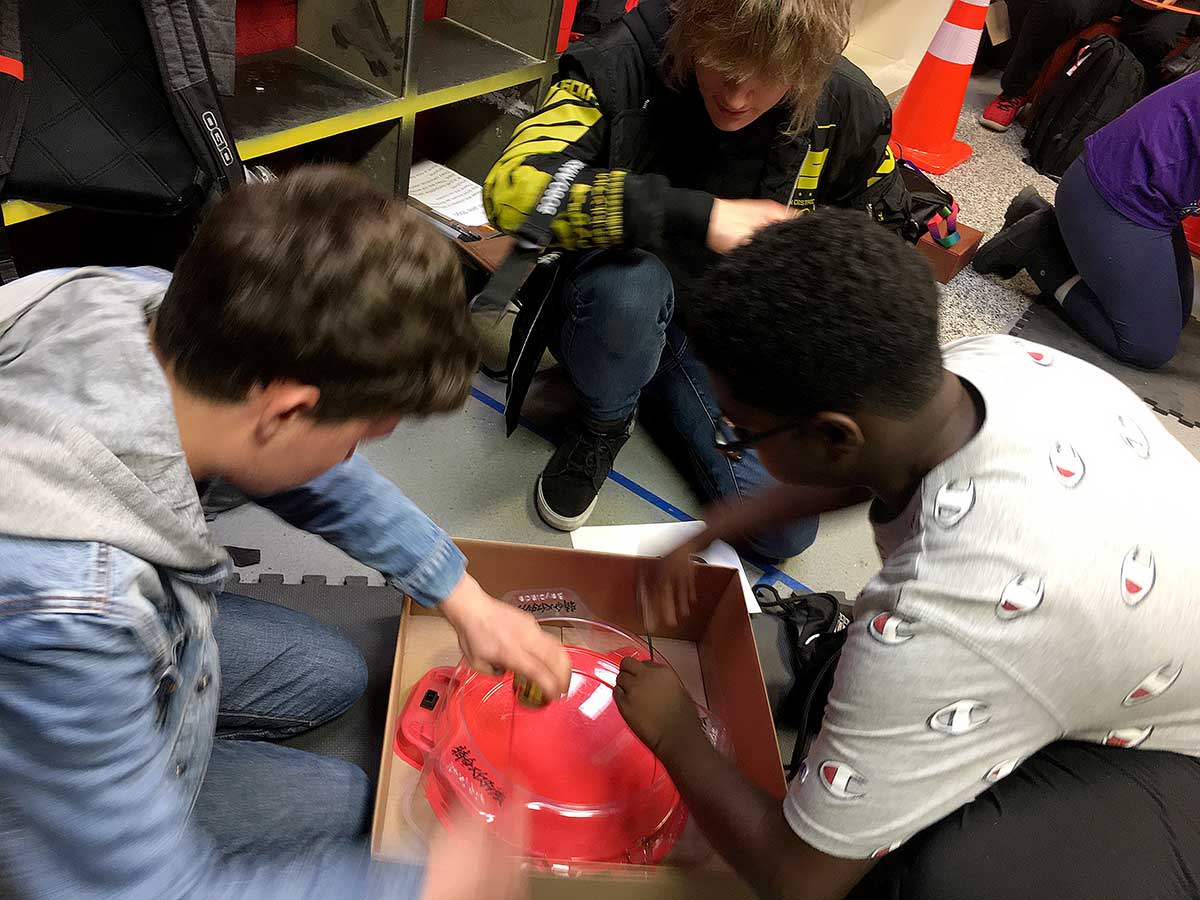 Pre-Tournament Testing
One of the things I was really searching for before this event and also αpocalypse was a true defence type.
It didn't feel like there was much being used lately that would be considered anything other than a stamina type or attack type.
I had enjoyed using TL.Cn.Ω 烈 in testing, and tried it at αpocalypse, but didn't end up getting to actually using it against an attack type, losing instead to originalzankye's Knockout Atomic combo by OS.
The lack of opposite spin proficiency against even Atomic put me off a bit from the combo, so I start experimenting more with Keep'. It was interesting for its ability to withstand hits but also OS same-spin Xt+ combinations.
I also had Unite' in mind for certain anti-attack situations as well.
Other than this, I was feeling good about Tact on Bearing for stamina because it seemed to me that Xt+ was less popular in US than it was in Canada (so I didn't have to worry as much about losing to a same-spin Xt+ combo). Tact also seemed to be more resistant to KOs than Lord in my testing, although don't quote me on this haha.
And after having spent a lot of time practicing with Attack types, I was feeling good about Judgment Diabolos 0 Glaive Xtreme' as my go-to all purpose combination.
---
Tournament Management
One of the things which drew me to Los Angeles for Kei vs. The World: The Wakanda Trials in 2018 was due to the continual expansion and establishment of their community as one of the most active on worldbeyblade.org.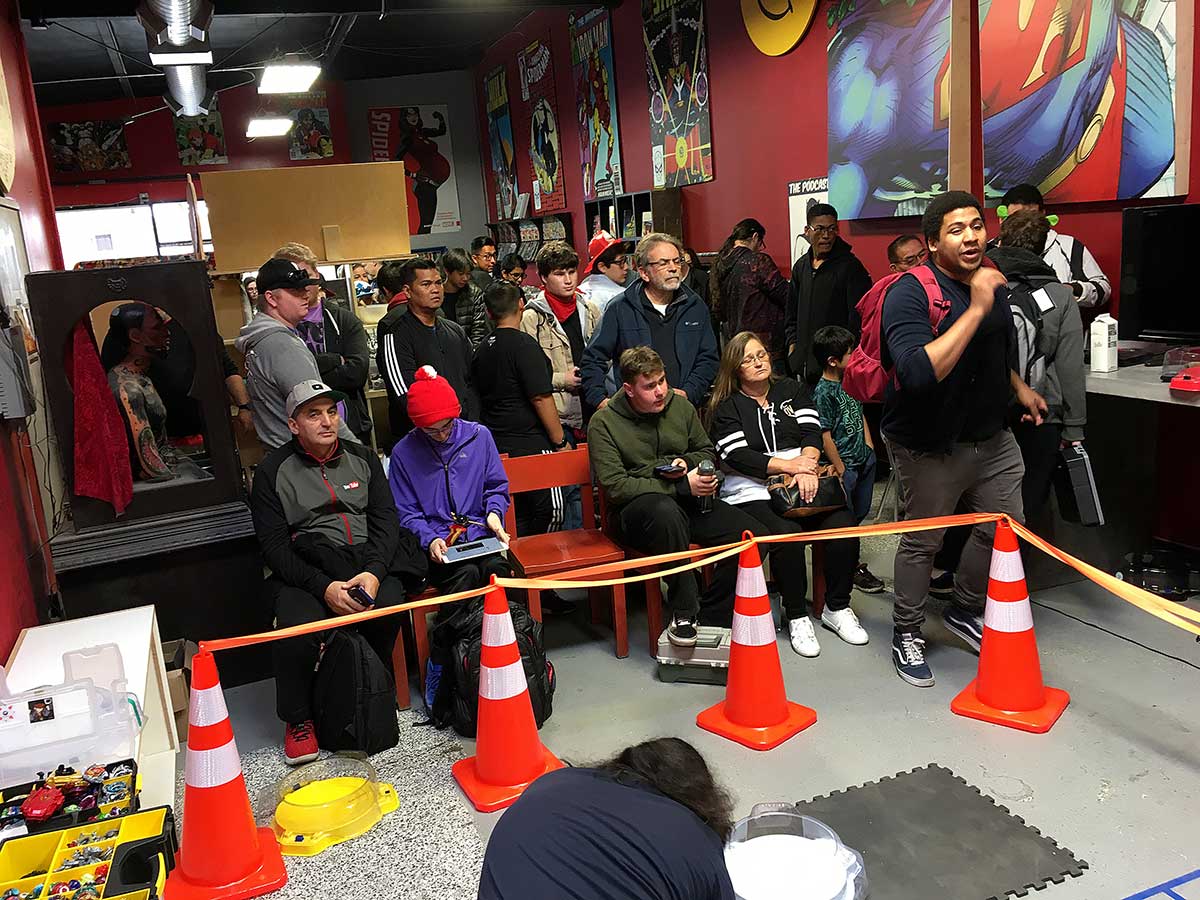 That tournament actually became their largest to date at the time with over 50 participants. And this time at Beyblade West JoJo [Jp0t] managed to pull in over 60!
What was done well?
Many Experienced Judges
One of the biggest boons of this particular Beyblade tournament was the number of experienced judges available. This isn't something which is easily replicable for regular events, but having so many at this tournament meant that there was essentially never a time when there were no judges available.
Matches flowed quickly.
Enclosed Tournament Area
Always key, the tournament area itself was enclosed and separated from the rest of the venue and free play area.
The Supreme One was primarily in charge of calling matches and running the bracket throughout the day and because the table for the bracket was set up at the back of the tournament area, she was able to focus better on keeping the bracket moving forward without distractions.
Crowd Control/Tournament Area Entry Staff
LazerBeamz was assigned to manage the entry to the tournament area and keep it as clear as possible. This is extremely important for big events, especially in this case where space was limited.
Speaker & Microphone
JoJo came prepared with a speaker and microphone, which is another key aspect of running a large event.
Tape Marking Proper Stadium Positions on Floor
This was something I had never thought of before. King Loofa used tape to outline the proper stadium positions in the tournament area.
Throughout an event stadiums and mats inevitably shift a bit, so having this reference for judges to adjust things back to their proper position is a nice touch.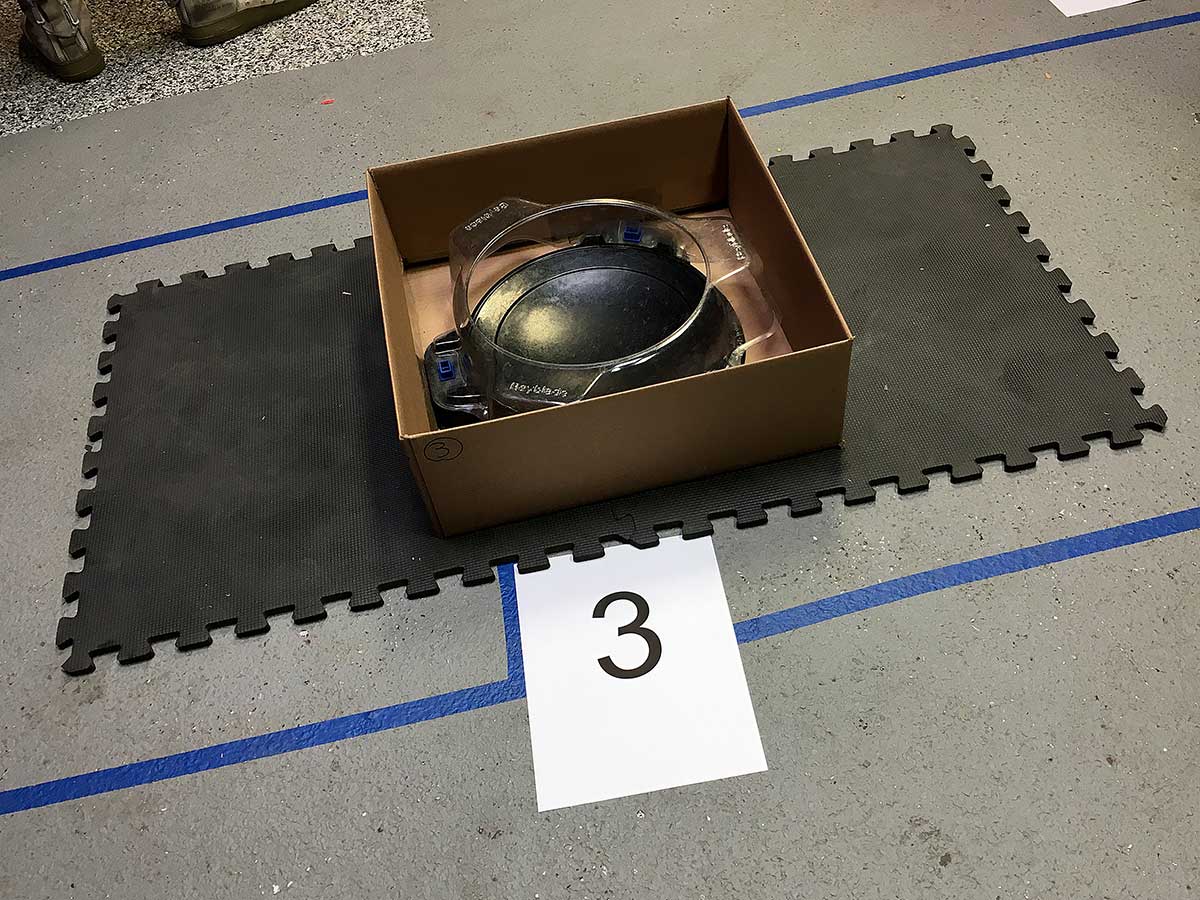 Periodically Checking In With Judges & Staff
JoJo made the effort to check in with judges and staff throughout the event to ensure that they were doing OK and if they needed a break. For all-day events, this is definitely important and something I could probably learn from.
Cool Venue!
Strange Cereal was an ideal venue in terms of the audience they normally cater to as a comic book store. All Organizers should search for indoor venues like this, in my opinion.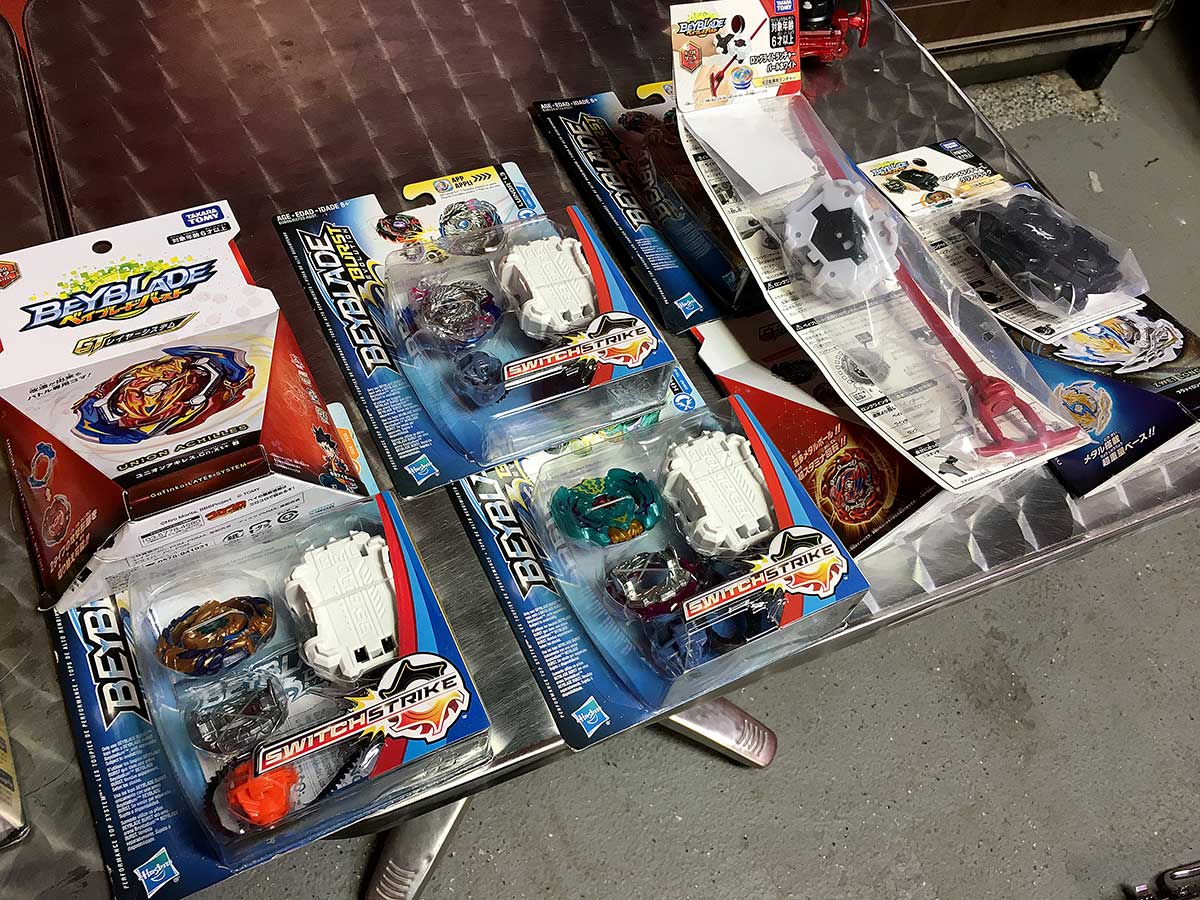 Periodic Giveaways
Although not always possible for all events, JoJo had many items to giveaway for players throughout the event. We did them every few rounds and I think it's a nice way to keep everyone engaged and excited about the event!
Standby Area
Towards the beginning of the event, at my suggestion we used a "standby area" to call upcoming matches when all stadiums were occupied. This way, as soon as a stadium became free, players were available to fill the spot.
What could be improved?
Not Enough Space
While Strange Cereal was an ideal venue, it wasn't ideal for over 60 players plus the parents who accompanied them.
The tournament area was set up how it needed to be, but it was a bit too cramped and because of the floor plan of the store, it was set up in a way which made it difficult for people to spectate matches beyond the first couple stadiums.
Because of this, people and parents tended to wander into the tournament area, which caused congestion at times.
We allowed one parent to accompany their child, but in an ideal world the tournament area would either be much bigger so that this wouldn't cause issues or it would be set up so that all of the stadiums were clearly visible from the spectating area.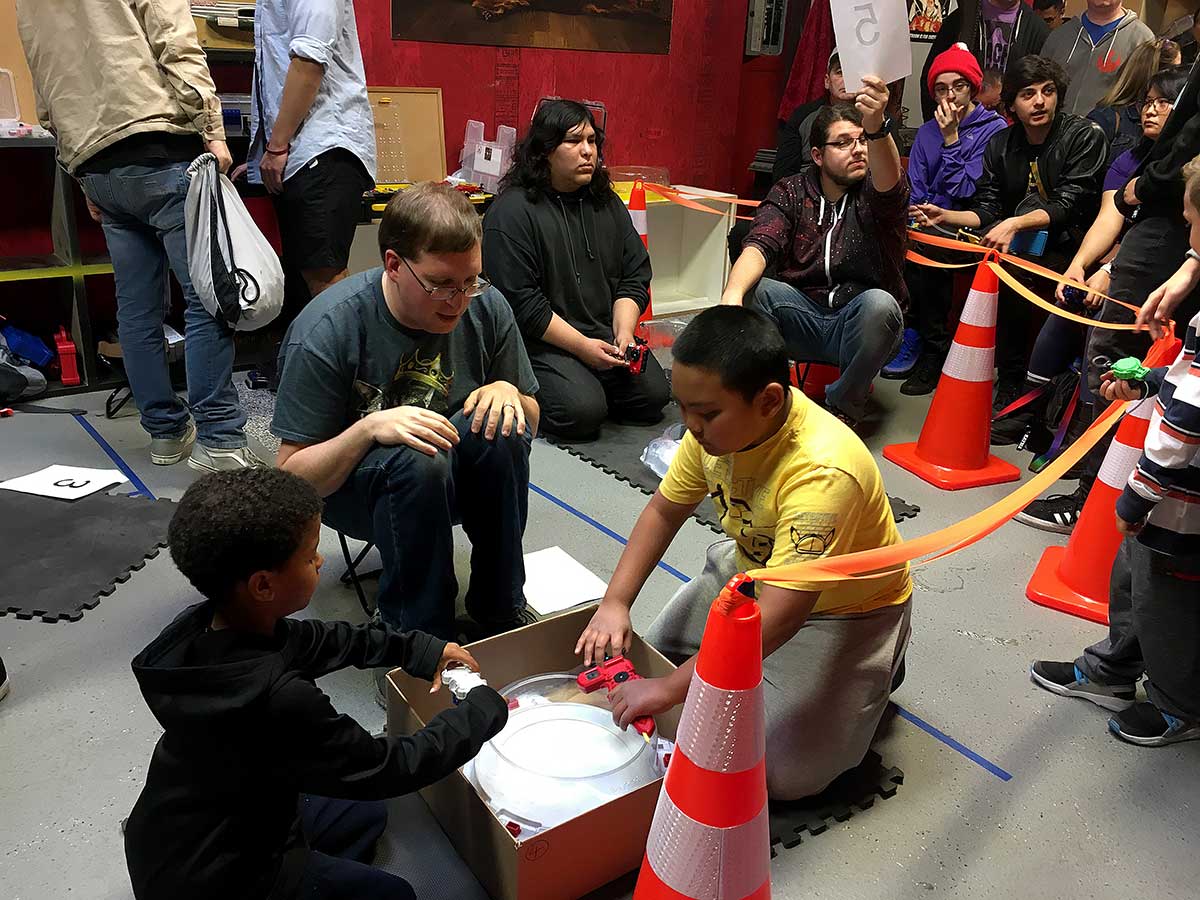 Speaker Positioning
Having the speaker and microphone was necessary for this event, but the positioning could have been improved.
As judge DeceasedCrab explains on worldbeyblade.org:
"The loudspeaker setup was a hinderance more than a help. The two loudspeakers were in the tournament area and not the free play area, so bladers mostly didn't hear themselves being called. Also, the loudspeakers were loud. My countdowns of 3 2 1 Go Shoot were frequently interrupted by stadium assignments being called or bladers being called to the staging area. And I would stare at the two competitors apologetically and tell them we have to wait for the loudspeaker to stop. Bladers were sticking their fingers in their ears or getting out earplugs. It was less than ideal!"
Next time, it would be beneficial to ensure at least one of the two speakers is positioned in the tournament area.
Using Challonge Stations Feature
One thing which slipped my mind at the event was utilizing Challonge's Stations feature.
Manually assigning matches with this is a good way to ensure everyone understands what matches are currently in progress at any given time.
And if you enable the option forcing a match to be assigned to a station before a result can be input, it works as a good reminder to ensure that existing matches are finished before you assign a new one to a particular station.
More Seating
There was only room for about 8-10 seats in front of the tournament area. For a Beyblade tournament of this size, I'd honestly say that at least 20 would be needed.
---
The Tournament
Beyblade West was the first event since Beytuber Brawl to feature such a wide variety of competitive players from across North America.
In fact, as of writing, nine of the top 25 players on the worldbeyblade.org Burst Rankings played in this tournament.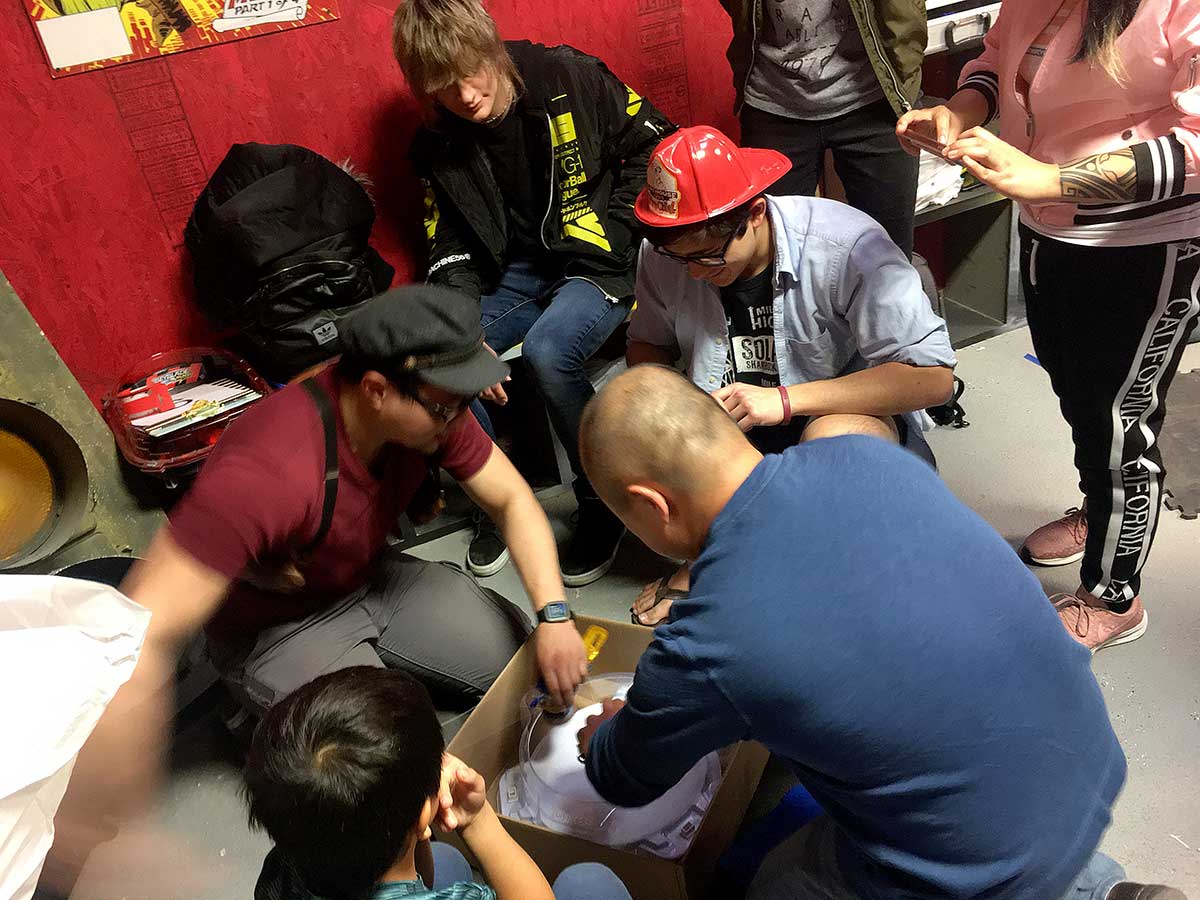 As such, the level of competition was extremely high! And with only the top eight players advancing to the finals, emerging victorious would not be easy!
Popular Beyblade Parts
Lord Layer Base
It goes without saying, but the Lord Layer Base was a key player throughout almost every competitive player at this tournament.
From what I saw, it was used exclusively on Xtend+ and Bearing. Disks varied and I saw things like 0/00 Cross or Wall, Blitz, and Vanguard.
Lord is one of the strongest Layer Bases in the game right now and it is pretty easy to ride it to a record good enough to clinch a finals berth if you have some luck on your side.
Many people end up choosing to use it even as the tournament progresses to the later rounds, opting for an essential 50/50 against other Lord combinations.
That being said, especially in a tournament of this level, it isn't something I would recommend. While some players like originalzankye were able to pilot a Lord Xt+ combo directly to the finals, there were many others who played a similar style and didn't make it to the finals.
Everything is context dependent, but generally speaking, I would encourage thoughtful selection especially in later rounds. Even changing to something else for just one round depending on your opponent could make a difference.
Lord is interesting in that it seems to be defensive while not really being that at all; so many Beyblades seem to just recoil/bounce off it. This can result in both a KO for Lord or Lord getting KOed … it feels a bit random at times and lately I've been starting to drift away from using it for this reason (and also because the tabs on the inside of the Layer Base which make it tight with certain Disks are poorly designed and have worn down on both of mine…).
Lord is interesting in that it seems to be defensive while not really being that at all; so many Beyblades seem to just recoil/bounce off it
Tact Layer Base
Tact had a relatively small presence in this tournament.
Usage of Tact was basically limited to myself and Wombat, from my observations.
I used Tact Longinus 00 Wall Bearing Retsu for the first two rounds and was able to beat a Judgment Achilles Sting Destroy and Lord Bahamut 0 Wall Bearing. However, it didn't work out as well against JoJo, as I describe below.
I had actually been successful with Tact in the tournament before this one in Toronto (αpocalypse), but it wasn't noted publicly since I lost in the first round of the finals.
As for Wombat, he used Tact on Hold a few times, but ran into some bad match-ups and wasn't able to win with it as far as I know.
In my testing, I had found Tact to have lower stamina than Lord but less recoil, which made it a bit more defensive. Although, that's not to say it is an invincible defensive wall by any means.
Judgment Layer Base
Judgment was definitely the most popular attack type Beyblade in the tournament. It was used on a variety of setups by numerous different players. I saw Xtreme', Quick', Destroy', Hold, Ωcta.
Judgment is so powerful that the latitude players have for the usage of different Drivers on it is quite high compared to other Layer Bases which might need things like Xtreme' to really be somewhat effective.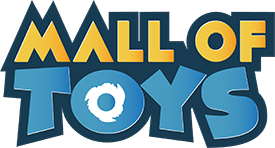 Sponsored: Order the
newest Beyblades

at malloftoys.com!
---
Heads up: If you buy something through Mall of Toys, you won't pay any extra, but I'll get a small commission. This helps me keep things running. Thanks for your support!
Zwei Layer Base
Although very powerful in its own right, Zwei combos didn't seem to appear as often as Judgment in this tournament.
However, I do remember that:
Zwei on Orbit Metal was able to defeat a Perfect Phoenix Xtend Plus combo in the first stage
LazerBeamz used a Zwei combo against me in Round 5, which I describe below
Alta had some success with Zwei on Quick' (?) during the finals against Cho-Z Spriggan Hybrid
King Loofa apparently used it on Bearing, but I didn't see that. I wonder how that worked …
Archer Hercules Layer
Archer Hercules is a Layer which has seen a decrease in popularity throughout 2019 due to the release of Judgment and its effectiveness against it, the rising popularity of Perfect Phoenix, as well as the introduction of Lord … but in reality it actually is still quite good if you can avoid right-spin attack.
A few players used Archer throughout this tournament, including King Loofa who eventually won the tournament.
Destroy Dash Driver
One thing I've noticed about Bladers in the United States is that they seem to really like the Destroy Dash Driver.
As such, it wasn't surprising to see it used by some players throughout this event. I ran into it twice throughout the first stage on Judgment and once on Zwei.
Destroy Dash is nice because it is a bit easier to control than some rubber-based attack type Drivers and it also has good Life After Death, which allows it to have the ability to outspin a decent number of opponents as well.
Imperial Layer Base
Imperial suffered a little bit from the classic "unknown new part" syndrome at this tournament as not everyone had it and those that did didn't necessarily feel confident enough using it yet or didn't know exactly where to fit it into their strategy.
Despite recognizing its strength after having been in the process of writing my Imperial Dragon review, I was one of those people. However, at least LazerBeamz and King Loofa did find some success with it throughout the tournament on Jolt' and Spiral' respectively.
Tournament Footage
The above video is a compilation of my footage from the event for the WBO's Beyblade Channel. Check it out!
Zankye's Compilation Video
King Loofa vs. ThaKingTai (Round 2) – Video by JoJo [Jp0t]
Yami vs. UltimateMaster (Round 2) – Video by Wombat
Shindog vs. K1mboslice1305 (Round 2) – Video by Wombat
kjrules17 vs. Wombat (Round 2) – Video by Wombat
Infinite.Zero vs. Yami (Round 3) – Video by Wombat
LazerBeamz vs. Wombat (Round 3) – Video by Wombat
Alta vs. poliswag (First Stage, Round 4) – Video by Wombat
kjrules17 vs. ZYeYo (First Stage, Round 5) – Video by Wombat
Zankye vs. King Loofa (First Stage, Round 6) – Video by JoJo [Jp0t]
Kei's First Stage Matches
Despite being the top seed in the tournament, all six of my first stage matches were quite challenging! This speaks to the high level of competition faced by all players in this event.
In the first round I was up against Ramon001 and his Judgment Achilles Sting Destroy Zan and was able to defeat it with Tact Longinus 00 Wall Bearing Retsu by a score of 3-0. This result influenced my decision later on in Round 4 against JoJo [Jp0t].
In the second and third rounds I played against 7sukuyomi and ClexBlades in top-tier stamina matches; one same-spin, and one very close opposite spin match-up. I was able to win both, entering the fourth round with three wins and zero losses.
My Match with JoJo [Jp0t] (Round 4)
Based on my research, I understood that JoJo [Jp0t] had a tendency to use either attack types or stamina.
These types of opponents can be difficult to pick against because there is such a vast difference between what can be 100% effective against either of these combination types.
So, in deciding what I would use I had to also consider other contextual factors: we were both 3-0 and one of the combinations I knew she might use (Judgment on Destroy Dash) I was able to defeat 3-0 earlier in the tournament with TL.00W.Br Retsu (albeit, against Ds and not Ds'), which also could defeat Balkesh B3 on Bearing which she also had a history of using.
Being 3-0, it might be easy to jump to the conclusion that a player would choose to go for an attack type, but given that at least four wins would be necessary to advance to the finals of this tournament, and that she seemed a bit nervous, I guessed that it would be more likely she went for stamina.
However, she defied my expectation and went with attack!: Judgment Odin Blitz Destroy Dash.
I went with Tact Longinus 00 Wall Bearing.
Unfortunately for me, JoJo [Jp0t]'s banking ability was much stronger than what I had faced in the first round of the tournament against a similar combination. I noticed this when she did a practice shot before the match began.
As a result, I decided to go on the offensive knowing that my semi-worn Bearing could stall around the ridge of the stadium decently if I launched hard enough.
This match greatly exemplified the potential for a Beyblade match to have a lot more to it than meets the eye for a spectator at the tournament
My hope was that I would be able to catch her Judgment at the beginning of the battle as it stalled on an angle as a result of her bank launch briefly before sweeping into the middle of the stadium.
The strategy backfired however and I was bursted when I made contact with her Judgment! That put me down 0-2.
I weak launched in the third round and was ultimately KOed.
Tough loss, but one that I didn't mind because I had put in a strong effort both before and during the match to act properly and give myself a chance to win.
Sometimes though, skilled play by your opponent is enough overcome all of these things and should be commended!
To me, this match greatly exemplified the potential for a Beyblade match to have a lot more to it than meets the eye for a spectator at the tournament.
My Match with LazerBeamz (Round 5)
After my loss to JoJo [Jp0t], I was in a tough spot.
I knew that I needed at least four wins (and ideally five) to secure a spot in the finals.
My research told me that LazerBeamz had a tendency to typically use right-spin attack types or Perfect Phoenix throughout 2019. And during this event I had seem him playing and practicing with Imperial Dragon.
Despite playing all stamina up until this point, my confidence level with attack was very high going into this event. I had just been waiting for the right time to use it.
My desire to play things "safe" was increasing even more now that I had suffered my first loss, but I ultimately came to the conclusion that in reality the safest choice for me here was to play aggressively.
I went with Judgment Diabolos 0 Glaive Xtreme Dash thinking that it would give me a great chance against Perfect Phoenix and also a chance against essentially anything else LazerBeamz might use.
I expected him to go for a stamina type here since we were both 3-1 at this point, but he must have had a similar thought process to me as he ended up going for Zwei Diabolos Around Destroy Dash, a combination I had never seen him using before (although he did have Zwei on Dimension' on one of his winning combinations based on my research).
Although I still had a chance to win, the matchup was significantly more difficult than any potential matchup I had anticipated due to Zwei's general proficiency against Judgment and the fact that he could not only KO me but also OS me thanks to Destroy Dash's high LAD.
I ended up going down 0-2, but was able to battle back and win 3-2 via a KO and Burst!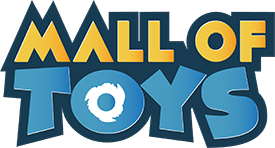 Sponsored: Order the
newest Beyblades

at malloftoys.com!
---
Heads up: If you buy something through Mall of Toys, you won't pay any extra, but I'll get a small commission. This helps me keep things running. Thanks for your support!
My Match with kjrules17 (Round 6)
Ultimately, many of the players who went 4-2 in this Beyblade tournament did not make the finals.
Consequently, this match in the final round of the first stage was about as high stakes as you could get at this point in the tournament as a win was needed to secure a spot in the finals without any doubt.
Beyblade Selection Thought Process
I knew kjrules17 has been using some Hasbro combos, but I was very unsure of whether he would go for Atomic or Bearing in this match. I also had assumed it would be left-spin, but wasn't even sure of that. I had no winning combination data for him.
In retrospect, I probably should have just gone with Judgment, but was feeling a bit nervous given the circumstances and the fact that I had just barely won the previous round.
kjrules17 ended up going with the standard Balkesh B3 00 Wall Bearing setup.
I went very safe and chose Perfect Phoenix (Level Chip) 0 Cross Xtend Plus.
I can't remember the exact sequence of each round in this match, but although there were some ties (some debatable, in my eyes), kjrules17 was able to win two rounds overall.
However, as the match progressed it became clear to me that he was becoming very nervous. His hands were visibly shaking at times.
Because this was an opposite spin matchup, he was generally trying to weak launch his Balkesh B3. He was using a winder-based left spin launcher.
To do this however, he was not pulling the winder all the way out of the launcher, instead opting for pulling it only partially out of the launcher in an effort to achieve a very weak launch.
As a result of this, several times his Beyblade did not fall off the launcher or did not fall off properly.
When this happened, he attempted to request a relaunches each time. And I believe he was given at least one at some point.
Examining What Constitutes a Legal Relaunch
However, as the WBO Burst Format rulebook states:
If your launch is obstructed or noticeably underpowered due to an event beyond your control, you can request a relaunch, which will immediately void and end the current round.

A relaunch can only be requested/granted if your launch is underpowered due to an event beyond your control.
If your launch is underpowered because you are attempting to weak launch purposely by using the launcher in a way which is not intended or ever advertised and your launcher malfunctions because of it … then the relaunch request cannot be valid.
In this case, not pulling the winder all the way out of the launcher wasn't even necessary to achieve the weak launch; you can still launch weakly and pull the winder all the way out.
I didn't reference this during the match, but the rulebook also currently states:
You must request a relaunch immediately after your Beyblade leaves the launcher
And in a few cases, the Beyblade hadn't even come off the launcher itself.
It might actually be a good idea for us to rename this rule to something which doesn't implicitly exclude situations where the Beyblade has not actually been "launched" which is what it technically would do for some of the instances in this match.
Perhaps instead of "immediately after your Beyblade leaves the launcher" it should be "immediately after the countdown and you have launched or attempted to launch your Beyblade".
During the match I also referenced this rule:
If a winder-based launcher is being used, a legal launch consists of the winder being pulled out of the launcher, rather than pushed in.
This ruling was originally introduced to make it clear that trying to launch a Beyblade in the opposite direction it is designed to is not legal. But as currently worded it also makes it clear that when using a winder-based launcher a legal launch consists of the winder being pulled out of the launcher itself.
All of these things culminated together (mainly the first of the three rulings referenced above) leading me to believe that it was obvious relaunches being requested should not be granted.
Under normal circumstances, it might be fine to give the player acting in this way the benefit of the doubt and grant their request for a relaunch (which I do believe even happened in this match anyways at least one time) despite the illegal tactic, but given that this was the final round of the first stage in a high stakes match of a highly competitive tournament between two experienced players, I'm not sure leniency would be fair to the other party.
Despite the tough judgments being made throughout the match, I kept my calm and was able to launch well each round to give myself a chance to win.
I ended up winning the match 3-2, with the final round being a victory by KO after kjrules17 hard launched into the stadium exit.
Some people may disagree with how this match was handled, but my feeling is that we have rules for a reason.
The History & Intention of the Relaunch Rule
Players are entitled to request relaunches, but built into this ruling is the fact that the judge may choose to deny the request if they determine you were at fault.
Players also carry responsibility to launch properly into the stadium and can't always fall back on requesting relaunches if something doesn't go their way that was in their control.
Originally, we had a limit of two relaunches per battle. This was made unlimited shortly after Beyblade Burst began due to rampant technical issues with the launchers at the time and because we felt like players shouldn't ever lose a match because of a technical equipment problem.
However, the relaunch rule itself isn't intended to be a license to re-do launches you simply don't like because of something you were in control of. It wouldn't be fair to the other player (and could actually be used to gather intel on the other players launch technique, although I'm not suggesting that was the case here at all).
I think it's important as a judge to not only consider the player requesting the relaunch, but the perspective of their opponent. Would granting a relaunch for something caused directly by the player themselves have been fair? Not really. And that's why it is stated that to request the relaunch it has to be due to an event beyond your control.
Players are also entitled to dispute the judgments being made, but must accept the final call of the judge. I did that in this case based on what I felt was right and ultimately was able to earn the win and advance to the finals with a score of 5-1.
Final Stage
You can see footage for the match between King Loofa and JoJo [Jp0t] below:
Top 4 Semi-Finals: King Loofa vs. Alta
3rd Place Match: Alta vs. Zankye
Zankye's video also has footage from several of the finals matches.
My Finals Matches Against Nightmare Goku & originalzankye
My first couple finals matches were really defined by Judgment Diabolos 0 Glaive Xtreme Dash.
In both matches I began with Perfect Phoenix on Xtend Plus, but quickly switched over to Judgment and was able to score enough KOs to win the matches in both cases.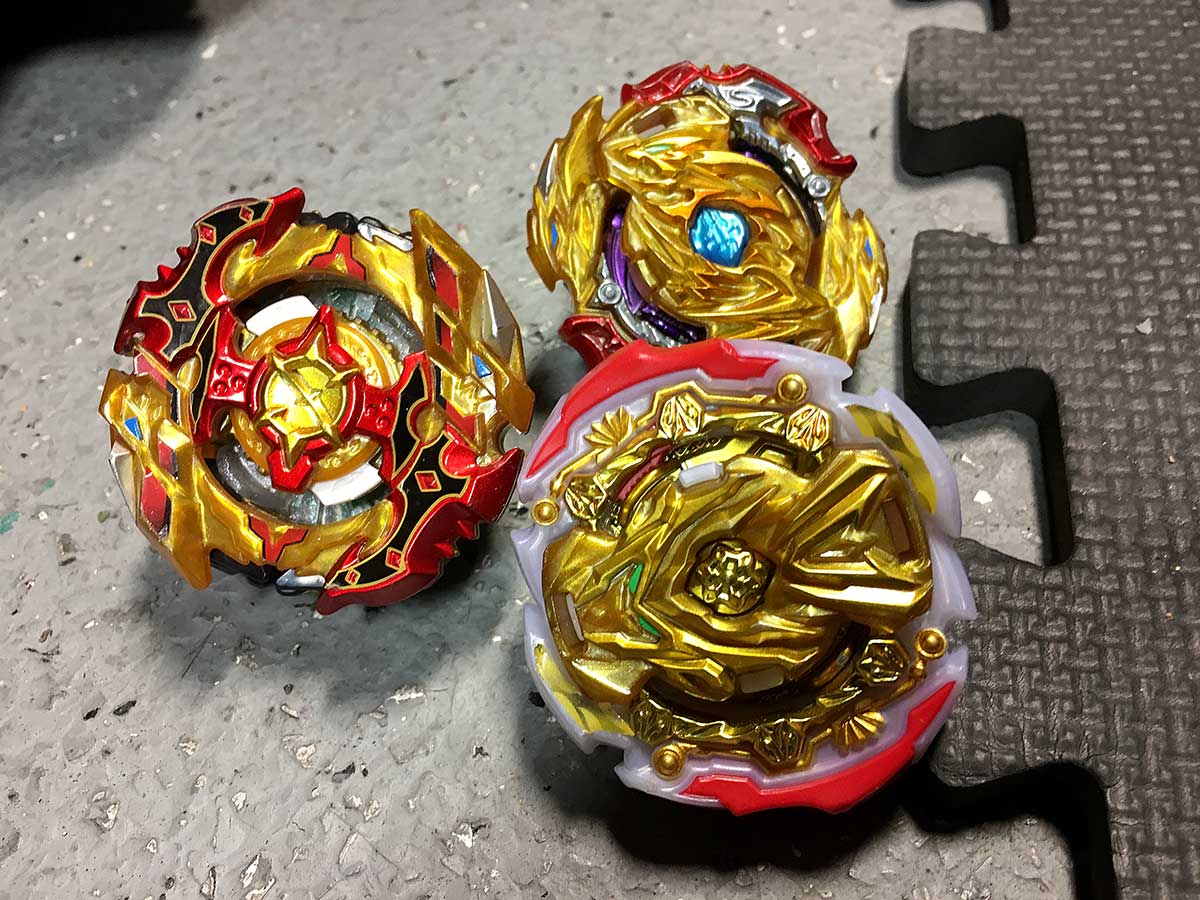 I won by a score of 5-1 against Nightmare Goku and 5-2 against originalzankye.
A few other things I will note:
My match with Nightmare Goku was plagued by relaunches and broken launchers … I believe Nightmare Goku broke two Long BeyLauncher LRs before we could even complete one round! And I had to switch to another Long BeyLauncher too.
The WBO's now somewhat infamous "back-wall" KO rule came into play in my match against originalzankye in one round. It appeared as if my Judgment may have hit the back wall and came back in, but it was difficult for the judge to determine because it happened so fast and because the view of the back wall itself was obscured by a sticker on the wall and the box we were playing in. Ultimately, it was ruled at the tournament that I won the round.
Final Match: Kei Vs. King Loofa
This was an exciting match as despite having played in tournaments together in both New York and Los Angeles previously, King Loofa and I had never played each other!
King Loofa's Deck: LL.Vn.Br, IO.00E.Sp', aH.Ar.Xt+
Kei's Deck: JD.0G.X', LL.St.Xt+, aH.00B.Kp'
King Loofa was able to ultimately win the match 6-0 through impressive use of his Imperial Odin 00 Expand Spiral Dash! Both my Lord and Archer Hercules combos were not able to counter it.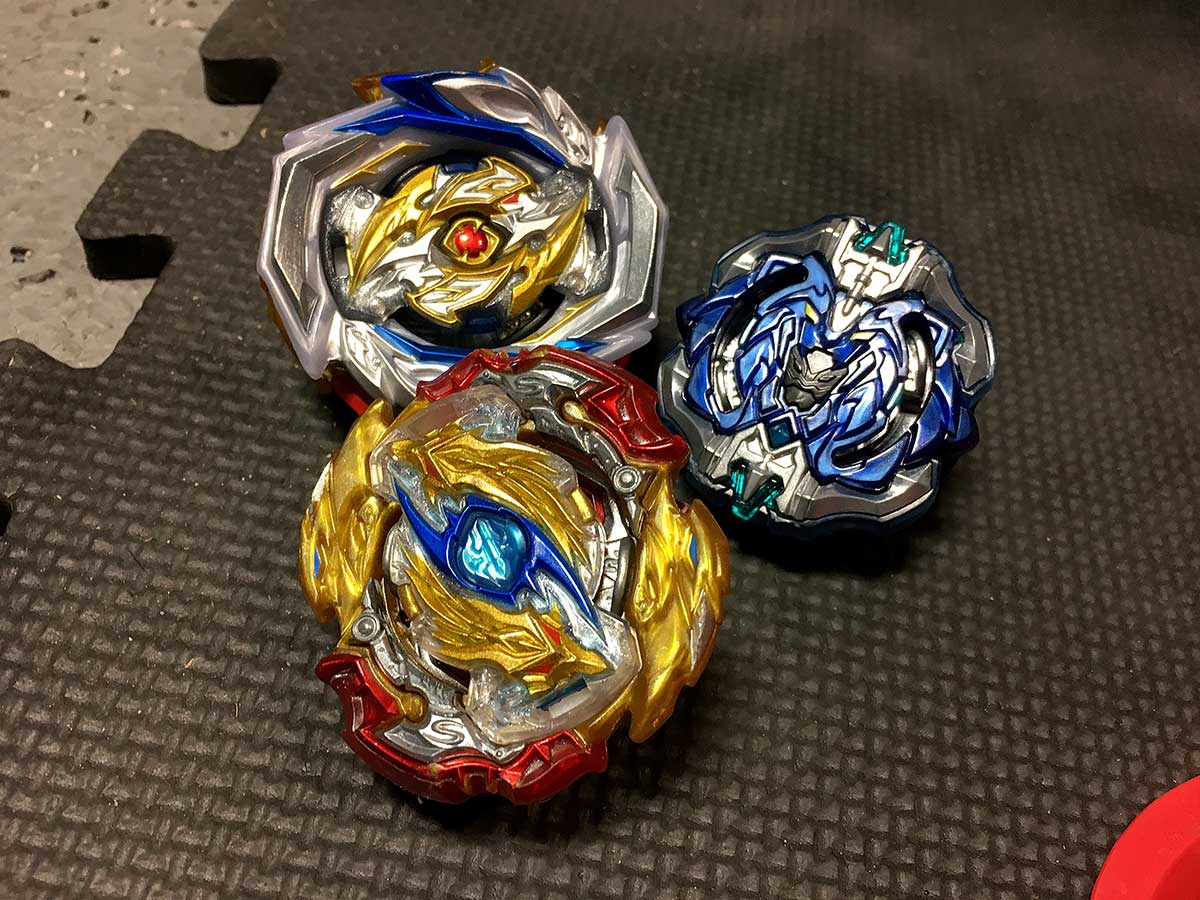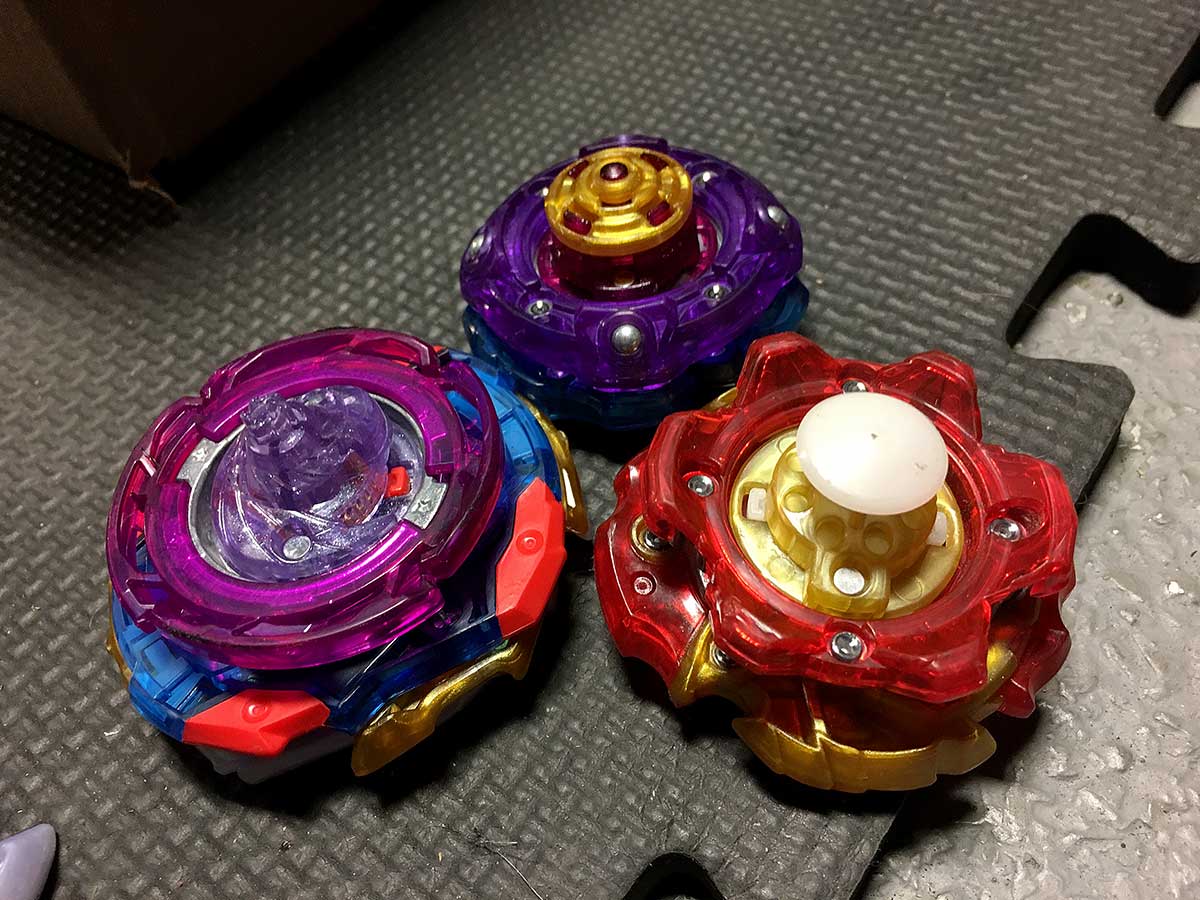 I made the mistake in the first round of hard launching my Lord combo and ended up self-KOing.
And although my aH.00B.Kp' combo is really interesting and powerful in certain match-ups, it apparently doesn't stand up to Imperial too well. It was just one round, but he was able to KO it.
I had predicted what his deck would be quite precisely, but failed to account for something which could reliably counter his Imperial combo … in retrospect I should have at least given JD.0G.X' a try against it since Xtreme Dash should have been faster than Spiral Dash.
That, or something like B3.00W.Br would have probably stone-walled it if I had included it.
Regrettably however, there were a few rule violations that became more apparent to me once the intensity and pressure of the situation subsided:
1. Beyblade Selection Violation
The first thing I noticed upon arriving at the stadium was that King Loofa did not turn around. He had apparently already finished selecting his Beyblades for his deck.
I voiced my concern immediately and said that he should be turned around anyways, but despite this protest, he did not turn around and the judge did not seem to enforce the rule.
The WBO Burst Format rulebook states:
Once across from each other at the BeyStadium, each blader is to turn their backs and select their Beyblade in secret within 3 minutes.

…

Once a blader selects their Beyblade, they must announce that they are "set" and present their launcher and Beyblade to the judge for inspection. Beyblades should preferably be unassembled for inspection, or the judge will do it themselves.
As well as:
During Beyblade selection, bladers are forbidden from:

…
turning around before both bladers are set
The first and third points were definitely not obeyed. And I am not 100% sure if the second one was as well.
It is my fault for not pursuing the rule violation further as I turned around as well and proceeded to select my Beyblades from behind the top half of my case.
I would argue however that in this moment, I felt pressured to continue despite the rule violation because the player, judge, and many spectators eagerly anticipating the final were all waiting on me.
The reason we mandate that players select their Beyblades in secret with their backs turned to each other is to avoid the possibility of direct intimidation or deception.
Years ago double-blind selection was not the default method for the Beyblade Selection phase in WBO tournaments. Players were permitted to select their Beyblade without turning around, and this combined with various other–in retrospect–nefarious tactics made it possible to deceive your opponent and gain an upper hand in selection before the battle began.
Double-blind with no contact with your opponent before the match is inherently fairer because both players are able to make choices void of any external circumstances related to their opponent that might sway their decisions.
I don't believe at all that King Loofa meant to break the rules here–and showing up to the stadium with your Beyblade(s) selected is perfectly fine–but the rules plainly state that both players are forbidden from "turning around before both bladers are set".
2. BeyStadium Re-Positioning Violation
The second violation was related to re-positioning of the BeyStadium.
The WBO Burst Format rulebook states:
Do not touch the BeyStadium at any time. If you think the BeyStadium should be adjusted, ask a judge.
Upon reviewing my footage, before the match began I noticed that King Loofa adjusted the position of the stadium. From what I can recall, permission to do so was not granted by the judge or agreed to by me explicitly.
You can view this in a clip from my footage here.
The Effect of The Rule Violations
In the end the choices I made were mine, but they were undoubtedly affected by the circumstances surrounding the selection phase and even the rotation of the stadium.
People don't usually talk about this sort of thing, but when you truly dive into what the "metagame" is, these sorts of things culminate to have an effect on the match which is difficult to measure, but which is absolutely present.
Anyone who's spent time playing Beyblade competitively knows that what happens in the BeyStadium is only one part of the game; the preparation and lead-up to "3 .. 2 .. 1 .. Go Shoot!" is arguably just as important and influential.
… what happens in the BeyStadium is only one part of the game; the preparation and lead-up to "3 .. 2 .. 1 .. Go Shoot!" is arguably just as important and influential.
Regardless however, King Loofa is a seriously impressive player and should be praised for his willingness to try new combinations and separate himself from the pack. He definitely deserves to have done well at Beyblade West!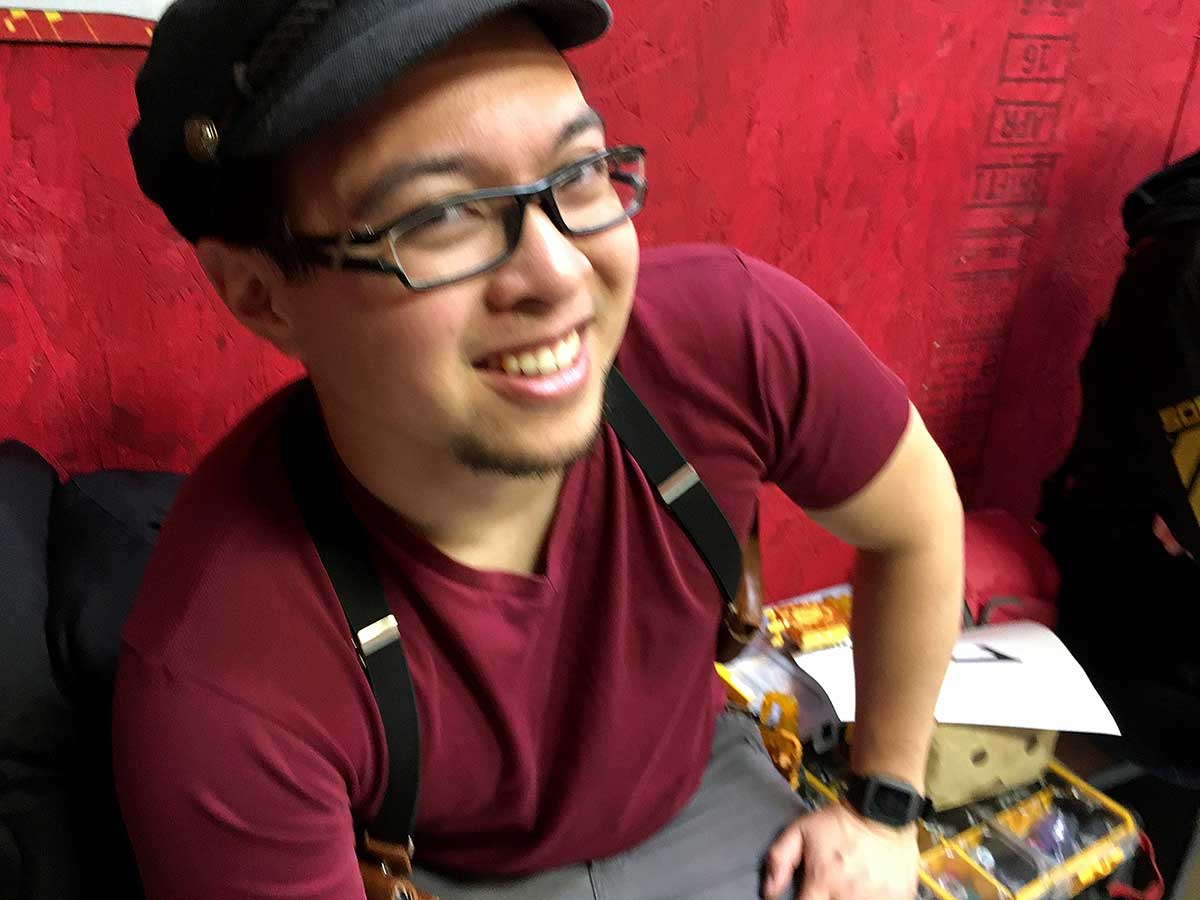 ---
Key Takeaways
1. Organizational Improvements
The WBO and tournament organizers in general have made great strides over the past couple years when it comes to implementing organizational improvements which can make the experience at large events better for everyone.
Despite this however, a few things stand out to me after this event that all organizers could probably benefit from improving next time they do a large event:
Creating Floor Plans:
Having a floor plan mapped out ahead of time really helps in being able to hit the ground running when you arrive at the venue on the day of an event. You can figure things out without a plan, but I think the larger the event, the more important it is to create a plan ahead of time in order to have the most optimally designed event space.
Here's an example of one I created for BEY OR DIE II back in September 2019: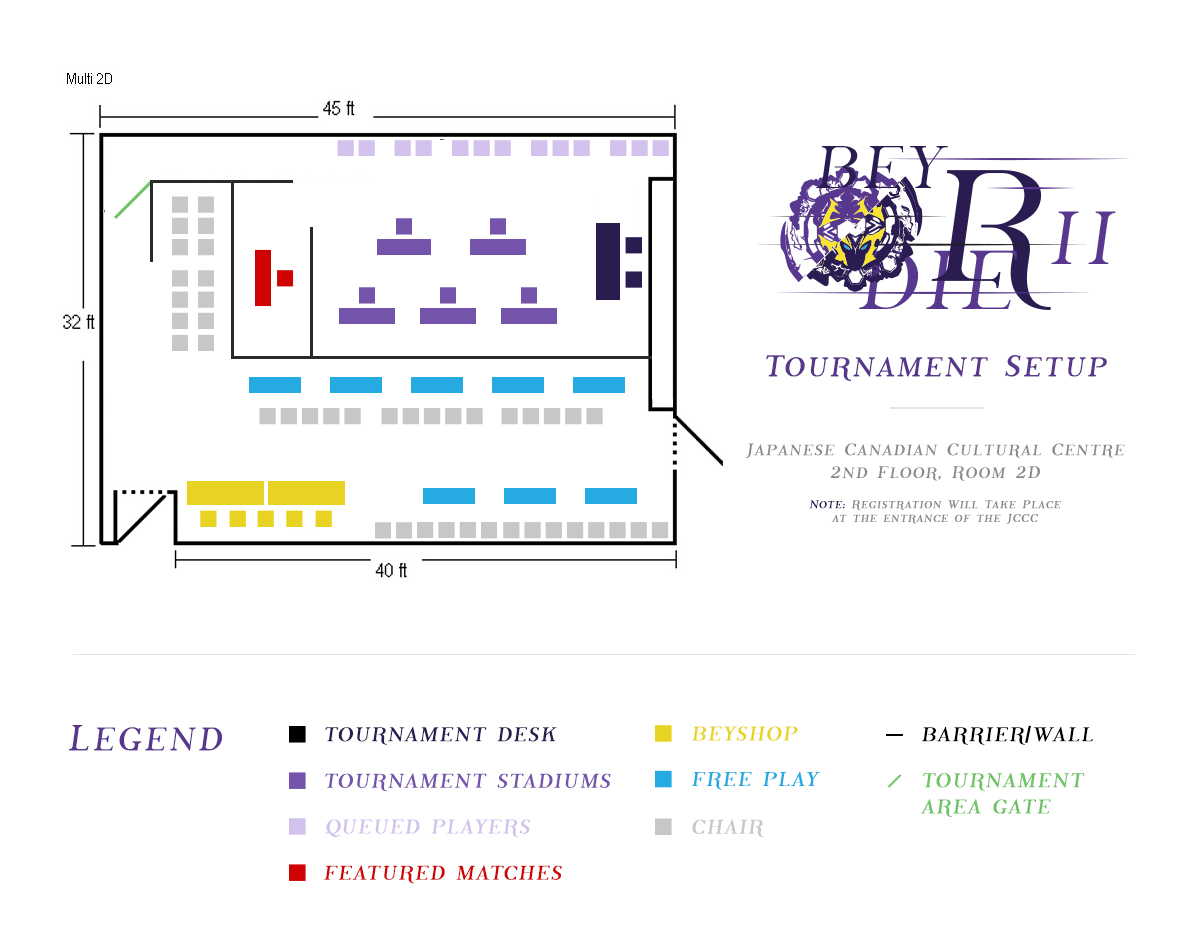 Pre-Event Staff Meeting:
Along with having a floor plan, planning the staff roles at the event before it happens is also extremely helpful. At Beyblade West all roles seemed to sort of be assigned on the fly, but things may have been even smoother if all staff were briefed on their precise responsibilities ahead of time.
Disconnect Between Free Play & Tournament Area:
As mentioned earlier, there was a bit of a disconnect between the free play and tournament area at Beyblade West.
I've had this happen at other large events I've helped host in the past as well … one thing that I found worked pretty well at a more recent tournament was having someone dedicated to actually calling matches from the free play area.
The way to do this is to make use of the Challonge Stations feature so that the person calling matches in the free play area knows what matches to call while someone else assigns them based on what is actually available in the tournament area.
2. 2 Point KOs in Burst Deck Format Had to Go
The two point KOs in Deck Format for Burst Format really contributed to making that final match between King Loofa and I going by so quickly.
KOs have become so common and relatively easy lately, that they really didn't feel like they should be worth two points anymore. I talked about this a bit in my tournament report comparing WBBA's 3on3 Battle Format with WBO Deck Format.
Thankfully, the decision was made recently to make the change to one point KOs for WBO Deck Format in Burst Format tournaments.
3. The Rise in Frequency of High Tier Combinations in Early Tournament Rounds
One thing I noticed at Beyblade West and also at other recent tournaments is a rise in the frequency of high tier combinations sooner in tournaments than before (at least in Toronto and California).
There have always been competitive players who use top tier combinations and others who don't, but it feels like lately I've seen top tier combinations more frequently in tournaments.
Perhaps this can partially be attributed to parts like Xtend Plus recently becoming much easier to obtain with the release of B-150 Union Achilles Cn.Xt+ Retsu.
It used to be a safe bet in 2018 and early 2019 to just go like … Hell Salamander 0 Cross Xtend Plus in the first stage. Especially against random opponents. But things feel a bit different now.
4. The Increasing Risk Of Using Xtend Plus and Bearing
When you read the above title make no mistake: I don't mean to say either of those parts are bad. In fact, they are still very much top tier.
However, the increased ease of obtaining Xtend Plus through releases like B-150 Union Achilles Cn.Xt+ Retsu means that the likelihood of an Xt+ vs Xt+ or Xt+ vs Br matchup happening are also increased.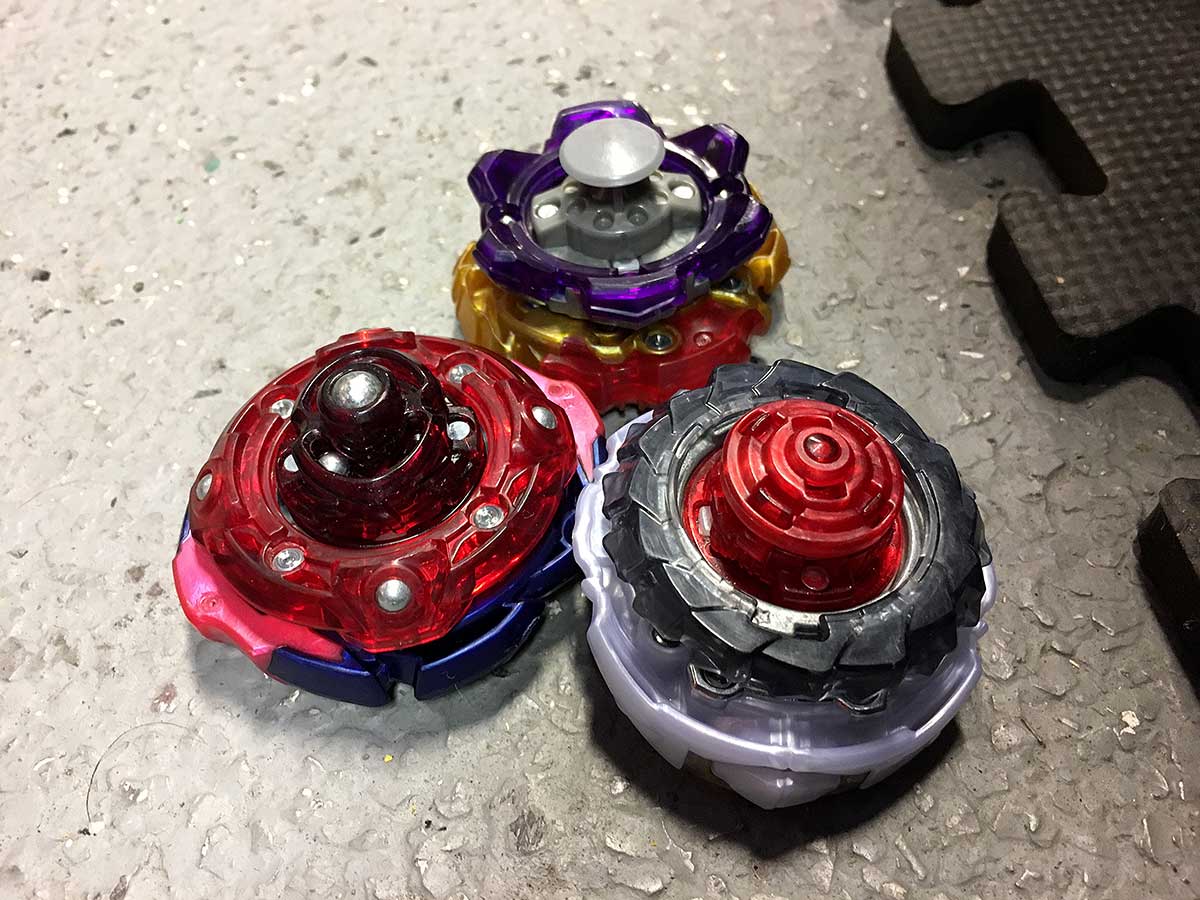 If you're going to play the Xt+/Br game in the first stage, it's become more important now than ever to spend time testing variants and multiple copies of your combination to ensure it has the best possible Life After Death.
Otherwise, you're just rolling the dice going into an effective mirror match.
This is something even I'm guilty of and want to improve on in the future.
5. Rules & Frameworks Produce Meaning
This goes without saying, but after some of the things which I experienced at Beyblade West, it seems to warrant a reminder: rules should be enforced.
I understand that because the WBO is a volunteer-based organization, mistakes can be made and maybe sometimes rules can be misinterpreted or forgotten. That's perfectly OK.
But in the end, we should learn from our mistakes and do what we can to correct them as fairly as possible. Whether that be voiding a particular match or adjusting/simplifying the rules to make them easier to understand in the future.
In high-stakes matches (especially with experienced players), rules need to be enforced. Leniency should be applied carefully, if at all in these situations.
Being responsible for your actions and state of mind is part of the game. Otherwise, what is the meaning of the competition? Of our rules?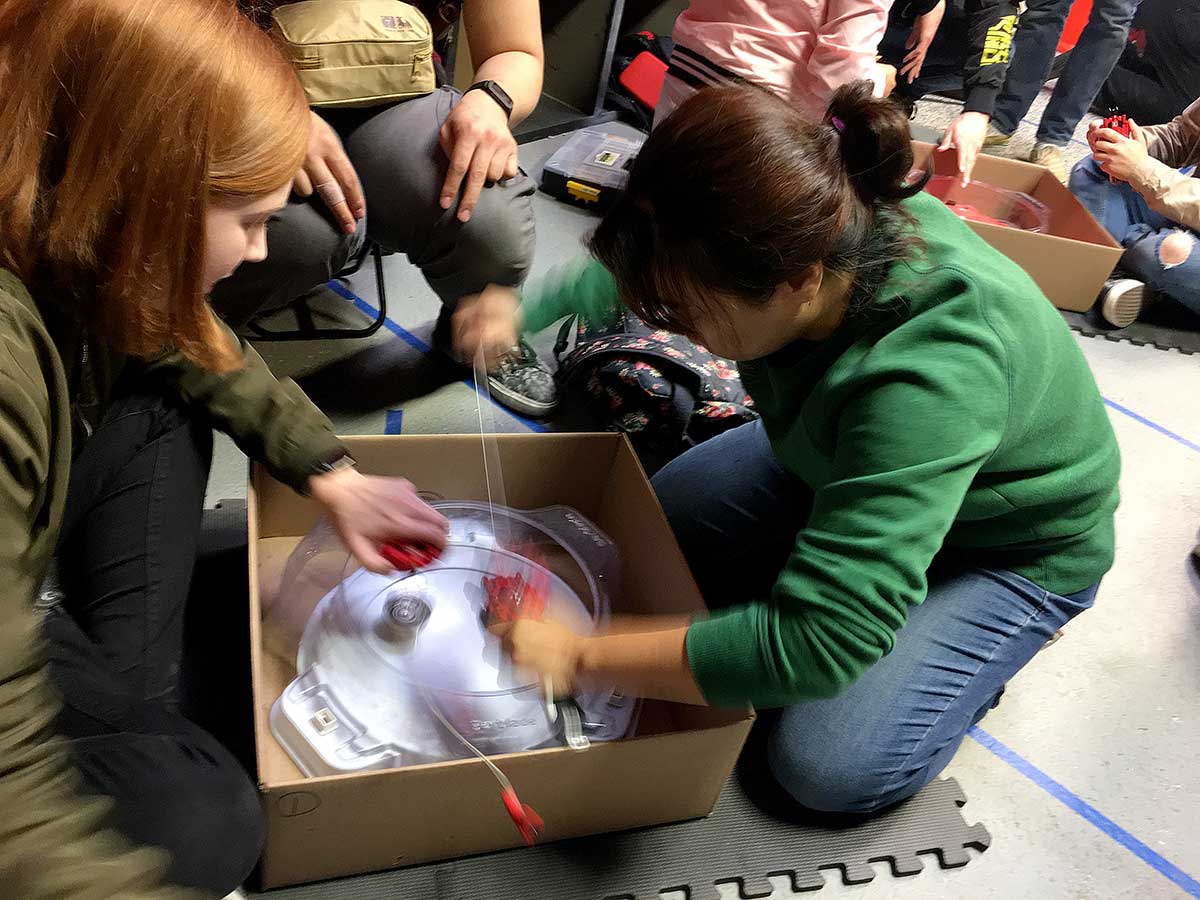 Competition of any kind exists within a mutually shared and acknowledged framework; if you deviate from that framework, the game and the results it produces inch closer towards meaninglessness.
The WBO itself is predicated on this; ranked tournaments follow specific rulesets because we want for it to be possible to compare the skill of players both locally and globally.
I don't believe that the way our current ranking system works is the absolute best way to do this. There is room for improvement and we do have ideas that may one day be implemented, but I do believe strongly that at the very least it does represent who the best players in general are.
Either way, the point is that it's important for us to protect the integrity of the framework and rules we have built together in all of our events. We all want to do well and we want our accomplishments to mean something within the context of the community.
Being responsible for your actions and state of mind is part of the game. Otherwise, what is the meaning of the competition? Of our rules?
This is applicable to any Beyblade community around the world, any game, and life in general.
Everything we do is ultimately a reduction. We derive meaning from making decisions and taking action. Every time we jump at an opportunity, we are also consciously closing ourselves off from other possibilities.
However, this isn't something to be overly upset about. It's important to always keep your mind open to other possibilities, but in the end, we are defined by the actions we take.
Building and abiding by a framework for competitive, organized play of Beyblade is similar. There are many, many ways that Beyblade can be played. None are necessarily "right" or "wrong".
In years past I might have said otherwise. I might have said that the WBO's way of doing things was the best. However, now with the perspective I've garnered after multiple trips to Japan and paying a bit more attention to that which exists beyond the borders of worldbeyblade.org, I feel more acutely that we should be more open in considering different ways of doing things.
That being said, make no mistake: I still love the WBO and many aspects of how we have structured our Organized Play.
And in the context of our own events, what we have defined as being "right" becomes that way as soon as you agree to play in a World Beyblade Organization event.
So, let's continue working together to build, uphold, and improve all aspects of the World Beyblade Organization community and organized play!
---
Tournament Winning Combinations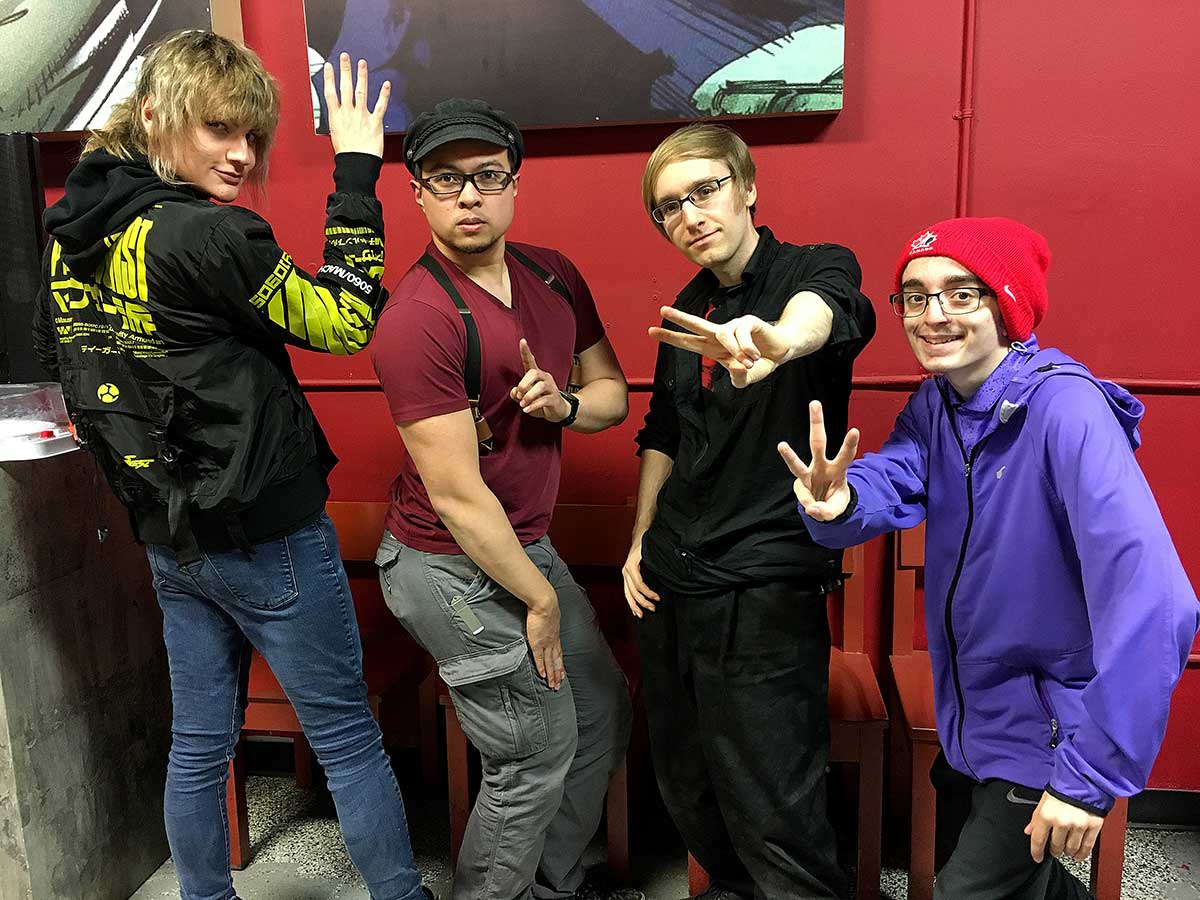 Imperial Odin Around Hunter Dash
Lord Longinus Vanguard Bearing
Lord Longinus Around Xtend Plus
Imperial Odin 00 Expand Spiral Dash (Deck Format Finals Only)
Imperial Odin Convert Spiral Dash (Deck Format Finals Only)
Archer Hercules (Level Chip) Around Xtend Plus (Deck Format Finals Only)
Zwei Spriggan Vanguard Bearing Retsu (Deck Format Finals Only)
Tact Longinus 00 Wall Bearing Retsu
Lord Pegasus 0 Cross Xtend Plus
Judgement Diabolos 0 Glaive Xtreme Dash
Perfect Phoenix (Level Chip) 0 Cross Xtend Plus
Perfect Phoenix (Level Chip) 00 Cross Xtend Plus (Deck Format Finals Only)
Lord Dragon 2 0 Cross Xtend Plus
Cho-Z Spriggan Hybrid (Deck Format Finals Only)
---
Photo Gallery
---
Acknowledgements
Thank you to everyone who helped to make Beyblade West a reality!
First to JoJo [Jp0t] for hosting and providing an awesome pool of prizes, and then everyone else (in no particular order) for helping to judge and run the tournament: King Loofa, Alta, ThaKingTai, The Supreme One, Wombat, kjrules17, LazerBeamz, DeceasedCrab, and Yami.
---
I'd love hear what you guys think of the Beyblade metagame as it stands right now, whether you attended the tournament or not. Or if you're a tournament organizer, what sort of things do you do to help improve the experience for everyone at large events? Comment below and let me know!
If you enjoyed reading this article, please feel free to share it with any of your friends who are into playing Beyblade competitively.