Everyone who plays Beyblade wants to win. But very few are able to do it at the highest level possible. There are no shortcuts. It takes dedication, mental fortitude, experience, knowledge, skill, some luck, and the pain of losing to do it.
The 2012 Beyblade World Champion Ryo once told me that:
When he first started playing Beyblade, he went to a tournament and lost in the first round. It was experiences like this which made him feel that in order to become a champion, you need to experience loss.

Blader Kei on Ryo, the 2012 Beyblade World Champion
The interview in this article is a literal "master" class in what it means to play and win in Beyblade at a high level. In it, the winner of the final Beyblade Burst championship ever hosted by Takara Tomy reveals his 14-year journey with Beyblade. You'll see that his experiences are intertwined with and similar in many ways to what Ryo described above.
He discusses the event, his preparation methods, how he thinks about the game, his thoughts on Beyblade Burst, and impressions of Beyblade X.
I speak from experience when I say that there are no shortcuts to winning. Most of my success in Beyblade has been limited to North America. But I've also immersed myself in the Japanese Beyblade community many times, most recently in 2020. And currently, I'm living here for a year.
In that time, I've learned a lot. I've met key players from across Beyblade's history in the Tokyo Beyblade community and attended many events. But what I haven't been able to do is have a deeper conversation with a top player to confirm my impressions.
Finally, I was able to conduct the below interview to do this. The player interviewed is the winner of the aforementioned G1 tournament, a special player known as "Master".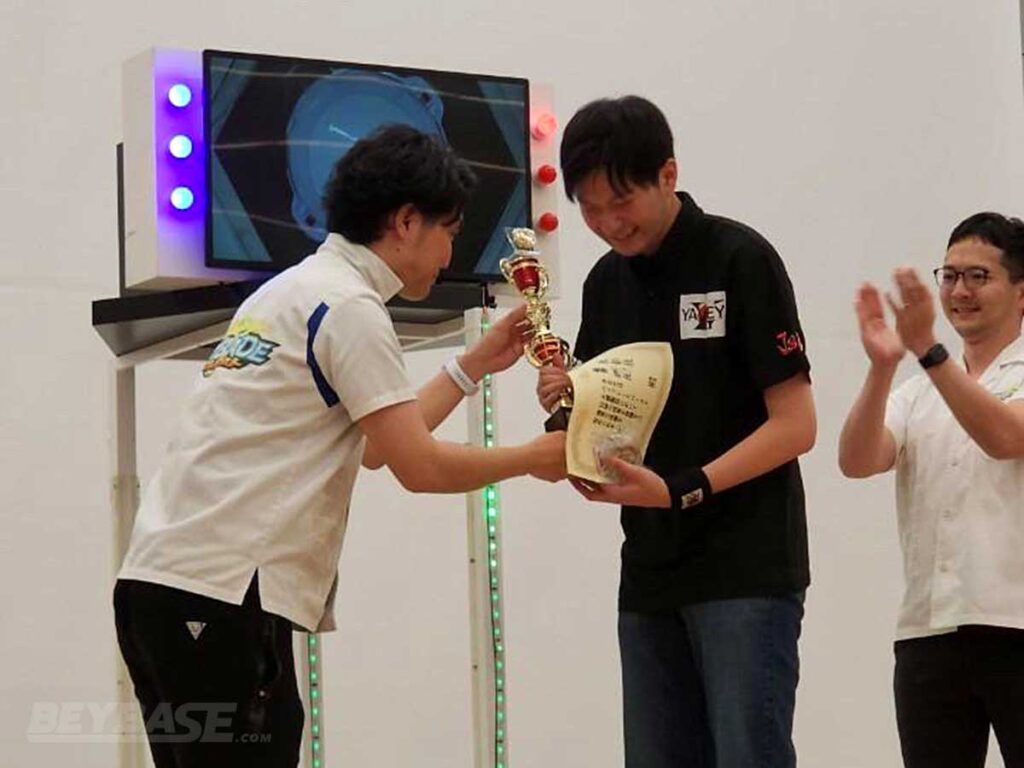 Beyblade Burst has now concluded in Japan and the next generation Beyblade X is right around the corner. So, I thought that now would be a perfect time to commemorate this final official Beyblade Burst event in Japan and learn from a top player such as Master.
I encountered him for the first time many years ago on one of my first trips to Japan in 2016. His skill was on display even back then. I often see and play with him at local G4 events in the Kanto region, but his journey from Metal Fight Beyblade to the end of the Beyblade Burst era has culminated in winning the final official Beyblade Burst Thanksgiving championship G1 tournament recently.
I wanted to attend this tournament, but it was limited to 288 players. A lottery was conducted to select the participants, which was limited to people living in Japan. I fortunately meet the latter requirement this year, but wasn't ultimately selected.
I've dedicated a big part of my life to Beyblade as well as my interest in Japan. And I've had the opportunity to spend a lot of time here. Because of that, one of my great desires is to help bridge the gap between Beyblade fans in Japan and other countries.
My hope is that this interview will play a role in achieving that. And that it will inspire players around the world to strive for greatness and enjoy playing Beyblade with others.
Please read the interview below. See my commentary in the conclusion immediately afterwards as well. Enjoy!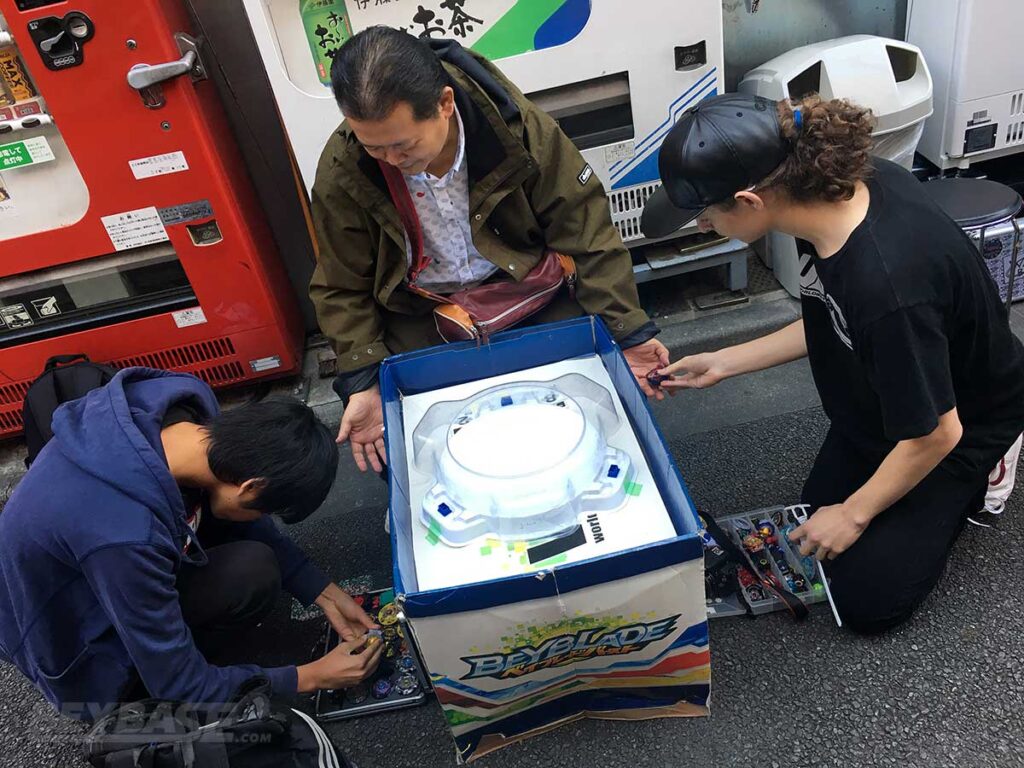 ---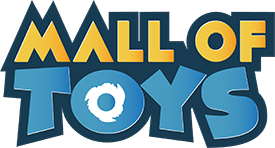 Sponsored: Order the
newest Beyblades

at malloftoys.com!
---
Heads up: If you buy something through Mall of Toys, you won't pay any extra, but I'll get a small commission. This helps me keep things running. Thanks for your support!
Who is "Master"?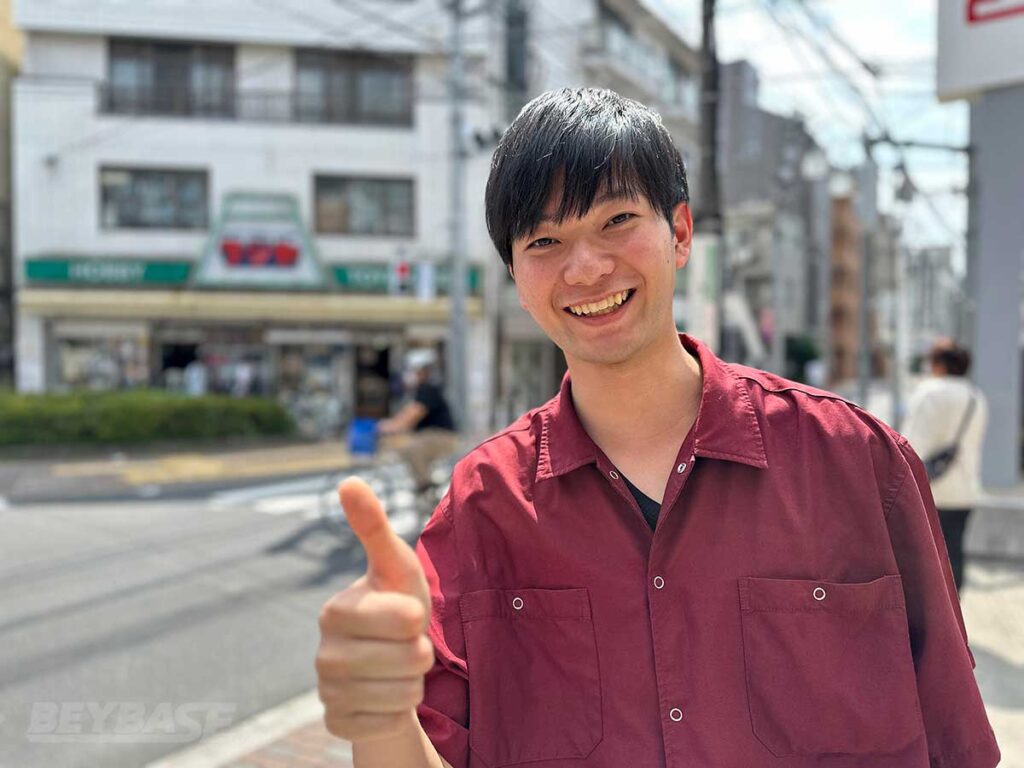 Blader Kei: Can you introduce yourself? Where are you from?
Master: My player name is "Master".
I have been playing Beyblade since 2009. This year will be my 14th year of playing.
I have been organizing "Nashimoto 46 unofficial tournaments" in Tokyo since 2018. Therefore, some players call me "Nashimoto", but I am generally called "Master" more often. People call me differently.
My hometown is Tokyo. In my area, there are many open class G4 tournaments, so I compete in them every week.
Thank you for taking the time to interview me. I would be happy if players around the world could learn about Japanese players and tournaments.
Best regards.
Kei: How did you discover Beyblade? How long have you been playing it?
Discovering Metal Fight Beyblade During Elementary School
Master: I found out about it when I was in elementary school playing in the park with my friends. When I was playing with my friends, senior students were playing Beyblade. They let me play and I fell in love with Beyblade.
I started playing Beyblade in 2009. It was right around the time when Metal Fight Beyblade was booming among elementary school students.
Entering His First Tournament
It was also the year I entered my first tournament. In my first tournament, I lost in the first round. Although I lost the tournament, I enjoyed playing against various players in tournaments, and I began to actively participate in tournaments from then on. For the first two years, I could not win at all. I won once or twice, but never made it to the top four.
Learning How to Win
I had a friend near my house who frequently competed in tournaments. He was one of the stronger players in town. He and his father taught me how to win tournaments. His father taught me how to adjust my Beyblades and how to carefully select parts in an easy-to-understand way.
Based on his advice, I made preparations and for the first time, I was able to win second place in a tournament. From that point on, my growth was rapid.
I was able to win and perform well in G4 tournaments frequently. I remember that Beyblade became more interesting than ever as my skills became more and more accepted in town. My parents were not very supportive of Beyblade, but I was still able to go toe-to-toe with the stronger players in town.
Three years after Metal Fight Beyblade ended, I was told that the Beyblade Burst series was about to begin. At first, I wasn't going to put much effort into Beyblade Burst, but after a long time of participating in tournaments, I was motivated to get back into it, and I started Beyblade Burst in earnest.
Kei: You are a member of the Japanese Beyblade team WARI-BEY. How did you join and what does WARI-BEY mean to you?
Master: Actually, it was only recently that I joined WARI-BEY. Originally, I was a member of a team called YABEY, but this spring I decided to join WARI-BEY.
When I joined the "Beyblade Burst Thanksgiving" G1 in May 2023, I was still a member of YABEY.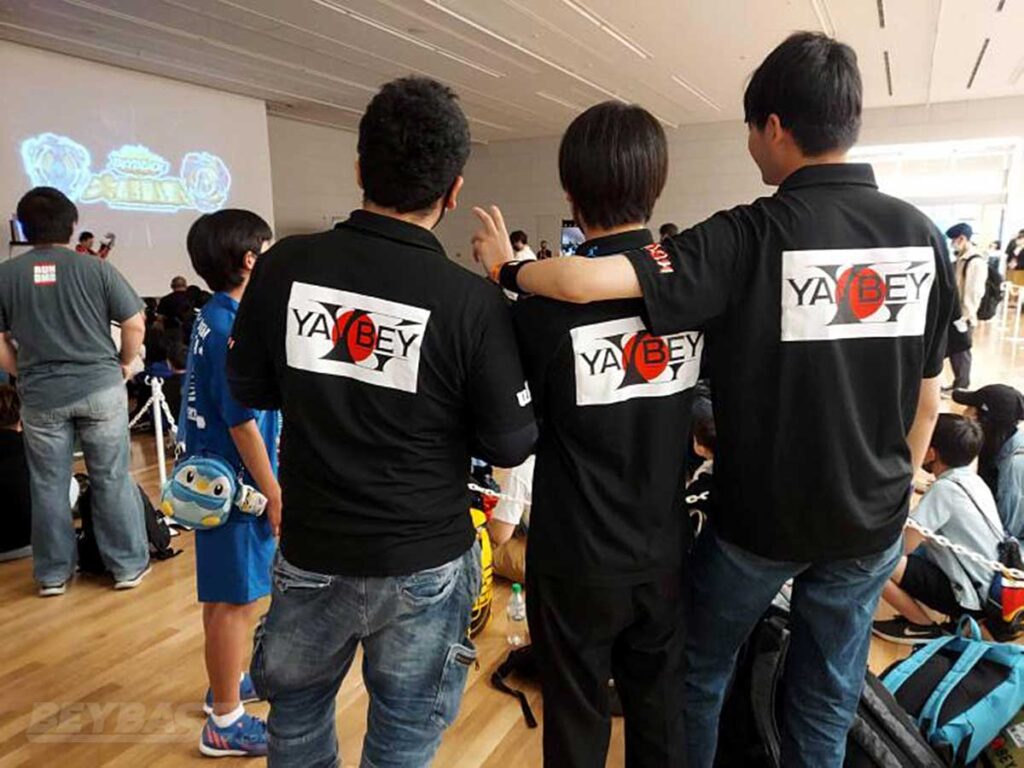 1. How did I join WARI-BEY?
Originally, WARI-BEY was a team that aimed to support elementary school children who participate in regular class tournaments. For that reason, we had not recruited any adult members until recently.
Adult members were recruited for the new series (BEYBLADE X) that will start in the summer, which will have a regular class for elementary school students only, a senior class for junior high school students and older, and a masters class for all ages.
I reached out to Jumbo at WARI-BEY and told him I wanted to join the team. On the day of the G1 competition, I announced to Jumbo that I would join WARI-BEY by winning today's competition, and I did. This is how I joined WARI-BEY.
2. My first encounter with WARI-BEY
My first encounter with WARI-BEY was about 10 years ago. At that time, I was not a member of any team.
One day at a "Bunbuku Toys" G4 tournament, I was competing in the finals against WARI-BEY member Ryo, the winner of the 2012 Metal Fight Beyblade World Championship held in Canada. In that battle, I could not get a single point from Ryo and lost. I was shocked to see how strong he was and his fighting spirit to win.
Two years later, the Beyblade Burst series started, and I once again participated in the G4 tournament at Bunbuku Toys, a toy store in Tokyo. At that time, my opponent was Hayate, another WARI-BEY member.
I knew of Hayate's existence because I had seen him several times at other tournaments. I wanted to prove that I was a strong player by winning against Hayate, but as it turned out, I was just one step away from winning against him. I still remember how frustrated I was. I think Hayate probably doesn't remember that.
Jumbo saw this and later sent me a message asking if I wanted to participate in an event. It was the WBO x WARI-BEY tournament. I was surprised because I did not expect to be invited to this event. I told Jumbo that I would love to be a part of it, and I was. Jumbo knew about me before I played against Hayate, and he had not forgotten that I had made it to the final tournament at the G2 event in 2013. You can watch me in the tournament on WBO's YouTube (0:39 in the below video).
I spent a lot of time preparing and participating in order to win, but throughout the day I was unable to win at all. I remember winning only a few times in total. This event showed me that I had to be stronger than I had ever been. Without the experience of this losing streak, I don't think I would be where I am today.
3. WARI-BEY for me
WARI-BEY has been active for almost 20 years and is one of the leading Beyblade teams in Japan. I was very young when it was established so I don't know much about its long history. However, I do know that they have set many records over the past nearly 20 years.
The Burst series allowed me to see them in action up close and personal. Their enthusiasm and fight for victory inspired me a lot.
To me, WARI-BEY is the strongest Beyblade team in the world. In BEYBLADE X, I want to be a part of WARI-BEY and be an inspirational player to many people. When I achieve that, my nickname "Master" will become real. I will do my best to achieve higher records in BEYBLADE X, encouraged by my G1 win.
Kei: Are there any specific players that you admire or consider as role models? Why do they inspire you?
Master: This is WARI-BEY member Hayate. He was the first player who gave me a big inspiration when I started the Burst series. He is also the first wall I hit myself. He is like a teacher to me.
Hayate was originally a front-line player in Metal Fight Beyblade. He was a top player from the beginning to the end of the series. He is a very skilled player who has won the G4 tournaments in the Metal Fight series more than 50 times a year. In the big tournaments he also won more than 10 times.
I was shocked to hear that so many players were afraid of him at that time because of his overwhelming strength.
I aspire to be a player like him who has an aura of being more awesome than other players.
Kei: What is your favourite generation of Beyblade and why?
Master: After all, it is Metal Fight Beyblade. One of the reasons is that I have fond memories of the Metal Fight Beyblade series, as it was the first Beyblade series I ever played with.
But looking back, I feel that Metal Fight Beyblade was a series where the harder you worked, the more you grew. In the Beyblade Burst series, it was easy for beginners to win, but in the Metal Fight series, the top ranks were dominated by a few strong players for a long time.
Many beginners hated this situation, but I liked the Metal Fight series because the more effort you put into it, the more visible the results were.
Many of the players who have been successful in the Metal Fight Series had a unique aura. They had such an aura that it was hard to believe that they were the same elementary school students. I was inspired by the aura they had and started to aim high, so the Metal Fight series, which gave me such an opportunity, has left the greatest impression on me.
---
The Story of the Final Official Beyblade Burst G1 From the Eyes of the Champion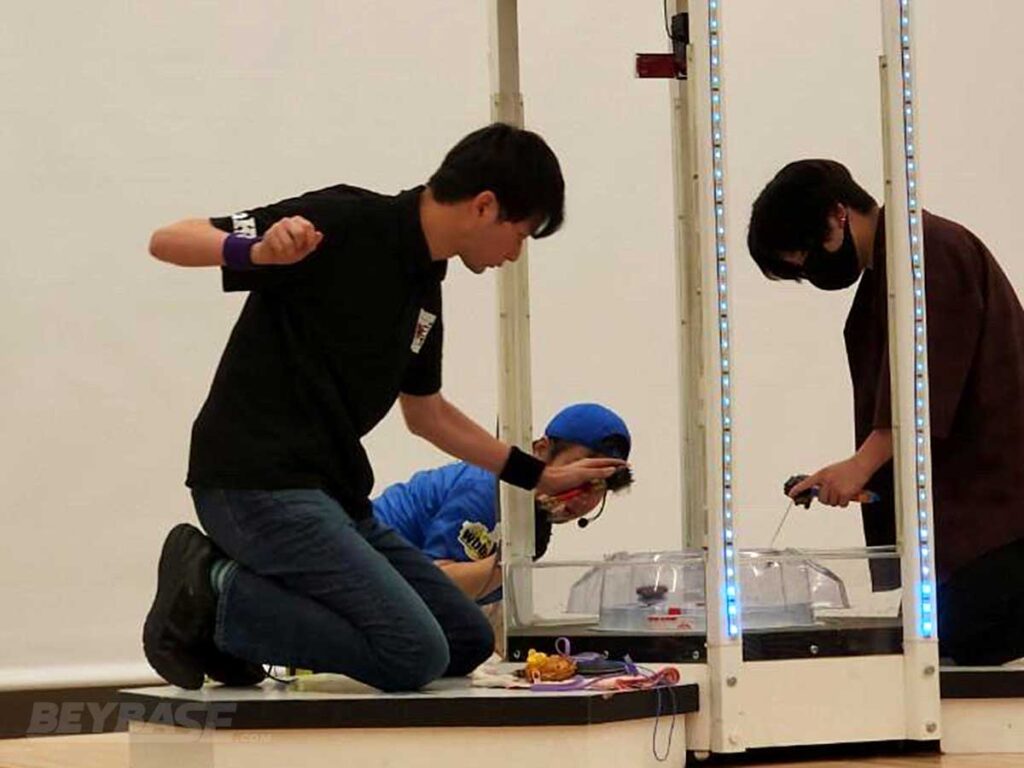 Kei: Recently you won the final Beyblade Burst G1 tournament hosted by TAKARA-TOMY. Next, I'd like to ask you about that experience.
Can you describe what the event was like? Other than winning, were there any memorable moments?
1. Players who participated in the last big event of the series
Master: This G1 tournament was the last big Beyblade Burst event; no such big event has been held since January 2020, due to COVID-19.
Once again, only 288 pre-entered players were allowed to participate in the tournament. This is about half the number of players in a regular G1 tournament.
Although the event was held in Tokyo, players came from all over Japan to participate in the last big event. There were many current players, but there were also many distant acquaintances and players who had not seen each other for a long time. It was like a reunion and I felt nostalgic. One of the interesting aspects of Beyblade is the relationships that are built through daily participation in tournaments.
2. Support of my friends
Every time I won in the qualifying rounds, my fellow competitors cheered me on. It was very encouraging for me. When I won a battle, my friends were waiting for me at the exit and gave me a fist bump. These friends were a great source of strength for me. The friends I meet in Beyblade are my treasures.
3. When you know that the trophy will be awarded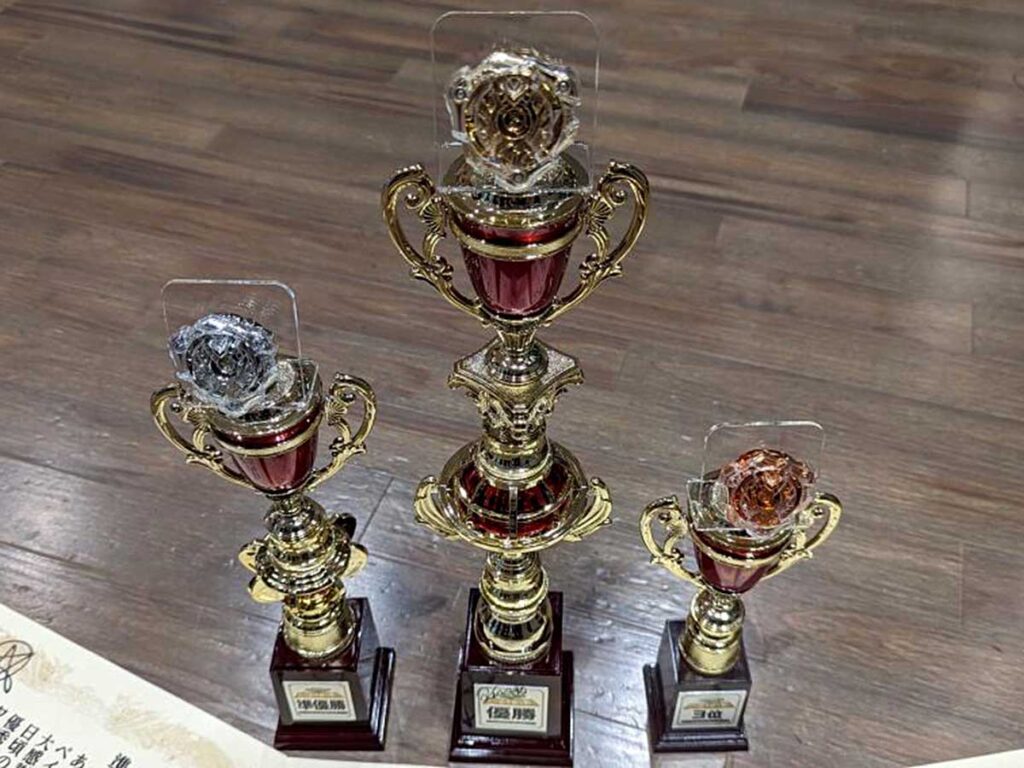 As I was preparing for the final tournament after winning my battle in the preliminary round I entered the backstage to submit my Beyblades for use in the finals. I learned that trophies would be awarded to the winners of this tournament.
I was surprised because this was not mentioned on the official website. The trophies presented to the winners were the same as those presented to the winners of the first Beyblade Burst G1 tournament. Atop the trophy shone a metallic Valkyrie Wing Axel. This trophy was once also won by WARI-BEY members Riku and Miyu.
I definitely wanted the trophy with the golden Valkyrie installed. The winning trophy looked to be the tallest and most magnificent. If the trophy had not been presented to me, I might not have won. The trophy was so significant that I felt that way.
Kei: What was your most difficult match at the G1 tournament and why?
Master: This was the final qualifying round. Since it was the last match of the qualifying round, the tension was different from the previous ones. If we could win, we would advance to the final tournament, but if we lost, the battle would be over.
I had prepared as much as I could for this tournament, but I was not confident about the 2-player matches played at the Beystadium DB Standard Type from the third round of qualifying. This was because I could not prepare a Beyblade that I was 100% satisfied with before the tournament.
Nevertheless, I was able to win the 3rd and 4th rounds by winning the psychological battle of mode change. The Beyblade I used was World Diabolos, but until then I had won by turning in the opposite direction of my opponent's Beyblade. However, for the first time in the final round, I made a wrong choice in mode change. I ended up with the same direction of rotation as my opponent. The moment I realized this, I knew I was going to lose. I imagined that the other Beyblade had more stamina.
Before going to the final qualifying area, I received a lot of encouragement from many of my friends. I still remember worrying all the way up to the start of the battle that I would disappoint those expectations.
I tried to launch as accurately as I could, but the trajectory deviated from what I expected, and my Beyblade tried to run out of control. However, my opponent's Beyblade was spinning ahead of my runaway. Luckily, there was an over-pocket nearby, so my Beyblade succeeded in knocking out the other Beyblade. I knew that winning this battle was going to be tough, so I gave the loudest gut punch of the day when I won. Then, the large audience nearby applauded me in unison and congratulated me on my victory. I was surprised at that. It was definitely the most exciting moment of the day.
Kei: Can you describe what happened during the final match of the G1?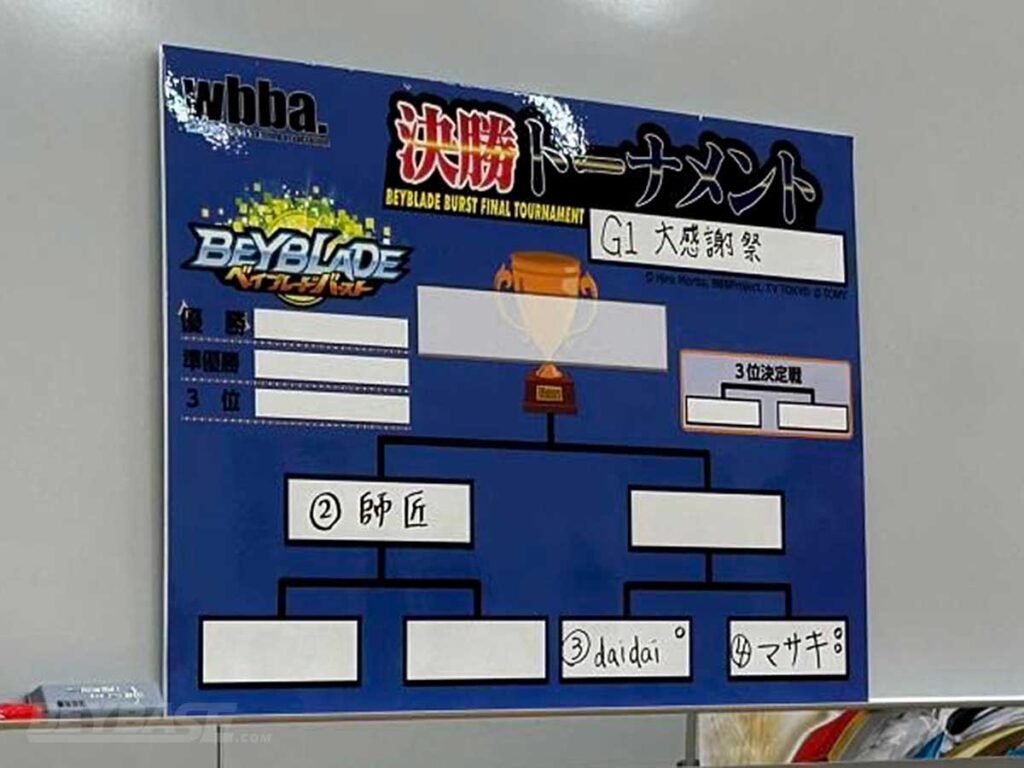 Master: I will start by telling you that I made it through the preliminary round and was selected to advance to the final tournament.
Preparation for the finals and judge Beyblade inspection
The final tournament was a 5G Match Type on stage. The four players who made it through the qualifiers were briefed by Blader Ken and given some time to prepare their 5G decks. I remember it was about 15 minutes. In that short time, the players not only had to prepare their decks, but they also had to get everything ready to battle in the final tournament.
Once their preparations are complete, players head backstage to submit their decks. Once you enter the area, you will not be allowed to leave until all the final tournaments are over.
During the final tournament, Beyblades will be checked more carefully than before. The checks took more than 30 minutes. Unfortunately, the player who was supposed to battle with me in the semi-finals was found to have violated the regulations and was disqualified. I therefore won by default over him in the semi-finals and suddenly found myself battling the winner of the semi-finals in the finals. This was the biggest incident in this tournament.
Playing against his local tournament acquaintance of 10 years in the final match
My opponent in the final was an acquaintance of mine, Blader Masaki. I remember how happy I was to play in the final of the last G1 tournament against a friend of mine who had been playing at Minamotoya for more than 10 years.
Usually, the atmosphere in the finals of such a large tournament tends to be tense, but that was not the case for us. We were able to battle in the usual fun atmosphere. In Beyblade, it is important to enjoy the battles. Of course, we must aim for the victory, but we must also remember to enjoy the atmosphere that can only be experienced at G1 tournaments.
Final match play-by-play
The finals were all endurance battles in the opposite direction of rotation from their opponents. Video of the battles can be seen on YouTube. Details of the customization will be explained later.
1st Round (1-0)
Master: Vanish Bahamut Nexus (S Gear) Bearing Drift-6
Masaki: Wind Perseus Spread' Zone-4
I got 1 point by a narrow margin in this first battle. It was a round that either of us could have won, and in 5G matches, being the first to get a point is a big thing.
2nd Round (1-1)
Master: Dynamite (F Gear) Kerbeus Over Metal Bearing Drift-4
Masaki: World Diabolos Illegal Metal Drift 1S
In the second round I lost a point. However, it was expected that I would lose points to World Diabolos. Fortunately, I had gained 1 point in the 1st round, so the difference would not be too big.
3rd Round (2-1)
Master: World Diabolos Illegal Metal Drift 1S
Masaki: Burst Longinus Giga Drift-0
In the third battle, I used World Diabolos and earned one point. World Diabolos has the highest stamina in the Beystadium DB Standard Type at the moment, so I absolutely cannot afford to lose any points in this battle.
4th Round (3-1)
Master: Burst Longinus Giga Drift-2
Masaki: Dynamite (F Gear) Kerbeus Over Metal Bearing Drift-9
In the fourth round, I used my Burst Longinus. This battle was also very close and I was able to win the point.
As a result, I was able to win the final match 3-1.
Winning the G1 championship was one of my goals. The moment the victory was confirmed, I jumped off the stage with a big fist pump. This was kind of a performance, but I think it was a fitting ending for the last competition.
When all the awards ceremony was over and I returned to the audience, many of my friends congratulated me on my victory. I felt so lucky to have such great friends.
Kei: What Beyblades did you use to win the G1? Can you describe why you used each one? And what do you like about them?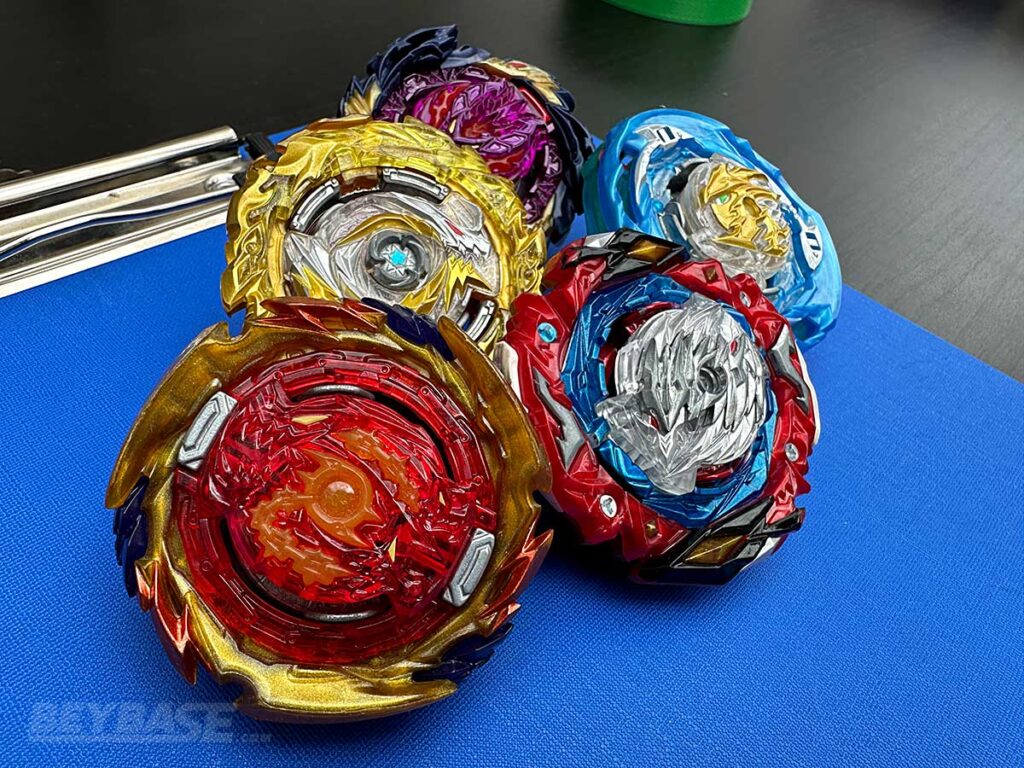 Master: The Beyblades I used in the qualifying rounds and the Beyblades used in the finals are customized differently. I will introduce them in order.
This G1 tournament consists of three main rounds.
In the 1st and 2nd stages, 3-player matches will be played using the Burst Beystadium Wide Type, and in the 3rd, 4th, and 5th stages, 2-player matches will be played using the Beystadium DB Standard Type.
All matches up to the 5th stage are one-point matches. The winners of these qualifying stages will advance to the final tournament. From the final tournament, matches are played with the 5G Match Type to three-points.
It is important to customize your strategy for each stage.
1. My customization used in Burst Beystadium Wide Type
In the Burst Beystadium Wide Type, I used Dynamite Perseus.Il.MBD-4. Probably more than half of the Bladers who won in this stadium used this customization.
It was expected that World Diabolos.Il.MDr 1S would be used a lot in the three-player matches at the Burst Beystadium Wide Type. In fact, many players used this combo at the Hello Kitty Cup held at Sanrio Puroland last summer. My customization worked especially well with Beyblades that can spin both directions, such as World Diabolos.
In a 3-player match, it is important to have enough stamina for your Beyblades, so using heavy parts with as much centrifugal force as possible will bring you closer to victory.
Using the Perseus DB Core and Metal Bearing Drift Driver will give you more stamina than other Beyblades when the rotation is at an angle at the end of the battle.
In my case, one of the players scheduled to participate in the first round was absent, so the two players played each other in a wide stadium. I just barely won because my opponent was using a left-rotating Beyblade. In the second round, all three players were right-rotating Beyblades. This was a lucky turn of events.
2. My customization used in Beystadium DB Standard Type
From the Beystadium DB Standard Type matchup, I also used World Diabolos. I used the Illegal Disk and Mobius Driver with it.
Many G4 tournaments now use this stadium. No matter which tournament you attend, 90% of the players use World Diabolos Il.MDr 1S. So, I expected that most players would use World Diabolos.Il.MDr 1S from the third round.
I aimed to win by using Mobius Driver and turning it in the opposite direction of rotation from my opponent. Since the Mobius Driver is tall, it is easier to win by spinning it in the opposite direction of the opponent.
On the other hand, if the two drivers rotated in the same direction, the Mobius Driver would be at a disadvantage because it would be easier for Metal Drift to rotate stably. Therefore, it was necessary to win the psychological battle of mode change with the opponent and spin in the opposite direction from them.
Since we could only change modes once at the time of revealing our Beyblade, it was like a "lottery". I do not like this type of fighting. I don't like this kind of battle, because the winner is known as soon as the direction of rotation is decided.
If stadiums like the Burst Stadium Standard Type were used, where attack types could be used strategically, I think that World Diabolos would not be used exclusively.
However, in the case of Beystadium DB Standard Type, I had no choice but to prepare for this tournament because I knew that it would be difficult to win this tournament without using World Diabolos slayers. Some players tried to use Dynamite Perseus for a spin finish, but it was not as good as World Diabolos' stamina, so all players who used Dynamite Perseus in the 4th stage disappeared.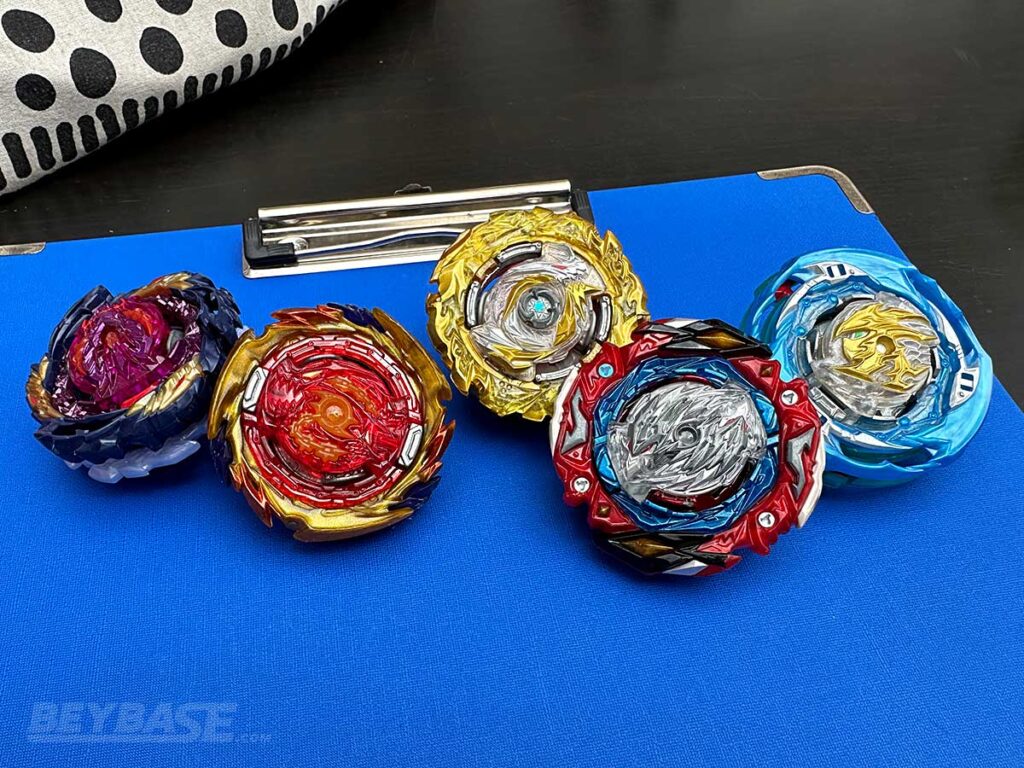 3. My 5G deck used in the finals
My deck was as follows:
Master's G1 Championship Winning 5G Deck
Vanish Bahamut Nexus (S Gear) Bearing Drift-6
Dynamite (F Gear) Kerbeus Over Metal Bearing Drift-4
World Diabolos Illegal Metal Drift 1S
Burst Longinus Giga Drift-2
Wind Perseus Spread' Zone'+Z-0
I think these customizations are very common in 5G decks in the Kanto area. In 5G Match Type, it is difficult to differentiate yourself from your opponents by customization, it is more about which Beyblades you bring in which order. This is also like a "lottery".
If my opponent was a player from outside the Kanto region, I had to pay special attention because the customization trend would be very different. What I was conscious of in deciding this order this time was to get 3 points more quickly.
Vanish Bahamut Nexus (S Gear) Bearing Drift-6
This customization is quite famous in the Kanto area. This customization is very effective for Beyblades with opposite rotation direction. Many players in the Kanto area like this customization.
They call this customization "KURUKURU" ("round and round"). The strength of this customization is the point that S Gear spins freely The combination of the Nexus Disk and S Gear gives a special rotation at the end of the battle.
On the other hand, it is not good for Beyblades with the same spin direction. For example, in my deck, it is vulnerable to losing to Beyblades that rotate to the left, such as Burst Longinus and World Diabolos.
Dynamite (F Gear) Kerbeus Over Metal Bearing Drift-4
This is one of the strongest customizations for right-spin Beyblades. This customization is effective against right-spin opponents as well as left-spin Beyblades. Unlike Dynamite Perseus used in the Burst Beystadium Wide Type, the Kerbeus DB Core is used to save Perseus for customization with the Wind Blade, which is used in the fifth spot in my deck.
The Dynamite Blade is the most compatible part with the Metal Bearing Drift Driver. However, since Metal Bearing Drift is a rare part that only a few players can obtain, some players can and cannot prepare this customization. The Bearing Driver and Bearing Dash Driver can be used as alternatives, but they have less endurance performance than MBD.
World Diabolos Illegal Metal Drift 1S
This customization needs no explanation. It is the most used customization nationwide and was used by most players at this G1 tournament.
This customization is very effective against Beyblades spinning in the opposite direction. Many players like to use this customization because the chances of losing to a Beyblade in the opposite rotation direction are very small. By the way, I dislike this customization the most in the 5G deck.
This time I prepared a special disk in building this customization. That is the painted Illegal Disk. It's a special colored disc that you can get in the "Bakuten Shoot Beyblade 2023 V2 Set". The reason why this disk was needed is because the special gray paint makes it heavier than the regular Illegal Disk. The weight of a typical Illegal is said to be 31.8g-32.0g. However, the Illegal I obtained weighed 32.4g. This weight enhanced the performance of World Diabolos.
Burst Longinus Giga Drift-2
This customization is also famous in the Kanto region. Originally, the Burst Blade was a part used for its ability to switch spin directions, but the 5G deck can only have one Beyblade with such an ability. Therefore, the Longinus DB Core is used to customize it to rotate only in the left direction.
If you choose to rotate only in the right direction, you will have to contend with powerful Beyblades such as Dynamite and Wind, so by choosing to rotate only in the left direction, where there are fewer enemies, you have a higher chance to win points. By adopting the Drift Driver, this customization has very few weak points.
Wind Perseus Spread' Zone'+Z-0
This is the only Beyblade that did not get a chance to play in this match. I won without using this Beyblade.
I think some people like this customization and some do not. In the Kanto area, there are more players who use the Zeal Driver than Zone'+Z. The use of Zeal was unusual from the rest of the areas in Japan.
As a side note, when I used Wind Perseus Spread' Zeal-4 when I participated in an informal tournament in Kansai region with my friends before, many players in Kansai region were surprised at our customization.
I used to adopt Zeal as well, but I thought that Zeal was not suitable for G1 because it often lost its posture at the end. So we adopted Zn'+Z. Because it has a thick axis, it maintains its posture until just before the rotation stops, and I realized that it is effective for Beyblades in the opposite direction of rotation. It is an effective customization because it can beat World Diabolos with high probability.
How to build the winning Beyblade combinations from Master's deck
---
Vanish Bahamut Nexus (S Gear) Bearing Drift-6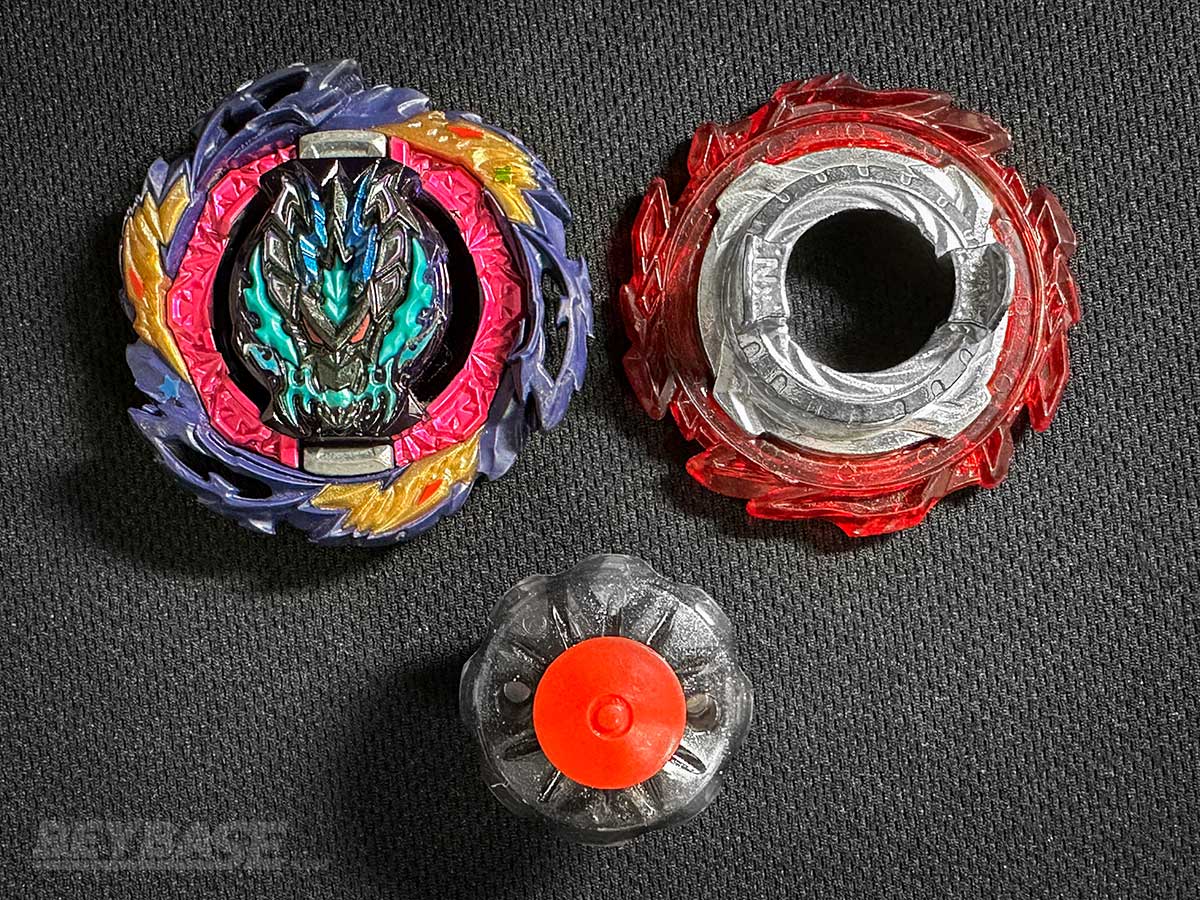 Vanish Blade (1 of the following)

Bahamut DB Core (1 of the following)

Nexus Disk (1 of the following)

S Gear (1 of the following)

Bearing Drift Driver

6 Armor (1 of the following)
---
World Diabolos Illegal Metal Drift 1S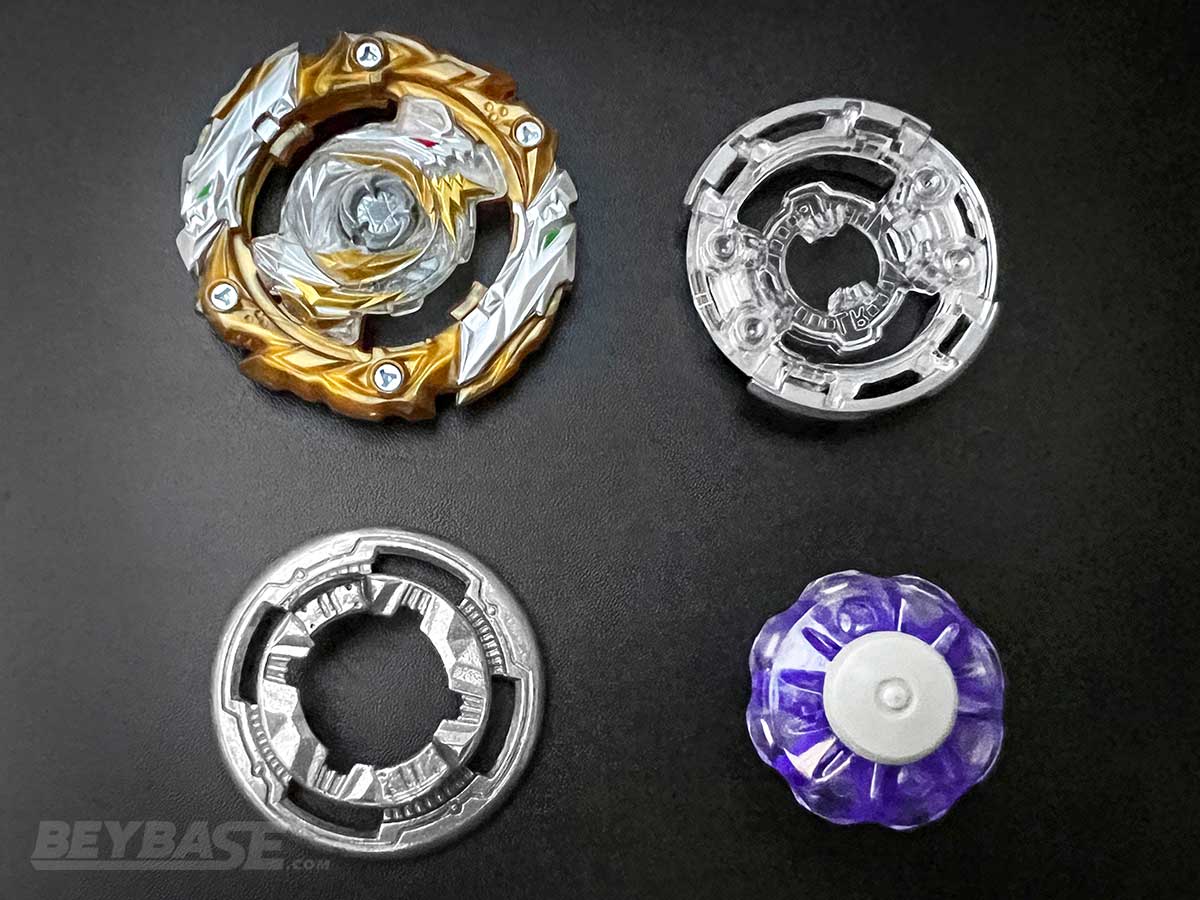 World Ring (1 of the following):
Diabolos Sparking Chip (1 of the following):
Illegal Disk (1 of the following):
Metal Drift Driver:
1S Chassis (1 of the following):
---
Burst Longinus Giga Drift-2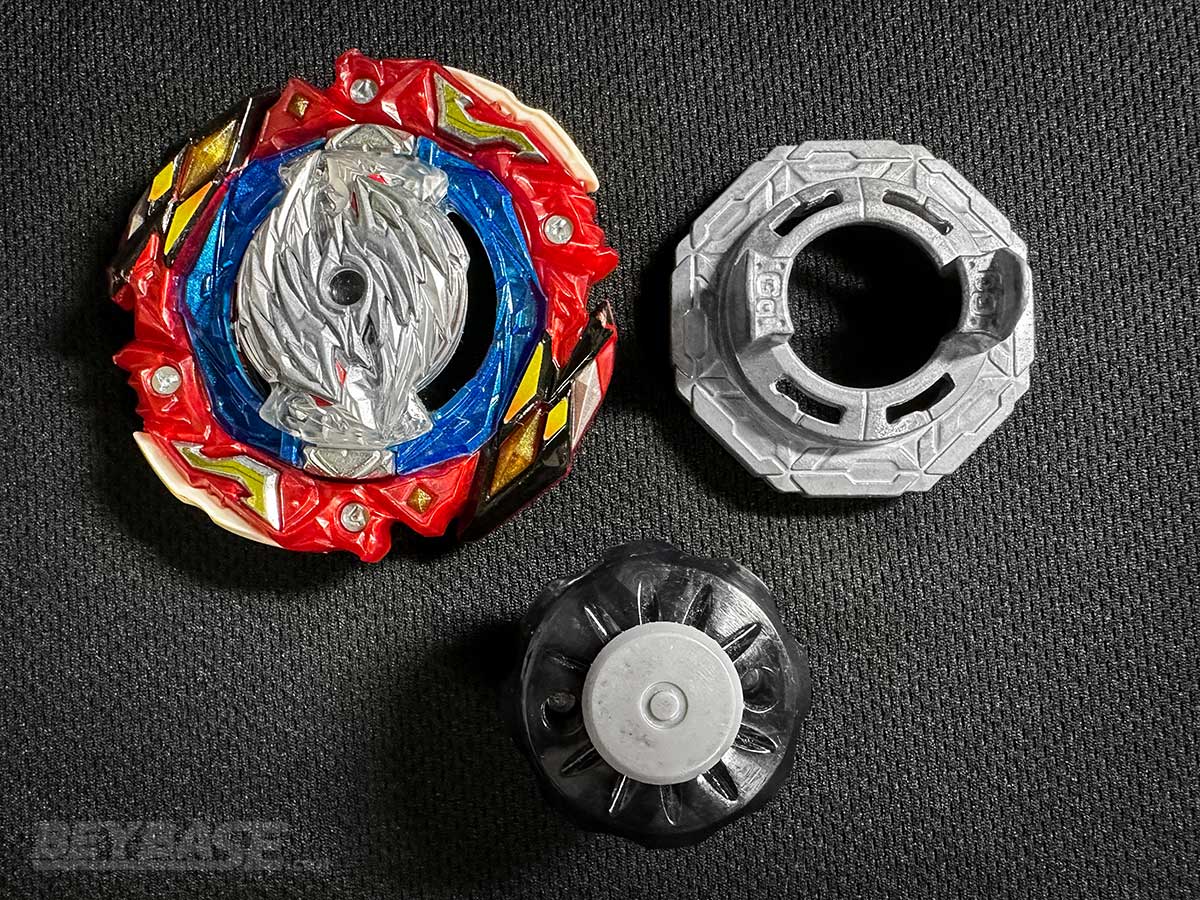 Burst Blade

Longinus DB Core (1 of the following)

Giga Disk (1 of the following):

Drift Driver (1 of the following):

2 Armor (1 of the following):
---
Mindset & Preparation Tips for Beyblade Tournaments
Kei: You often play in tournaments. The readers of my blog BeyBase are the same, so I'd like to now ask some questions about your mindset and preparation for tournaments.
How do you prepare for tournaments? Is there any difference between your preparation method for a G1 versus a G4?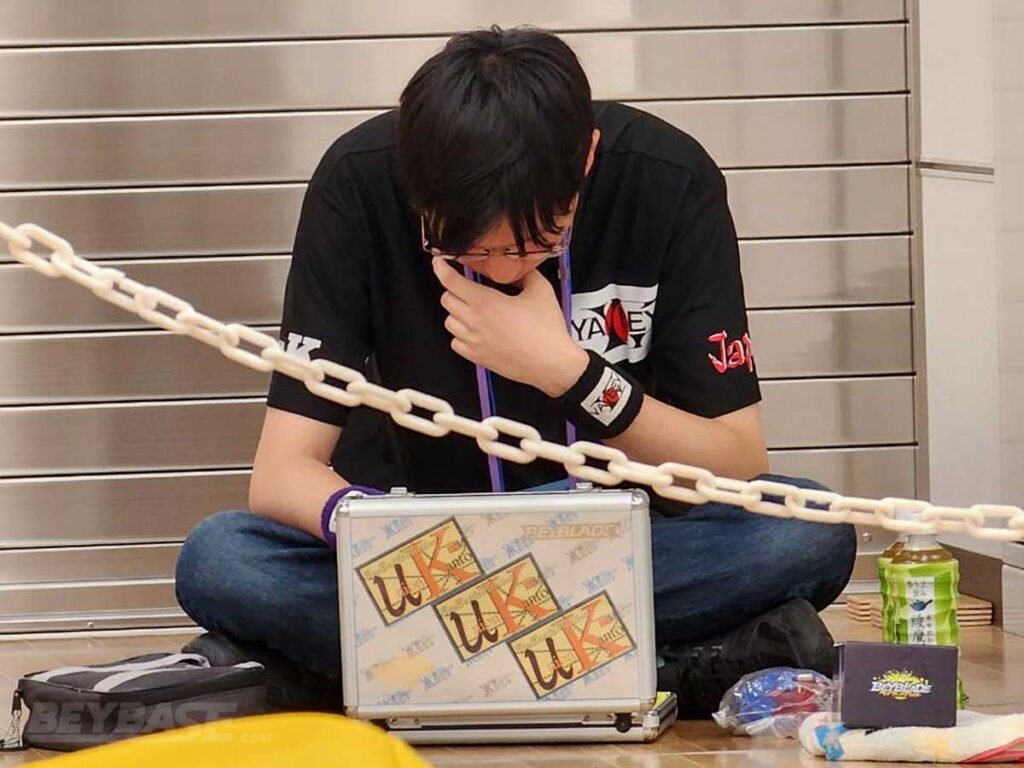 1. Preparation before a tournament
Master: The day before a tournament, I always check the behavior of the Beyblade I plan to use in the tournament. In Beyblading, it is very important to know how your Beyblade behaves.
By checking every detail of how the Beyblade will behave, you can broaden the scope of your strategy. Especially for the Drift Driver, if you do not check the behavior in advance, you may fail when you use it in the tournament.
Over time, the behavior of your imagined Beyblades and the actual Beyblades often differ. It is important to check your Beyblades periodically and repeat the cycle of reassembling the Beyblades from scratch if the behavior is not as ideal.
2. Preparation for G1
There are not as many opportunities for G1 level tournaments as there are for G4. So most players who compete in G1 take more time to prepare than those who compete in G4.
For example, they use parts that are in better condition than the Beyblades used in G4. Especially for parts like the Bearing Drift Driver and Metal Bearing Drift Driver, they tend to save high quality copies of them in good condition for G1 because of the similarly high quality parts used by others.
In my case, I used a painted Illegal Disk from the "Bakudan Shoot Beyblade 2023 V2 Set" for the Beyblade Burst Thanksgiving G1. Because it is heavier than the regular Illegal Disk.
3. Notes on G1
In G1 tournaments, the Beyblades to be used are strictly checked before the battle. That cannot be compared to the usual G4 tournament Beyblade checks. Even if you are using a Beyblade you normally use that has not been crafted or illegally modified, you may be warned that you cannot use it in G1.
Therefore, it is important to have spare parts available. In a G1, once you enter the battle area, you cannot leave the area. Note that it is also not possible to receive parts from outside the battle area.
The most effective way is to customize your Beyblades with all new parts. Several of the Beyblades I used at the Beyblade Burst Thanksgiving G1 consisted of brand new parts. Therefore, I never once had a Beyblade check point out any issues or force me to replace a part.
Kei: How do you handle losses? What strategies do you adopt to bounce back and stay motivated?
Master: There are several methods I always use to cope with losing and to maintain motivation.
1. Analyze the cause
When I lose, I naturally analyze the cause of the loss. How to deal with it depends on how you lost. If I lose in an endurance match, I review my Beyblades. The next time you play against the same opponent, it is natural that you will lose if you do not change anything.
In that situation, I will start from scratch to prepare Beyblades that are better than the opponent's. In some cases, this will take a lot of time.
If you lose by over-finishing or burst finishing, review the shooting method. Review and study techniques such as shooting position and shooting power to increase the winning rate. After a loss, it is important to consider the cause of the loss.
Players who cannot think and explore the reason for their loss will not become stronger in Beyblade.
2. Create rivals.
I have many rivals. Making many rivals helps to increase my motivation. If I have many rivals, I don't want to lose. If I am even slightly distracted, they quickly overtake me. I hate to lose, so I always try to be one step stronger than my rivals.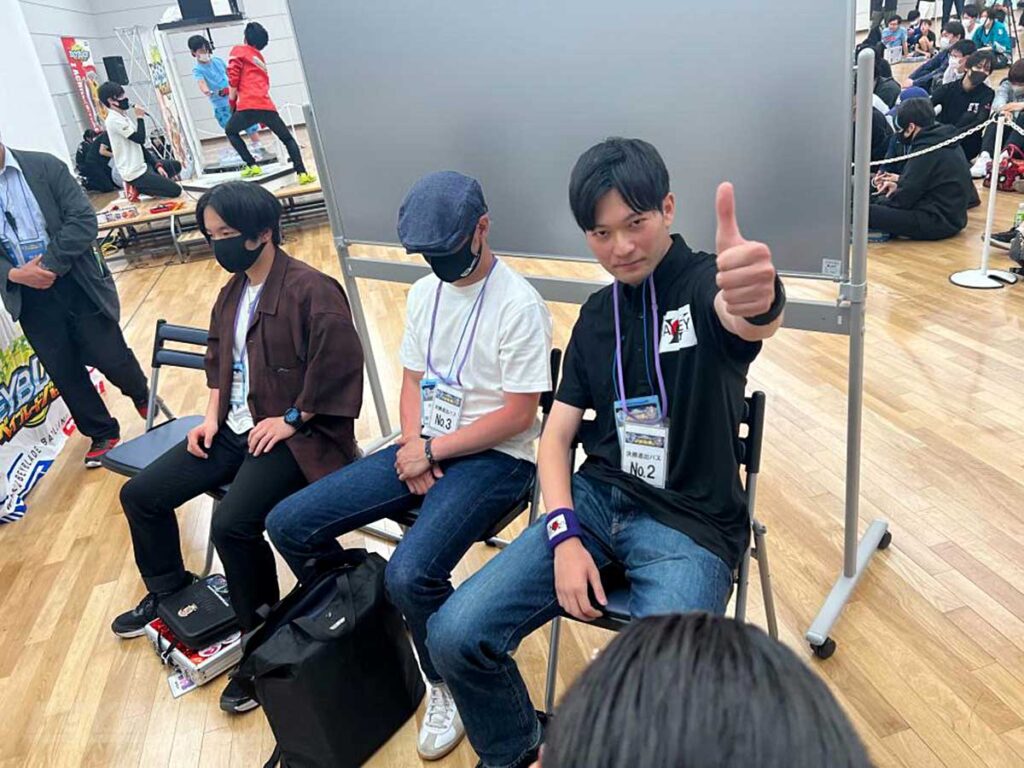 Kei: Do you have any particular rituals or habits that you believe help improve your performance in tournaments?
Master: I will explain four things that I routinely do:
1. Observe the battles of my fellow competitors
I always observe how my fellow players are battling at tournaments. In particular, I try to observe the 5G matches from the semi-finals onward at every tournament site.
I learn a lot by observing the tactics and skills of the players who have won their tournaments. The players who have won the tournament may play against me in another tournament in the future, so I can counter them by observing them. It is important to be aware that while you are not playing, your rivals around you are getting stronger.
These days, there are fewer players who eagerly observe the battles of winning players. That is a great pity.
2. Battle while thinking
It is very important to think while watching the behavior of your Beyblades and your opponent's Beyblades during battles. If you lose points during a battle, you will not win the battle again with the same strategy. Even if you gain a point, you may lose it the next time if you get carried away.
Players who can immediately analyze the cause of a win or a loss and improve in the next battle will do well on the big stage. You cannot grow as a player by just staring at the spinning Beyblades. Strong players are always thinking about what they are doing in battle.
3. The important thing is not to win but to avoid making mistakes.
Everyone wants to win at tournaments. It is important to have the desire to win, but if you concentrate only on winning, you will make mistakes in unexpected situations.
Beyblade is a game where you can lose no matter how favorable the situation is. If you only think about winning, you will be under pressure. So I battle with the idea of not making mistakes. If you can always imagine the worst possible situation, you will naturally take countermeasures. By taking countermeasures, you basically don't lose unnaturally.
This is the most important point that helped me to win the Beyblade Burst Thanksgiving G1 tournament.
4. Discussion
After the tournament, discussing the day's battles is one additional effective tactic.
Basically, the correct answer for Beyblade differs from player to player. By sharing your thoughts on the day's battles with your fellow Beyblade players, you will increase your knowledge. At the same time, new goals can be found.
Sometimes your friends have information that you don't. The more friends you have, the more knowledge you gain. Make the most of the time you have to talk with your peers to improve your performance.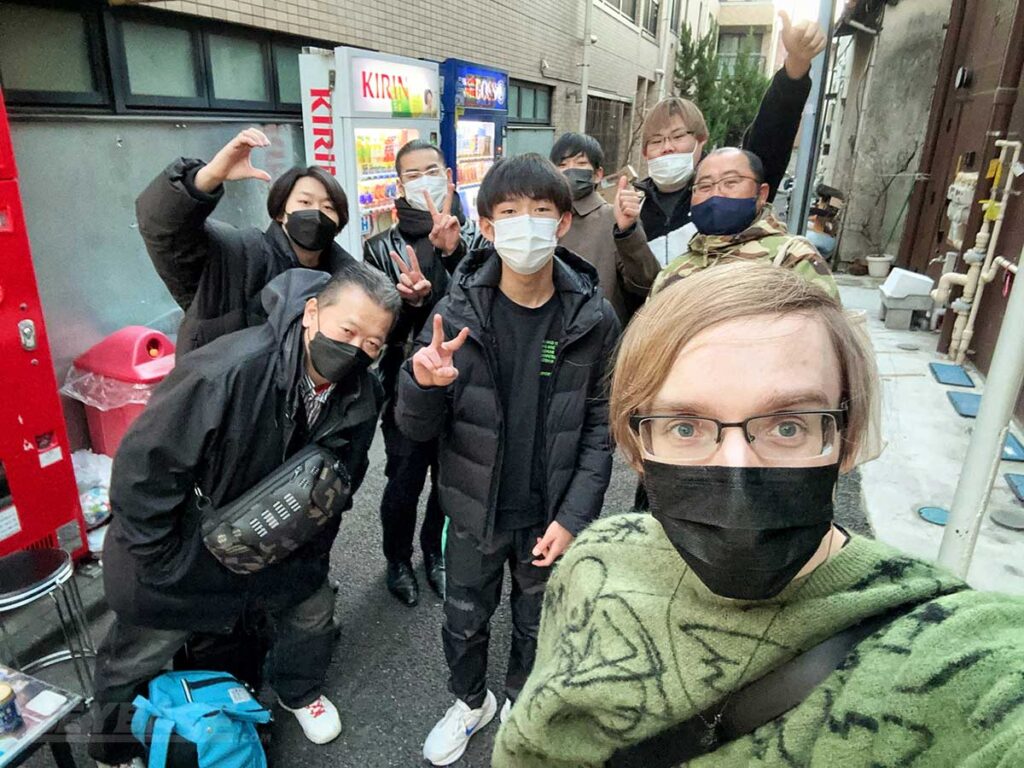 ---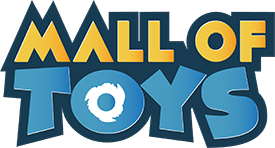 Sponsored: Order the
newest Beyblades

at malloftoys.com!
---
Heads up: If you buy something through Mall of Toys, you won't pay any extra, but I'll get a small commission. This helps me keep things running. Thanks for your support!
Reflecting on Eight Years of Beyblade Burst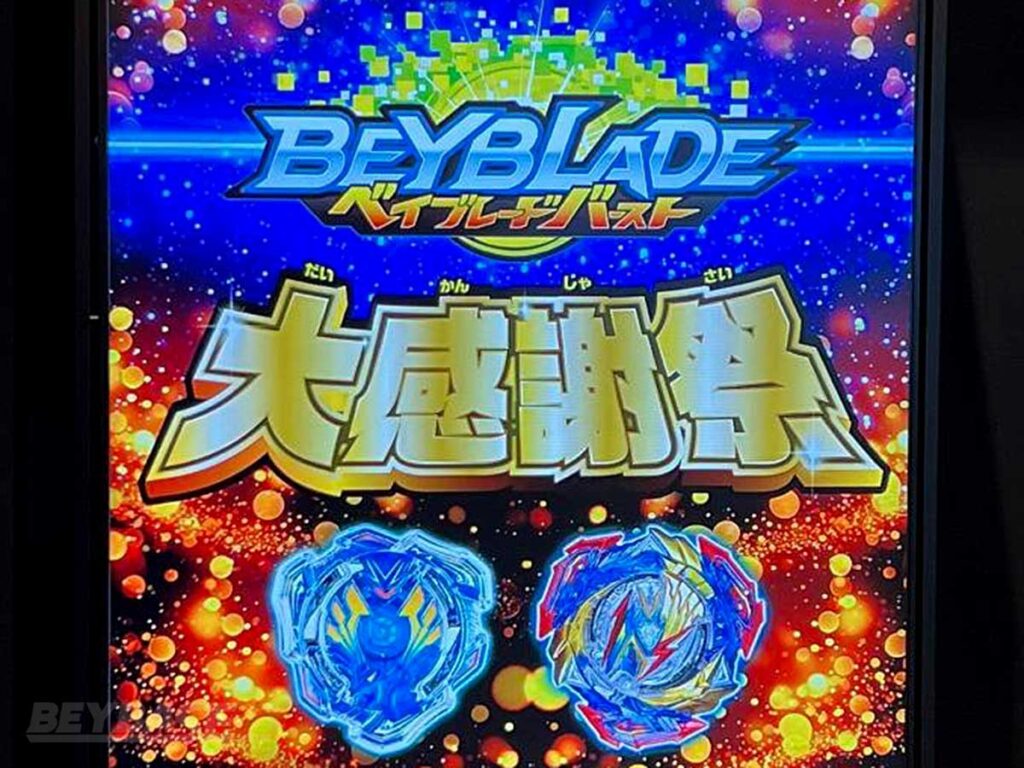 Kei: Before we move onto Beyblade X, I'd like to ask for your thoughts about Beyblade Burst because it just recently finished after eight years.
What do you like about Beyblade Burst? Is there anything you feel TAKARA-TOMY did really well or could have done better with Beyblade Burst?
1. Favorite part of Beyblade Burst
Master: My favorite part of Beyblade Burst is that there were many tournaments that adults could participate in.
In the Metal Fight series, I was a child, but there were very few open class tournaments that adults could also participate in.
So I thought that I would not be able to participate in most G4 tournaments in Beyblade Burst. However, Beyblade Burst now has an Open Class in which "junior high school students and older" can participate in, in addition to the regular "elementary school students only" class. This made me happy. Takara Tomy also gave adults the right to participate in large tournaments of G3 and above. With so many open classes, I was able to make a lot of friends in the Burst series.
I like Beyblade Burst and think they did a good job of actively creating these competitions for adults to participate in.
On the other hand, there are many areas where I think they could have done better. This is a bit of a harsh perspective.
2. Decline in quality
One of the bad aspects of Beyblade Burst is the drop in product quality. This is partly due to the fact that products from the Burst series began to be made in Vietnam; around 2015, production of many of Takara Tomy's toys began to shift from China to Vietnam.
This is said to be because Vietnam can manufacture at lower costs than China. It is natural for a company to earn profits by manufacturing products at lower costs. However, Beyblade Burst's shift of production to Vietnam resulted in the shipment of many defective parts.
When I started Beyblade Burst, the first thing that surprised me was the poor quality of the launchers. At the time, many players noted the poor quality of the launchers. To my surprise, they were fragile. I do not remember exactly how many I replaced.
Driver Quality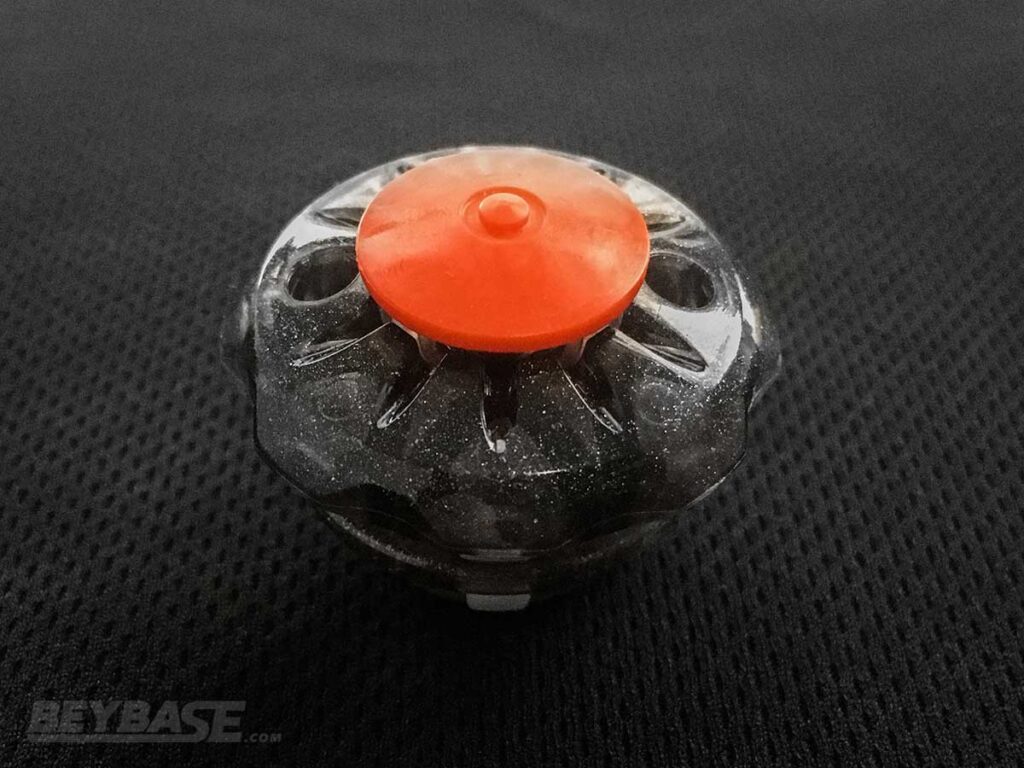 The next thing that surprised me was the poor quality of the Drivers.
In particular, the poor quality of drivers with built-in bearings such as the Bearing Driver, Bearing Dash Driver, and Bearing Drift Driver was extraordinary.
Most of them had bent shaft tips and were so defective that they could not be used in competitions. Some of them were shipped with no built-in bearings, even though they were bearing drivers. This infuriated me.
Disk Weight Variation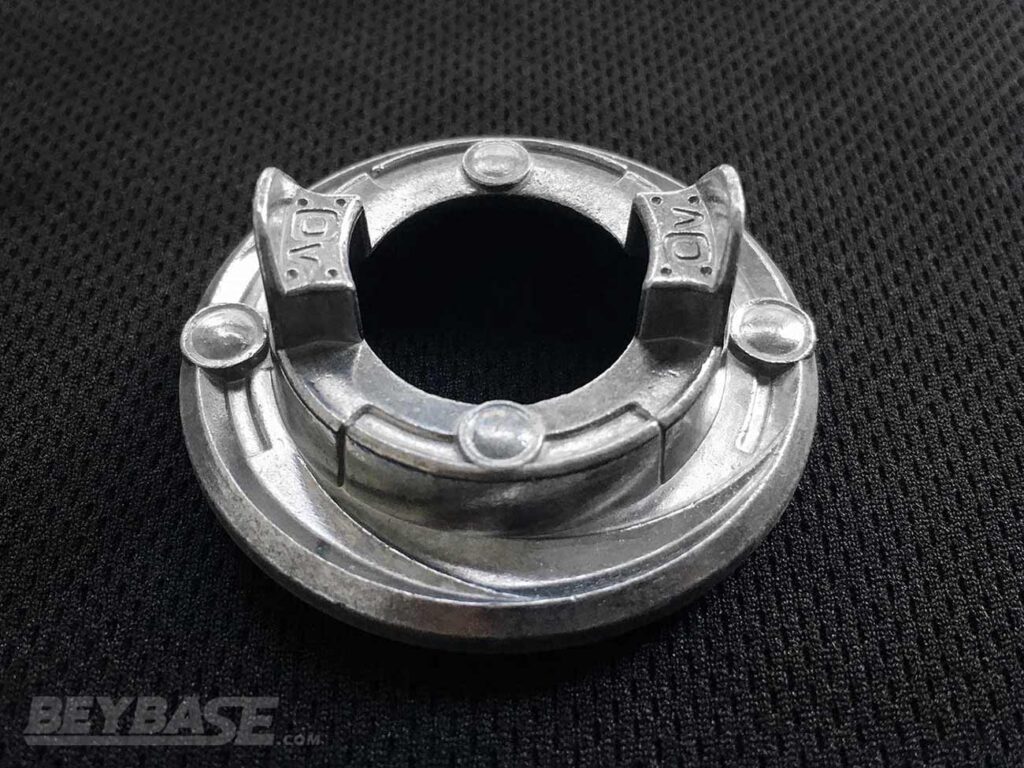 Last but not least is the weight of the Disks.
Discs also varied in weight because they were manufactured at a lower cost. Take the Over Disk for example: the heaviest Over Disk weighs 34.0g and the lightest 32.8g. For a toy like Beyblade, we feel this difference is quite significant, and we hope it will be improved in Beyblade X.
3. Prizes for winning prizes in large tournaments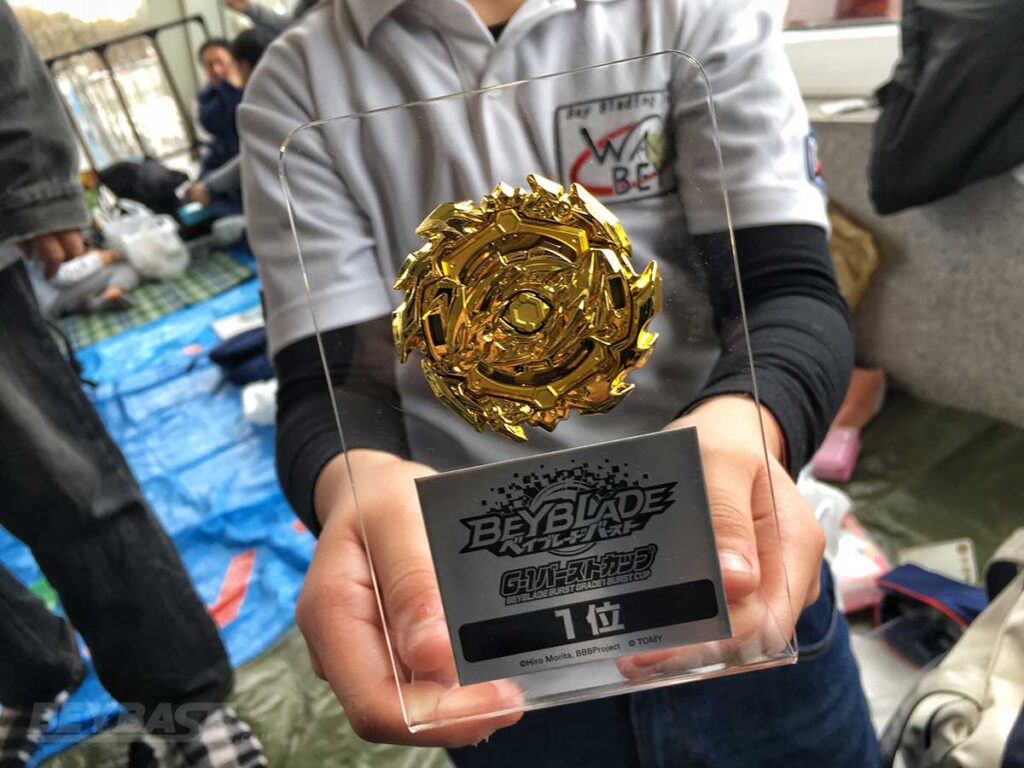 One of the things that long-time Beyblade players have pointed out is the way prizes for large tournaments are handed out. In the Burst series, we feel that the way the G1 prizes are handed out is terrible. To tell this story, one needs to look back over 20+ years of Beyblade G1 competitions.
From what I have heard, in the first series of Beyblades, if you won a prize in the G1, you always got a certificate in addition to the Beyblade. This is a good way to commemorate the event.
In the Metal Fight series, the Beyblade was given to the winners as it was installed on the trophy. In addition to the certificates, of course, the winners also received gold launcher grips and special jerseys. It was a great series with very generous extra prizes.
In contrast, what about the Burst Series? In fact, there were only two G1s where trophies like this one were awarded, the first and last. In most of the other G1s, Beyblades in plastic bags were simply handed out to the winners. There were no certificates, trophies, or other extra prizes. This is a surprise, isn't it? In this G1, too, the original prize was only a Super Hyperion. I heard that it was only at the last minute that it was decided that the trophies and certificates would be handed out as a surprise.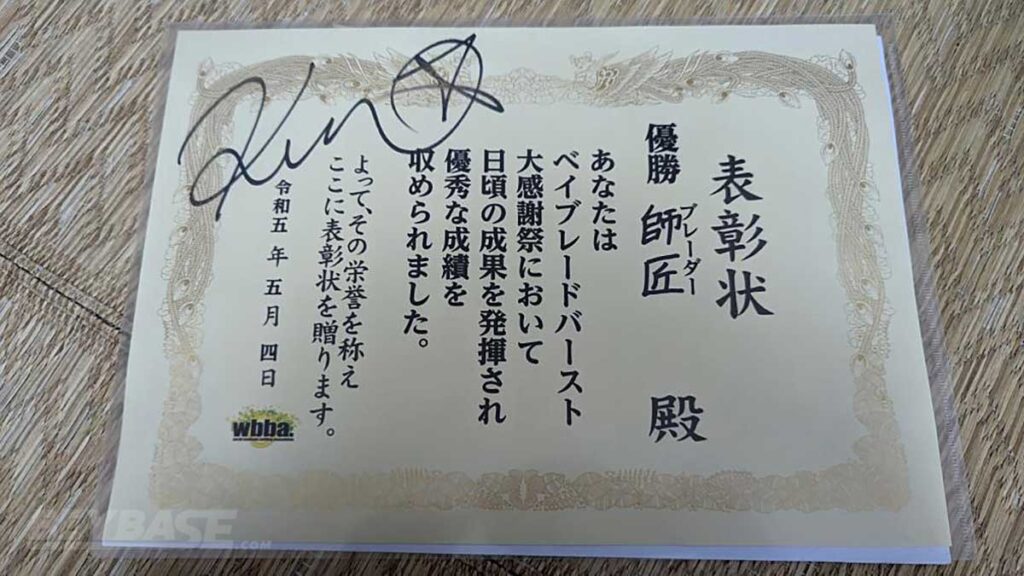 I find this method of handing out prizes to be very disappointing.
It has been announced that Beyblade X will offer more secondary prizes. I hope that there will be a large tournament that will allow players to spin Beyblades to achieve higher goals than ever before.
The importance of unique Beyblade stadiums and traditionally designed, competitive stadiums
Kei: In the western Beyblade community, some players prefer the gameplay produced by traditional Beyblade stadiums like the Burst BeyStadium Standard Type over the style created by the BeyStadium DB Standard Type. Both Hasbro and Takara-Tomy have experimented a lot in recent years with unique stadiums. How do you feel about this? I noticed that most tournaments I've participated in in Japan still use the Burst BeyStadium Standard Type.
Unique stadiums do not allow for proper competition
Master: Bringing out unique stadiums on a regular basis makes Beyblade more exciting, right? I too like the occasional Bey battle with unique stadiums.
However, I am against unique stadiums becoming the norm. I do not agree that unique stadiums should be the norm, because they do not allow for proper competition.
Currently, most G4 tournaments in Japan use the Beystadium DB Standard Type, and even in G1, all 2-player matches used the Beystadium DB Standard Type. However, all Open Class G4 tournaments in Tokyo use the Burst Stadium Standard Type. This is because the Burst Stadium Standard Type is the most competitive stadium in Beyblade.
The DB Standard Type BeyStadium eliminates the strategic use of attack types
The disadvantage of the Beystadium DB Standard Type is that it is impossible to use attack type Beyblades strategically. I am mainly referring to Drivers with rubber tips, such as the Xtreme Driver.
Not being able to use Attack means that the range of strategies is limited.
Another disadvantage is that winning or losing a battle depends on the performance of the Beyblades. It is now harder for the player's skill to make a difference.
This is like the "lottery" I have mentioned many times; I find it difficult to analyze the reasons for losing, especially in 5G. In the case of 5G, I find it especially difficult to analyze the cause of losing, because the winner is almost always decided at the stage of deciding the order. Therefore, when I lose a 5G match, even with Beystadium DB Standard Type, I consider it as "bad luck".
In the Burst BeyStadium Standard Type player skill matters more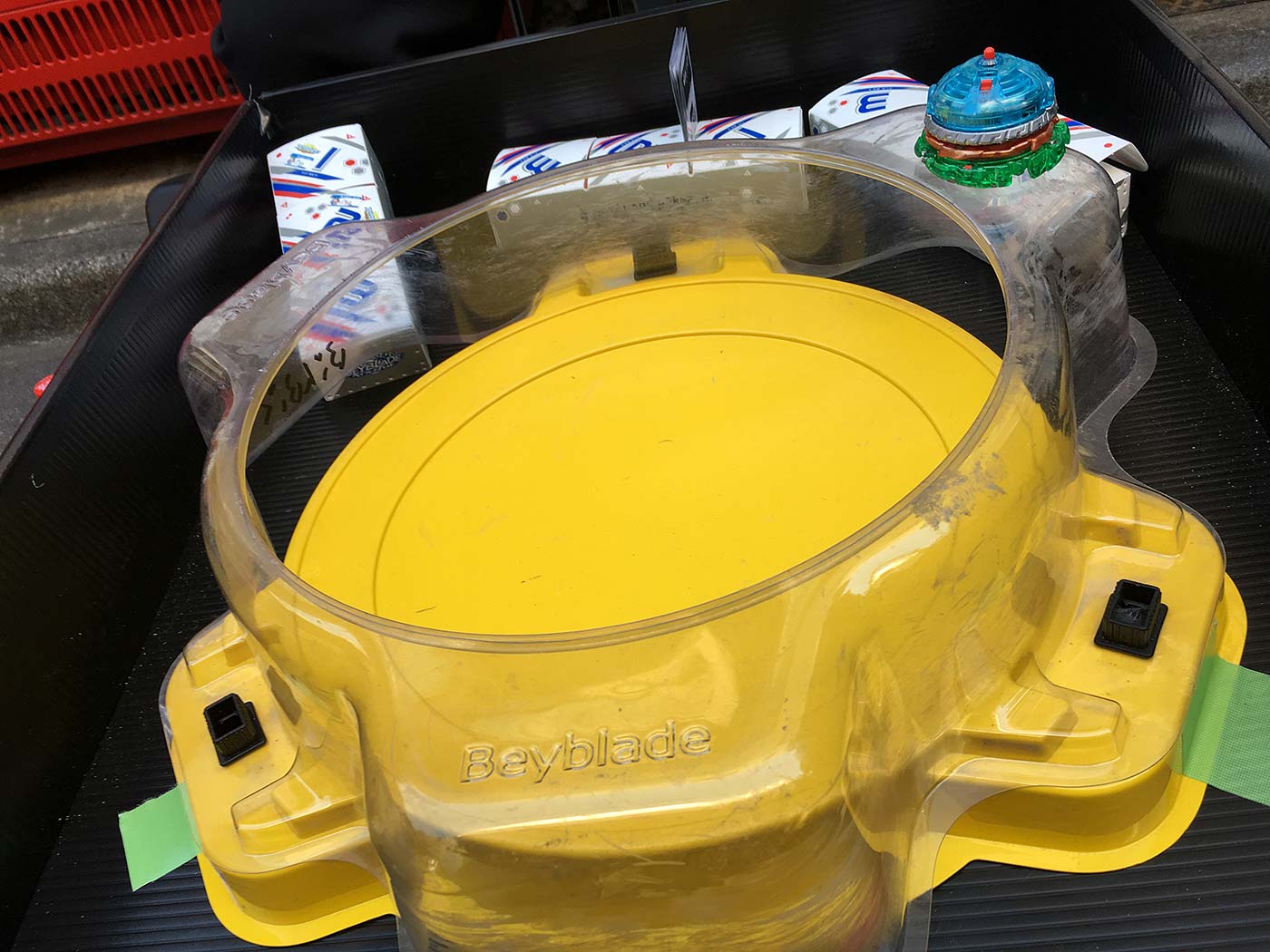 In the case of the Burst Stadium Standard Type, victory or defeat depends not only on the performance of the Beyblades themselves, but also on the skill of the player.
No matter how good the Beyblades are, if the player does not have the skills, it will be difficult to win. If you improve your skills in the Burst Stadium Standard Type battles, you can apply them to Beystadium DB Standard Type battles. That is why we use the Burst Stadium Standard Type in our Open Class G4 tournaments in Tokyo.
---
Looking Forward to Beyblade X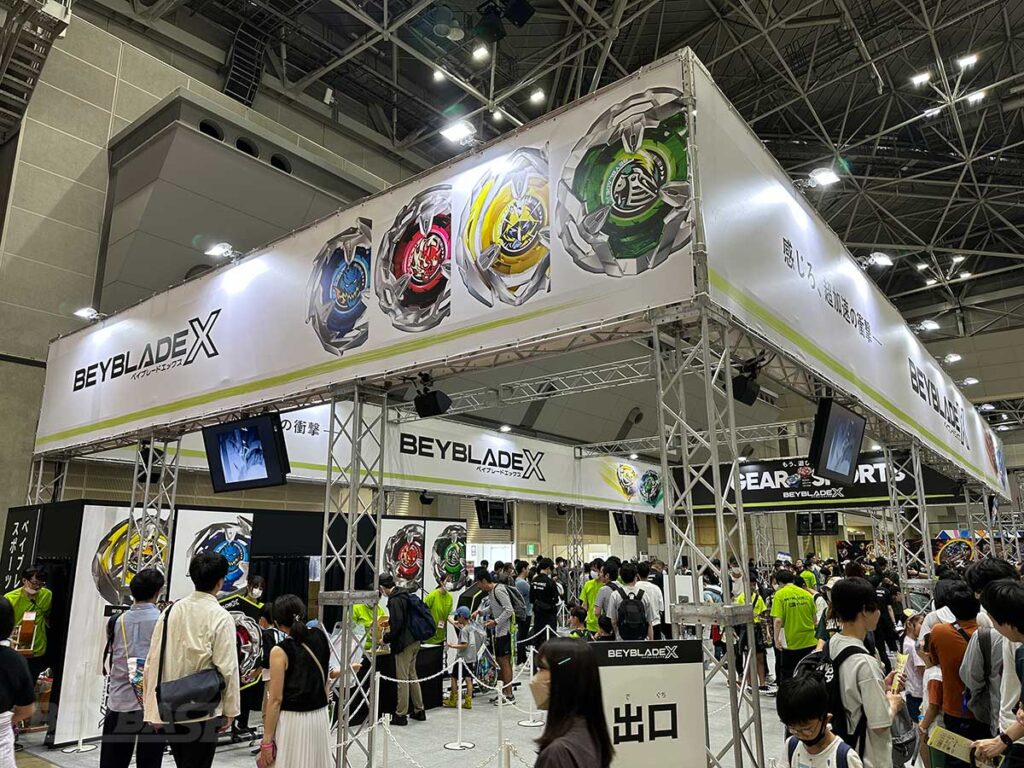 Kei: What is your impression of Beyblade X so far? What do you like? Dislike?
Master: Unfortunately, at this time I do not have a very positive impression of Beyblade X.
I feel that Beyblade X has lost the competitive nature that Beyblade has always had. I have already seen a number of promotions, and Beyblade X will be the most "luck" series in Beyblade history. I feel that all the skill and Beyblade tuning techniques we have developed so far are meaningless in Beyblade X. The cause of this is the stadium.
1. Battles in the new stadium with a high element of luck
In Beyblade X, the stadium is geared to accelerate the movement of Beyblades more than ever before. Many users will be impacted as battles are expected to be more intense than ever before.
However, hardcore users criticize this gimmick because it makes battles dependent on the performance of the stadium. The Beyblade battles we have played so far have taken place only in basic stadiums. On rare occasions, Takara Tomy releases a stadium with a special auto-rotating gimmick, but such stadiums are only used in a few special scenarios.
Takara Tomy had a bad impression from the Metal Fight series that many users were playing stamina games. I feel that Stamina fights are hot battles where players spend money and time to prepare their Beyblades, but many casual users say these types of battles are too boring.
Beyblade Burst was developed by Takara Tomy to eliminate this kind of stamina competition. However, contrary to Takara Tomy's intentions, there were many stamina battles in the competitions, and in 2020, a measure was taken to change the number of points earned for Over Finishes from 1 to 2, but this did not reduce the number of stamina battles.
We believe that in Beyblade X, they are trying to completely eliminate the stamina game by installing a special gimmick in the stadium.
As proof of this, they have added a new winning method in Beyblade X.
It is the "Extreme Finish". In Beyblade X, the battle has been changed from 3P first to 4P first. Spin Finish is still 1P and Extreme Finish earns 3P. In other words, playing with stamina focused Beyblades is by far the least efficient way to earn points.
Comparing Beyblade to Beigoma & Koma Taisen
Did you know that in Japan there is another spinning top besides Beyblade called "Koma Taisen"?
Koma Taisen is a one-on-one competition in which small and medium-sized manufacturers from all over Japan bring their original spinning tops.
Like Beyblade, there are two types of spinning tops in the Koma Taisen: Attack and Stamina, but most manufacturers focus on Stamina in their spinning tops.
Beigoma, the origin of Beyblade, has historically been played on a dome-shaped field with no barriers. In Koma Taisen, too, battles are fought on a basic domed field. They are shaped like the Burst Stadium Standard Type. In other words, a general domed field like the Burst Stadium Standard Type is the best field to take advantage of the spinning tops and their features.
This new stadium is not a basic stadium where players fight based on the performance of their Bey and their own skills, as has been the case in the past. We feel that the impact as a toy is perfect, but if you look at Beyblade as a competition, we feel that the new stadium will lead Beyblade in the wrong direction.
From here on out, I will talk about the developments that are being decided in Japan!
2. New Masters Class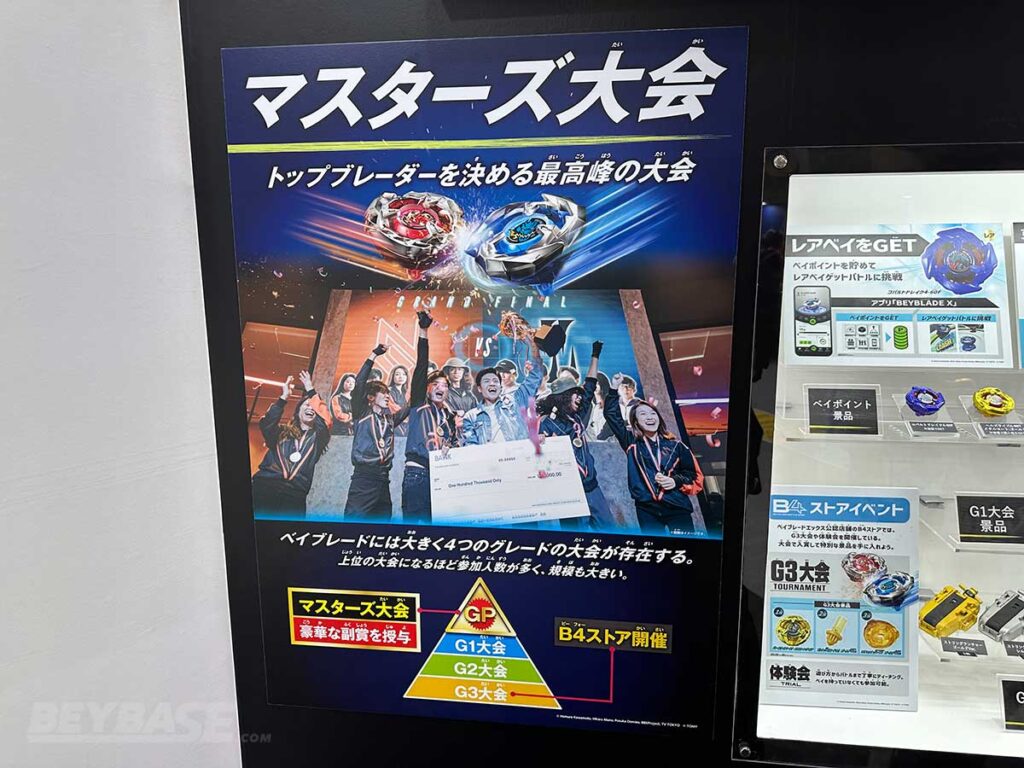 On the other hand, there is also a favorable impression. Following Beyblade Burst, Takara Tomy has announced that in addition to the Regular Class, which is limited to elementary school students, there will be a Senior Class, which is limited to junior high school students and older, and a Masters Class, which is open to anyone from elementary school age and older.
We appreciate the fact that they have provided a tournament that allows adult players to play as well as they have in the past.
3. Competitions that users can organize
Furthermore, Takara Tomy has established a new system called "S1" to encourage users to actively organize tournaments, not only at the store.
This is a system under which Takara Tomy provides users with prizes for tournaments. It is anticipated that this system will lead to many tournaments being held throughout Japan.
In Beyblade Burst, at the end of the series, G4 tournaments were not held in most areas outside of Kanto (Tokyo, etc.), and users often held their own original tournaments. So we feel that this is a great system for users all over Japan.
---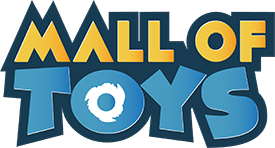 Sponsored: Order the
newest Beyblades

at malloftoys.com!
---
Heads up: If you buy something through Mall of Toys, you won't pay any extra, but I'll get a small commission. This helps me keep things running. Thanks for your support!
Advice for New Beyblade Players
Kei: With the Beyblade X era beginning soon, it's likely that we'll see a lot of new players who start playing. Do you have any advice for new players that want to play in tournaments?
Master: Just enjoy the battles. Many different players participate in the tournament. It is a lot of fun to battle with people you would not normally be able to fight with. Winning and losing are inevitable in a competition, so there are times when you feel frustrated. When I first started Beyblade, I too felt frustrated because I could not win at all. However, there is great value in the victories that come after overcoming them. If you don't forget your ambition and inquisitiveness, and keep challenging yourself, you will definitely achieve good results someday.
Good luck everyone!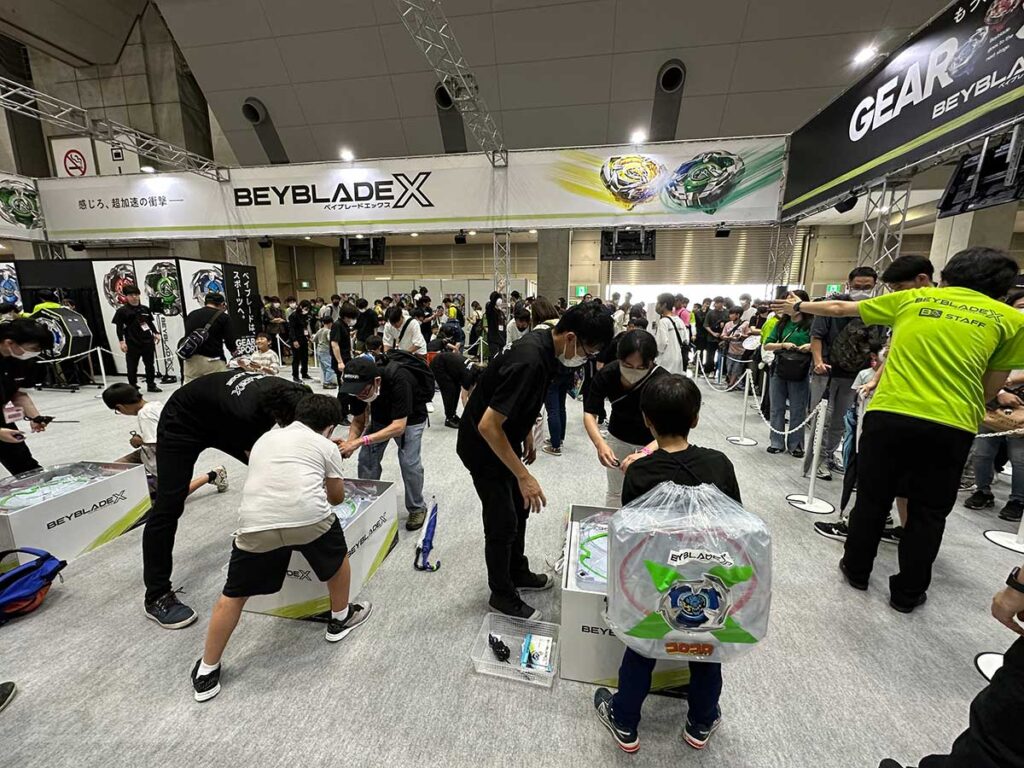 ---
The Meaning of Beyblade
Kei: Why do you play Beyblade? What does Beyblade mean to you?
Master: The reason I play Beyblade is because it's just fun.
I have been playing Beyblade since I was in elementary school, and this year marks 14 years since I started. In terms of my life, I have devoted two-thirds of my time to Beyblade. I have met many friends over the past 14 years, and together we have shared the same goals, challenges, joys, and excitement. For me, Beyblade has been a part of my life and a place of personal growth.
The connections I have made over the past 14 years with my fellow Beybladers are something I will treasure for the rest of my life. I will continue to run with my friends to reach the top of Beyblade.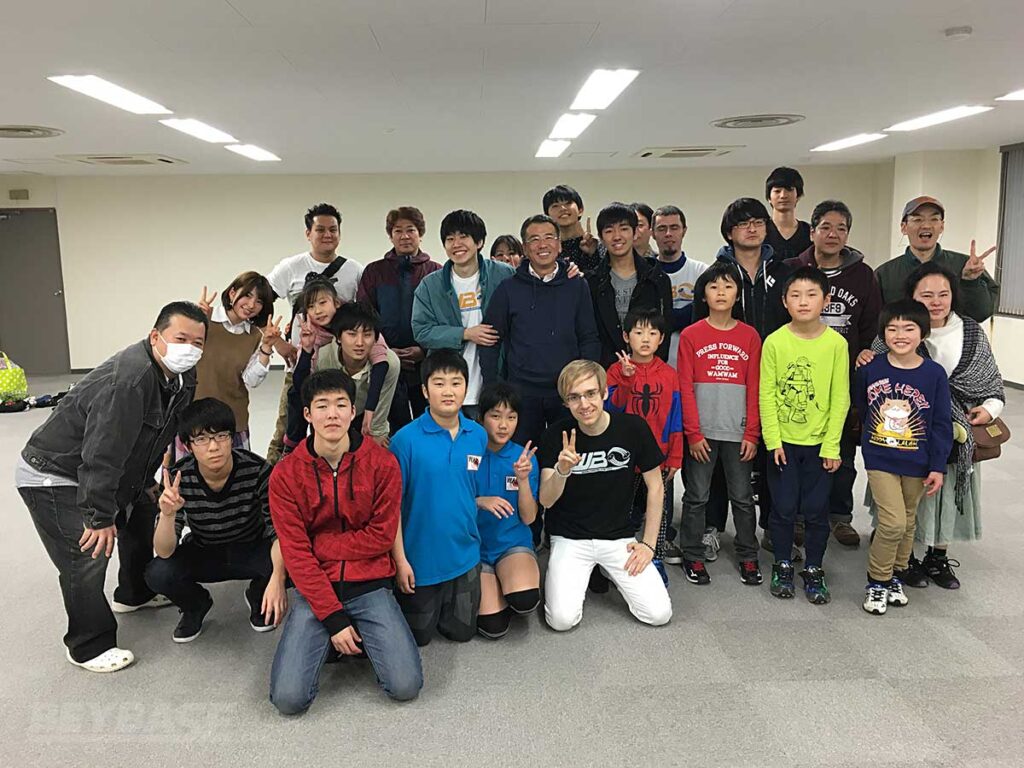 ---
Conclusion
What struck me the most about this interview was how accurately Master's experience and sentiment mirrored mine. Both as a competitor and as a fan of Beyblade.
Beyblade X's stadium gimmick concerns
When it comes to Beyblade X, I do have one thing I will add in response to his hesitation about the new stadium gimmick:
Even if it does turn out as he suspects, we do have the choice as fans to run tournaments in a different, more traditional and competitive stadium. He included a recent example in one of his answers too. G4 Beyblade Burst tournaments in Tokyo were continuing to use the Burst Stadium Standard Type despite the 'official' stadium becoming Beystadium DB Standard Type.
The important thing is that Beyblades themselves are good quality. If they are, it's easy to play in other stadiums at least during fan-run events.
It's important for Takara Tomy to continue experimenting and pushing the limits of gameplay. Introducing things like new stadiums is a good way to do it. In fact, I am impressed with their (and Hasbro's) inventiveness. But, traditional stadium designs are important too. Fans have the power to continue on that path if they choose. In the western Beyblade community on worldbeyblade.org, there has been more of a push lately to accept alternative gameplay styles and stadiums; even fan-made ones.
Nevertheless, I am excited to try out Beyblade X as intended by Takara Tomy and see how it develops!
Playing Beyblade 'seriously'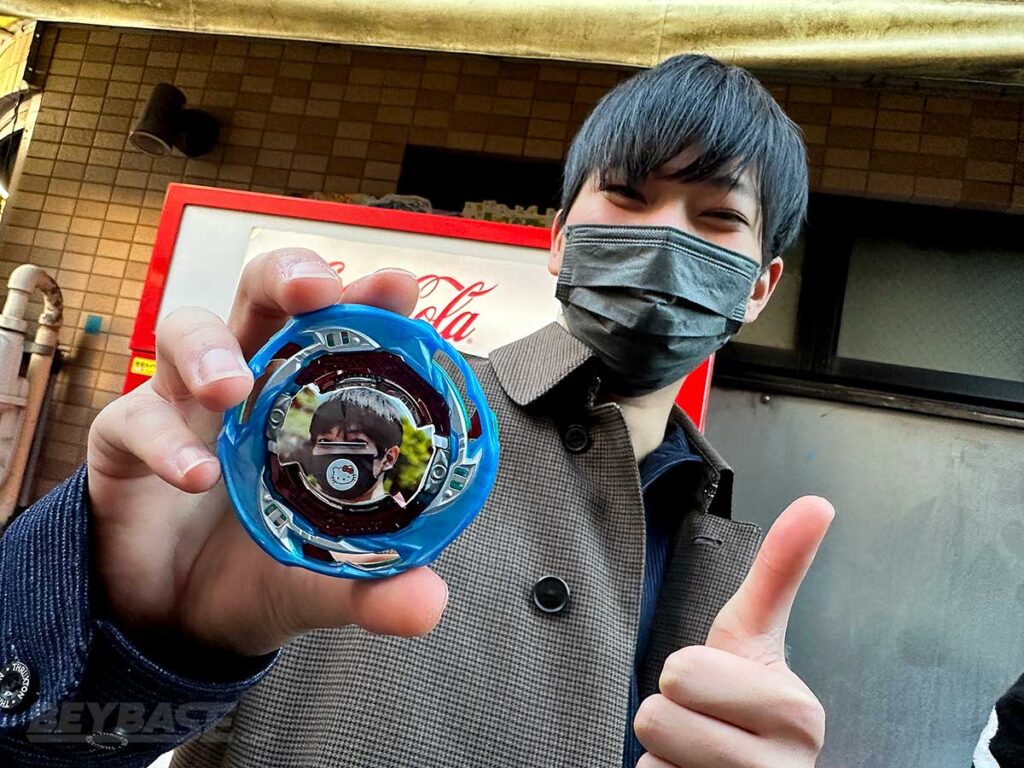 Reading his answers I couldn't help but feel excited. To be so passionate and serious about something is the coolest thing in the world, to me. Being 'serious' doesn't have to only mean things like 'competitive', 'focused', or 'dedicated'. Being able to seriously have fun regardless of win or loss is just as important; that's something that Master has also demonstrated he can do.
The reason strong players can do that is because they understand the value of all experiences. Of not only winning, but losing as well. The important thing is whether you are seriously facing the activity in the way you intend to.
Playing with intention is ultimately what matters the most. Whether it's to become a G1 champion, G4 champion, a Burst Stadium Standard Type specialist, Beystadium DB Standard Type specialist, Metal Fight Beyblade specialist, enjoy battles with your friends, or all of the above and more … you need to define what 'success' and 'serious' means to you to enjoy your time playing Beyblade.
The same thing applies in our own lives. So in this way, your level of enjoyment may reflect how well you are able to live with intention beyond the confines of Beyblade itself.
Playing to avoid mistakes, not to win
One of the things which stood out the most to me in this interview was when Master said:
The important thing is not to win but to avoid making mistakes.
Here's one example from my personal experience which illustrates this point:
A few weeks before the Beyblade Burst Thanksgiving G1 tournament I attended a local G4 tournament at a toy store in Tokyo called Fujiya.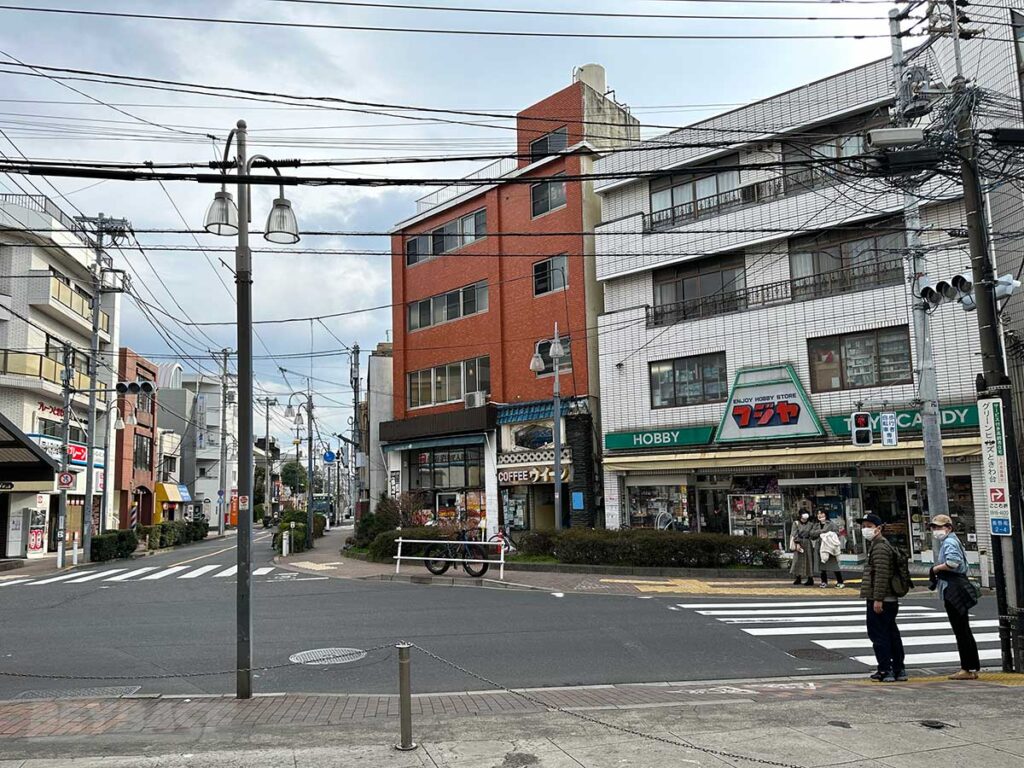 I was one of the top four players in the event. My opponent in the semi-finals was Master. We played 5G to five points. I went up 2-0, but in the third round we ended up playing a near mirror match: both of us were using Dynamite Bearing Drift. In this situation, it was important for me to be thinking about not making a mistake rather than winning. Like Master talked about during the interview.
'Winning' would most likely require launching relatively hard in order to have a chance of outspinning him. But doing so also opened up the risk of getting knocked out due to the movement of BDr. That would be a 2 point loss, tying the match score instantly. I also don't have a stadium with me in Japan. Because of that, I've been unable to test at home to verify the performance of my combos ahead of time. It would be safe for me to assume his combo was better tuned than mine. Knowing that, I attempted to launch a bit more lightly but still strong enough to have a chance to win … and I got knocked out.
I ended up losing the match 5-2. If I had lost the third round by outspin, it would have been 2-1. At 2-1, I may have reached the end of our five Beyblades with the score being 4-2. We would then reshuffle and anything would be possible at that point.
The point is, I recognized the danger in that moment, but I was still thinking about 'winning' that round to some degree. The smarter play would have been to ensure I lost just one point by outspin for the sake of the match itself.
It's experiences like this which verify to me the truth of many of the things that Master said in this interview.
Winning in Beyblade happens due to a combination of factors. Preparation. Skill. Luck. Two of these are in your control, and one isn't: luck. As long as you do everything in your power to control what you can control, it's OK if you lose because of bad luck. For that reason, it's better to focus on not making mistakes than on winning.
If you think in this way, you can avoid almost all anguish associated with a loss as long as you don't make a mistake. If you do, then it's an obvious point you can fix for next time.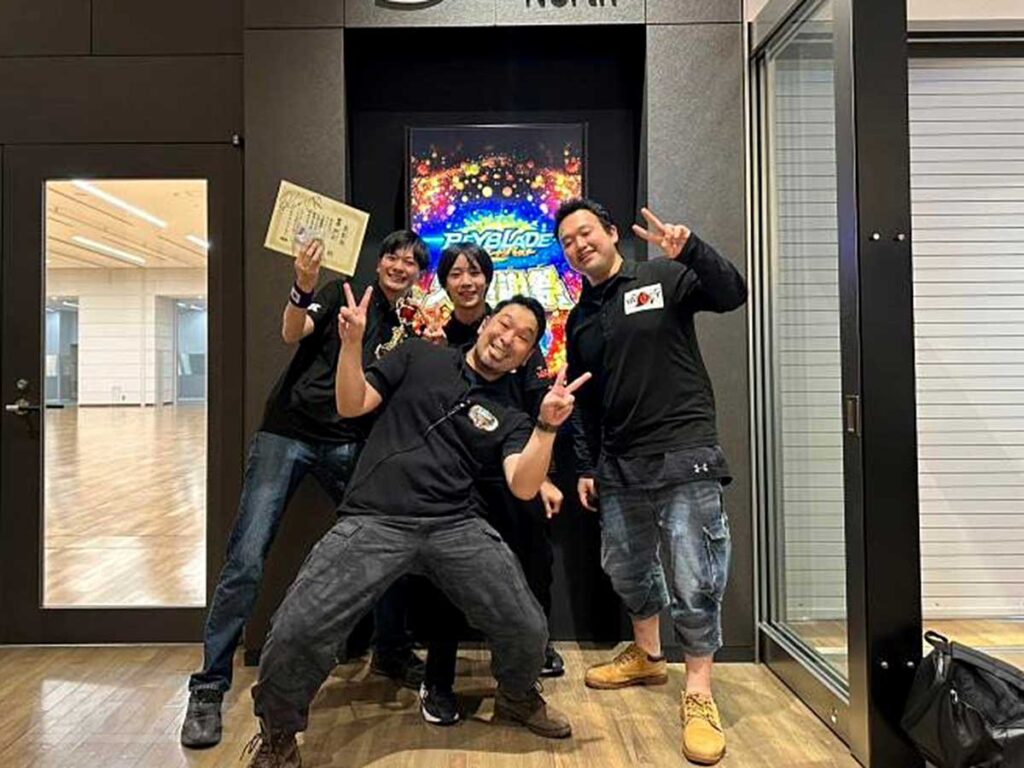 Master's emphasis on creating rivals and learning together with his friends is also something I deeply identify with. In fact, the long-term vision of the World Beyblade Organization itself is to help people "Play Beyblade, Together". Embedded within this is a philosophy of doing everything we can to enjoy this game together and learn together.
Making your own luck
Some of you might have read this and thought "he was lucky to win the G1" because in the first round the third player didn't show up, he KOed his opponent in one round even though he felt his launch was poor, and his opponent in the semi-finals was disqualified.
As I mentioned above, while it may be true that every player needs some level of luck to be successful, the best players like Master actually create their own "luck" through everything else that they do.
What I mean is that, you can't be the beneficiary of "luck" unless you are in the position to do so. And in many cases that requires preparation, effort, skill, and recognition of the circumstances.
One of my favourite things he mentioned was using World Diabolos Il.Mb 1S in the later stages of the qualifying rounds when everyone else was switching to Dynamite Perseus.Il.MBD and World Diabolos.Il.MDr 1S. Going against the grain isn't always the answer, but sometimes it is and you need to have knowledge, skill, and courage to do it. Especially on the highest stage, a G1 event.
I could go on and on about each point Master raised during this interview. But basically, I encourage each of you to study his words and apply them to your own journey with Beyblade.
I've walked down a similar path on the other side of the globe. I can promise you that you'll become a better person for it if you love the game as much as we do.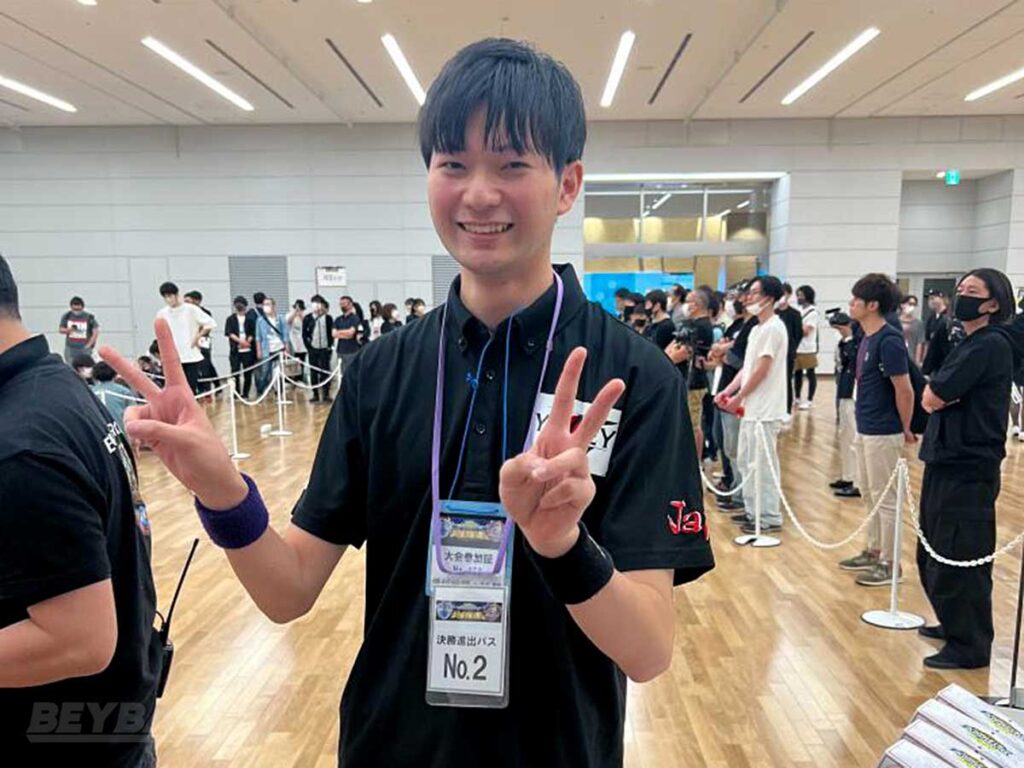 Enjoyed the article? Buy me a coffee to show your support.
Or become a BeyBase HQ member to get early article access and behind-the-scenes updates. Thank you!
Thanks to
Finally, I'd like to thank ayadora418 for her help with translating, Master for his time spent answering my questions in such detail, and Dan for the photo of World Diabolos Illegal Metal Drift 1S!
Want to see more interviews like this? Comment below.
Please let me know what you think in the comments! Would you like to see more content like this on BeyBase in the future?
---