Is Beyblade X fun? The answer is simple: yes! But, will it have lasting competitive depth?
That was the question on my mind as I set out to Tokyo Big Sight for the Beyblade X Start Dash Event at CoroCoro Tamashii Festival in Tokyo Toy Show 2023.
For those who don't know, I am currently living in Japan for the duration of 2023. This has afforded me the great opportunity to be in Japan for the launch of the fourth generation of Beyblade, Beyblade X!
It officially launches on July 15, 2023. However, over one month early on June 10-11, 2023 Takara Tomy hosted the Beyblade X Start Dash Event at the aforementioned toy show here in Tokyo.
In this report, I cover:
My experience attending this event
Trying out Beyblade X for the very first time
My thoughts on Beyblade X so far
Read on below for the full report!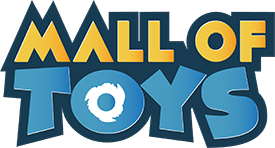 Sponsored: Order the
newest Beyblades

at malloftoys.com!
---
Heads up: If you buy something through Mall of Toys, you won't pay any extra, but I'll get a small commission. This helps me keep things running. Thanks for your support!
---
Experiencing the reveal, launch, and pre-release of Beyblade X
Commemorating and transitioning away from Beyblade Burst
After a nearly eight year run, Beyblade Burst recently concluded. I put together a list of the Top 5 Best Beyblade Burst Combos Ever partially as a way to commemorate it, but even as I was working on that article rumours about Beyblade X had already begun.
Although Beyblade Burst will continue to live on thanks to the fan community, it is still difficult to feel like you're leaving behind something that you've dedicated so many years to. In my mind, it could have continued. It still feels like yesterday that we were gearing up for the release of Beyblade Burst and I hosted the first Beyblade Burst event in Canada, Beyblade Bursts Onto the Scene: Toronto.
The arrival of Beyblade X
Nevertheless, time marches on. Beyblade X was first fully revealed in May of 2023.
When the details of the series were released, details for the Beyblade X Start Dash Event were released alongside it.
The launch of a new Beyblade series is a big deal. I've been playing for over 20 years now and have been through the launch of both Metal Fight Beyblade and Beyblade Burst after having first played Bakuten Shoot Beyblade after it had already been running for a little while.
I've been traveling to Japan a lot for the past seven years and feel fortunate to have put myself into a position to be here and have the opportunity to attend what is literally the birth of a new series.
Although it isn't the same, I remember attending the North American launch of Beyblade Burst in person at Fan Expo in August 2016 and how exciting it was. But that experience also taught me to be cautious given the disappointment when we all realized Hasbro had changed the system completely for Beyblade Burst when we picked up our products.
Even Takara Tomy at that time had demonstrated certain things (like worldwide rankings) which did not pan out. So, I enter this generation with a mix of excitement and trepidation. But mostly excitement.
---
Concerns about the Xtreme Stadium's design
And I have reason to be cautious this time too. The culprit is the stadium design. You'll hear a prominent Japanese player echo this sentiment in an upcoming article on BeyBase as well.
I won't dwell on this now as it will be discussed that upcoming article, but basically the concern stems from the same place that I expressed doubt about Takara Tomy's Dash BeyStadium in my review of the Beyblade Burst B-174 Limit Break DX Set. The design does not seem conducive to enabling the usage of traditional attack types, which require a traditional stadium design like the Burst BeyStadium Standard Type, Metal Fight Beyblade's Attack Stadium, or the plastic generation's Tornado Attack.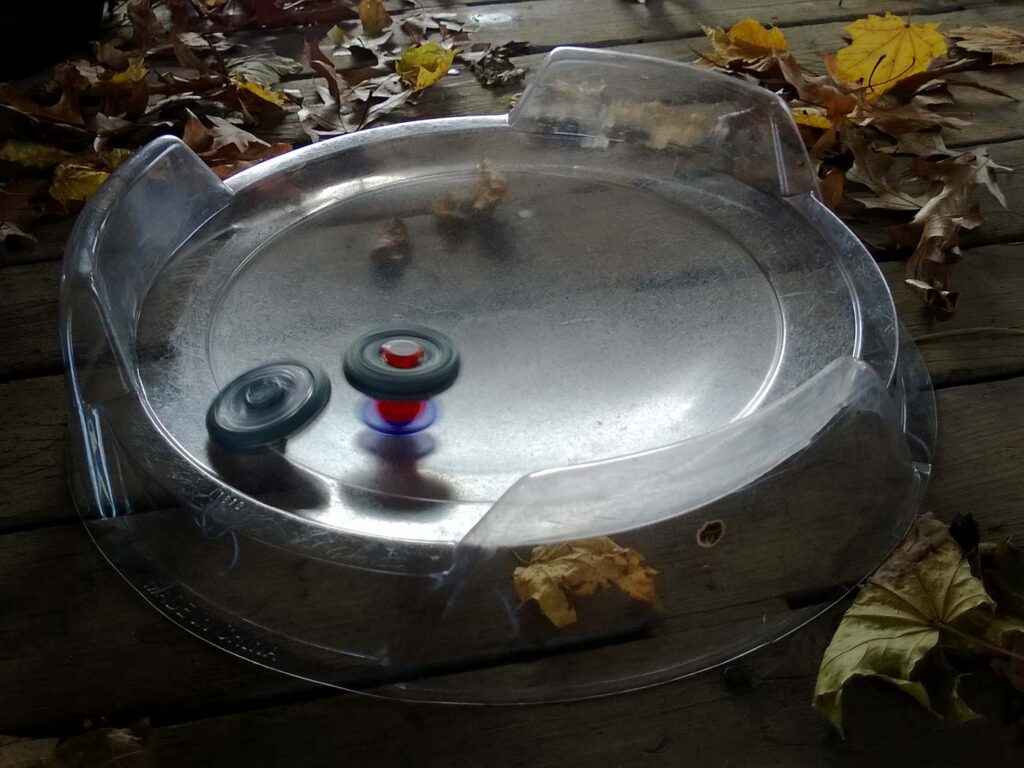 The Xtreme Stadium is representative of a larger trend flowing through not only Takara Tomy, but Hasbro as of late with their slew of unique stadiums and gimmicks.
This is not necessarily a bad thing because unique stadiums and gimmicks are fun and easily marketable. Takara Tomy has found a great one for this series with the "Xtreme Line" feature.
However, there is a bit of a disconnect this time between the type of gameplay their new series enables and what vision of the game they are marketing it as: phrases like "Gear Sports", "It's not a game anymore", and "Beyblade will become sports" are what's being said.
A sport requires a certain level of strategic depth in addition to some inevitable luck. So, if the new stadium removes any strategic depth that disconnect could become apparent. Hopefully some new strategic options become evident as we are able to test with it more.
But for now, I went into the Start Dash Event with a completely open mind.
On a surface level, almost everything about it feels on point. The more 'serious' and sporty vibe makes some sense given the maturity of the series now, yet they've still kept it feeling accessible.
---
Lines, lines, lines, and no Beyblades left for sale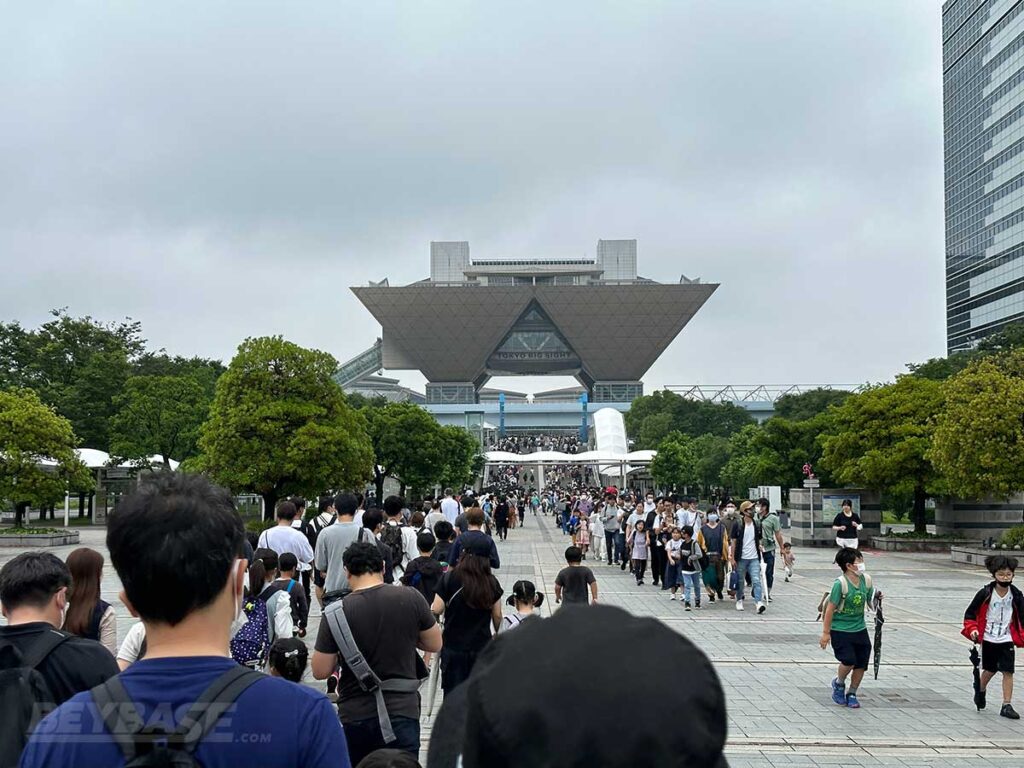 What wasn't so 'accessible' however was the venue itself! Just because the amount of people at Tokyo Big Sight was insane!
I attended the second day of the Beyblade X Start Dash Event on June 11, and the toy show itself was open from 9AM to 4PM.
I arrived at the venue around 10AM, but on my way there I had been checking Twitter and saw tweets like this one from June 10 announcing that the products had sold out for the day as early as 9:30AM for the BX-10 Xtreme Stadium and 10:30AM for BX-01 Dran Sword 3-60F and BX-02 Hells Scythe 4-60T.
So, I spent the rest of my trip there worrying about that. And the worry instantly multiplied as we pulled into the Tokyo Big Sight Station on the monorail. I was greeted with the below sight, which I soon became a part of myself.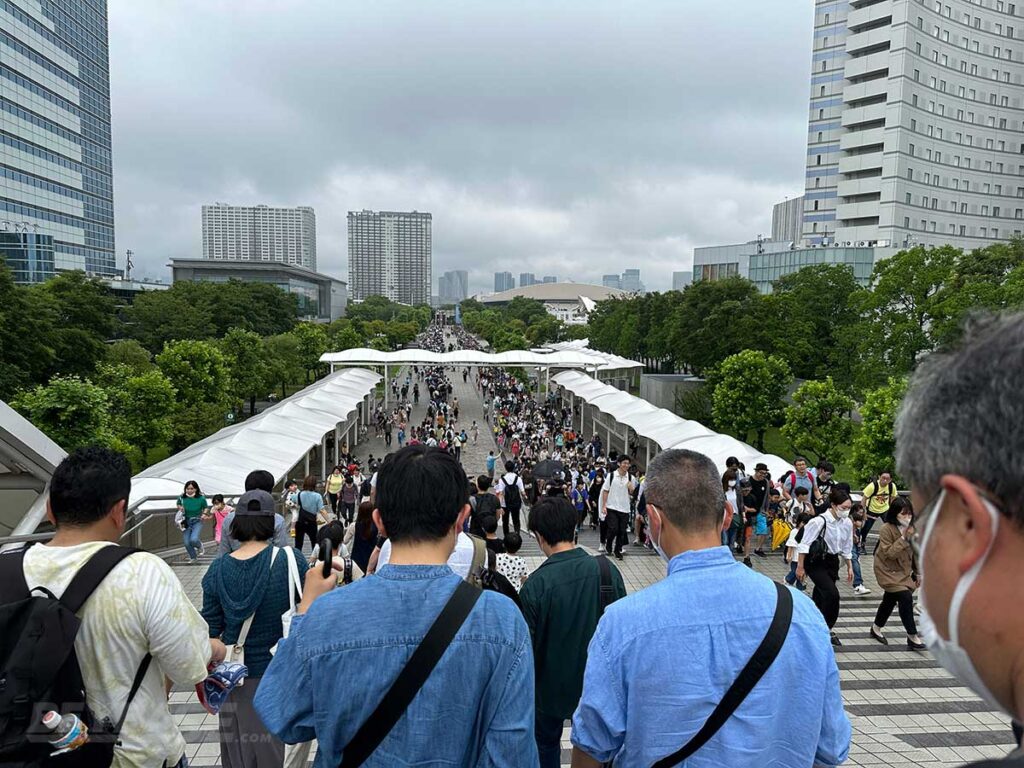 I knew it would be busy, but it's hard to fully understand until you see it in person. That being said, the line moved relatively quickly to get inside the building. Inside the building there was more lines … at every corner, both outside the building, inside the entrance, and then inside the convention there was one constant: lines.
Anyways, I finally got into the show floor after about an hour and a half. But of course, everything was already sold out … so I headed straight to the Beyblade X booth.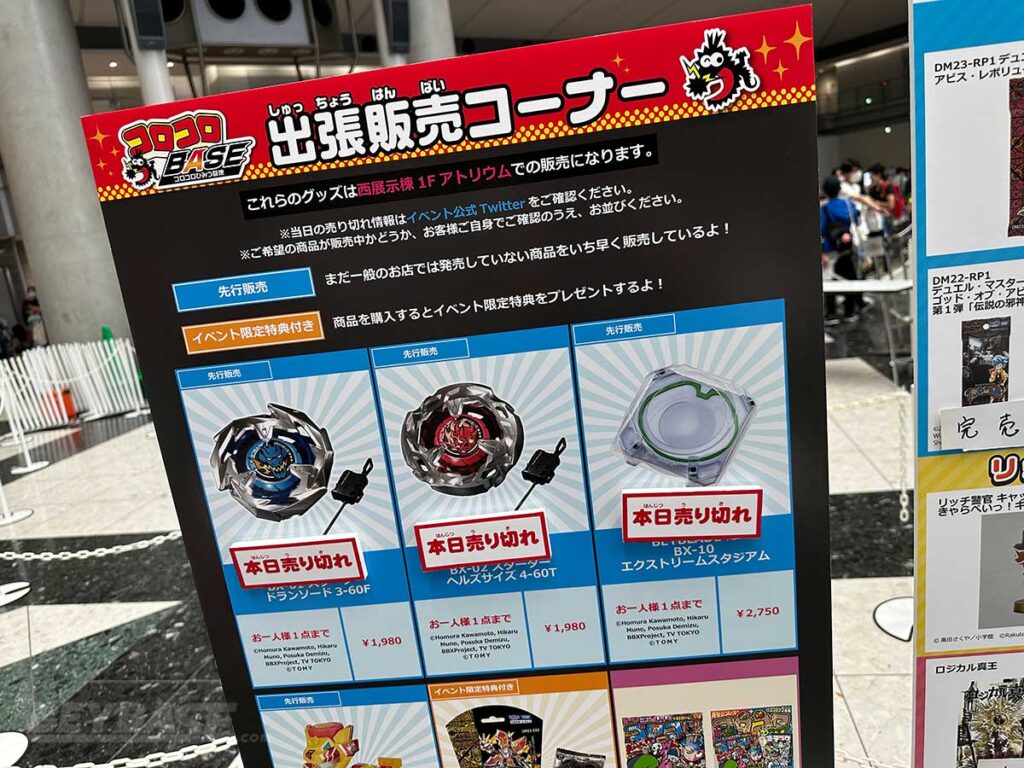 ---
Arriving at the Beyblade X booth
I arrived at the Beyblade X booth and although the sign at the end of the line said it would take about 100 minutes to get to the front, it probably took less than half that.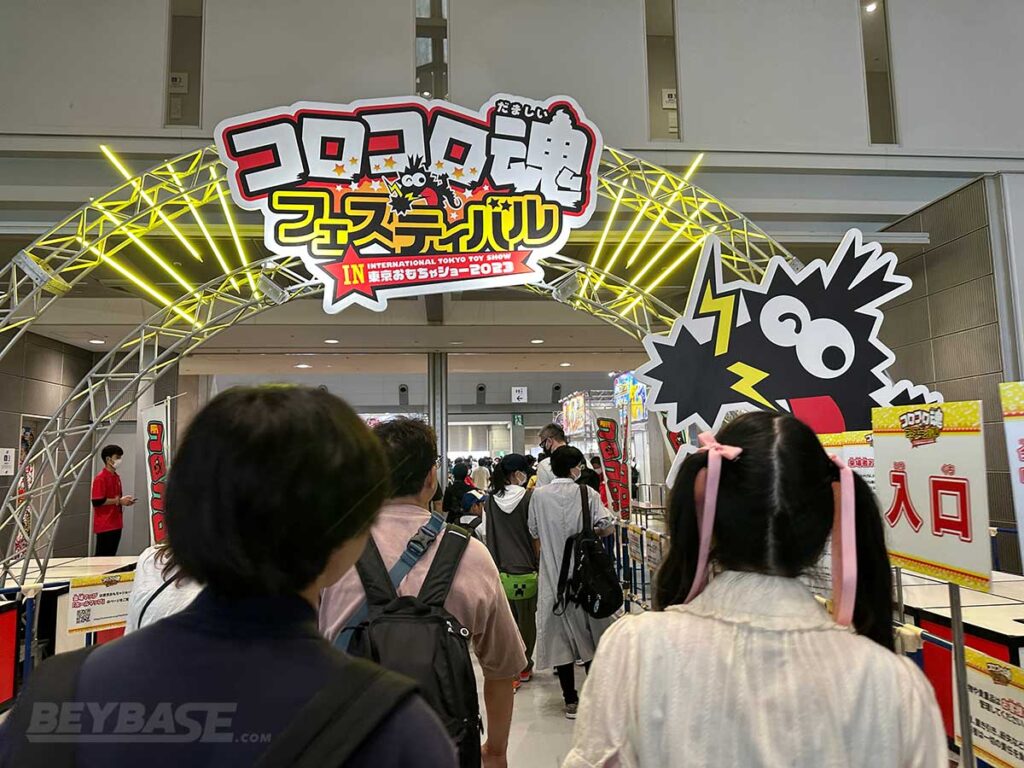 If you had a Beyblade XTART card from the June 2023 issue of CoroCoro magazine you could use it to skip to the front of the last part of the line. Afterwards, elementary and junior high school students could also use it to enter a lottery for a chance to win a limited edition Xtreme Stadium with a red Xtreme Line.
During the Beyblade X Start Dash Event, each set of players was permitted to play two rounds with BX-01 Dran Sword 3-60F or BX-02 Hells Scythe 4-60T. One player was Dran Sword, one was Hells Scythe. Both used the Beyblade X Winder Launcher.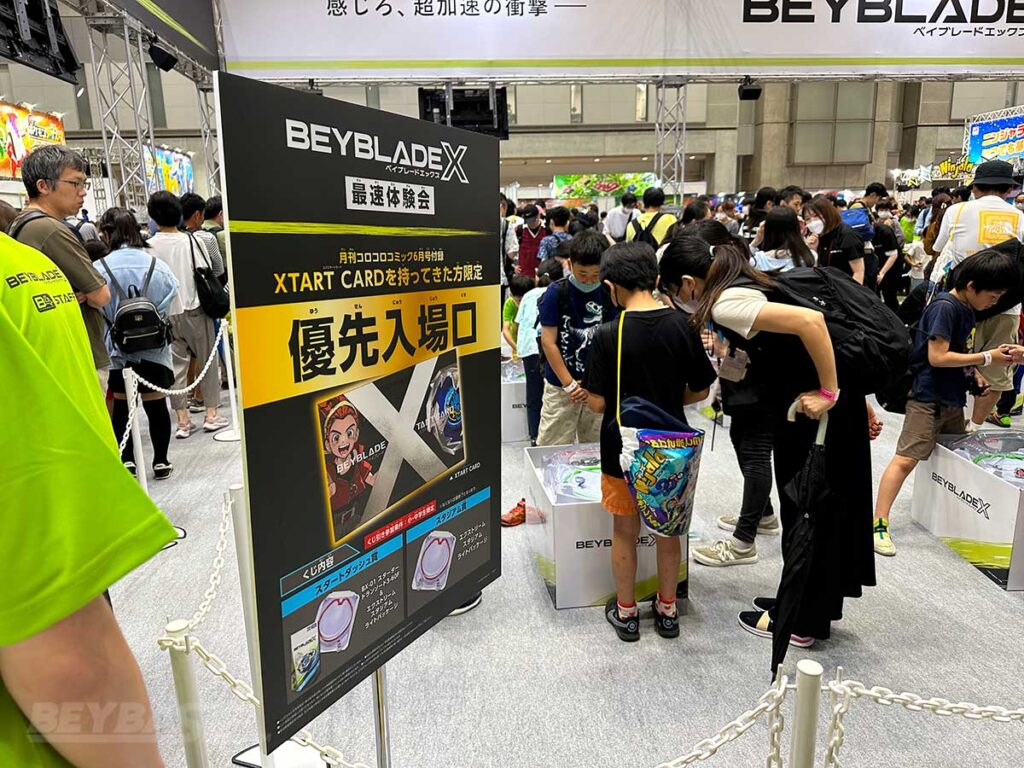 When I arrived in the play area at the stadium, I thought it was amusing when the judge asked me–someone wearing a WBO shirt and who has been playing Beyblade for over 20 years–"Have you ever played Beyblade before?". Not sure I had ever been asked that in my life until then!
I was by myself at the time, so I went up against a younger girl. She used Hells Scythe 4-60T and I received Dran Sword 3-60F. I should note that the tip of the Flat Bit on my Beyblade was slightly dented.
This was of course my first time playing Beyblade X, so really, I had no idea what I was doing. But, I was glad to have Dran Sword 3-60F because the Flat Bit (the bottom piece which contacts the stadium floor and has a built in gear design to catch the gears that exist on the Xtreme Line) seems to be the best Bit for taking advantage of the series defining Xtreme Line stadium gimmick.
Without thinking much about it, I decided to do a powerful launch parallel to the stadium floor from the centre of the stadium to try and see the Xtreme Line in action.
It definitely worked for that purpose! But it was clear that Dran Sword 3-60F lacked the stamina to keep up with Hells Scythe 4-60T.
The Xtreme Line itself must deplete your Beyblade's stamina at a faster rate too given the additional friction produced by the gears on the Bit.
The battle itself was really fun and exciting to watch. One of the reasons for that was the amount of recoil that the Blade's (the top metal piece) produced. This type of recoil is one thing which became painfully evident that it was missing the longer the Beyblade Burst series went on.
What I notice though watching the video is that the placement of the Over Zones and Extreme Zone is definitely deliberate. There were several instances where both my and my opponent's Beyblades bounced off the walls directly in front of us.
I'm not sure how powerful attack will be yet in this stadium. But my impression is that if they wanted to enhance it further in the future they could easily release a new stadium which makes being knocked-out even easier to take advantage of the massive hits that can be produced by these Beyblades.
It's clear that the Xtreme Stadium was designed to a) make battles exciting and b) make them last more than just a few seconds. When we look at Metal Fight Beyblade, which seems like the closest comparable in terms of performance, the experience is way different because the stadium is way different. It's really what is going to make or break the series.
---
A sudden encounter with Master Blader Horikawa and Muraki!
After this, I was ready to go home. But suddenly … a familiar pair of faces appeared! Master Blader Horikawa and Master Blader Muraki. They work on both the promotion and development of Beyblade at Takara Tomy and are two of the most recognizable public faces of the brand right now.
I noticed them standing just outside the Beyblade X booth, but they weren't wearing the green Beyblade X staff shirts or black Beyblade X judge shirts so they didn't particularly stand out.
They kindly agreed to take photos with me and then we went our separate ways. Wish I had thought of something to ask or talk to them about but I was surprised in the moment to see them there.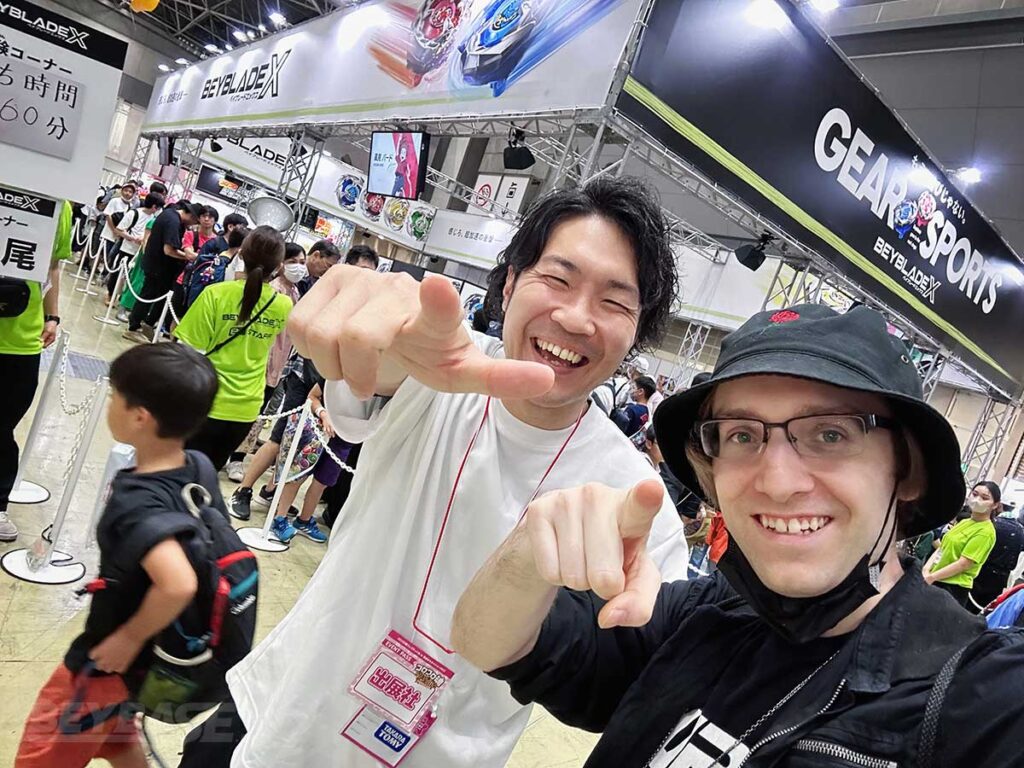 ---
Meeting with Tatsuki, former G1 champion
After meeting Master Blader Horikawa and Muraki, I walked around the show floor for a little while and again, was ready to go home. But, as I was about to leave I heard from my friend Tatsuki. He is a member of the Japanese Beyblade team WARI-BEY and a former G1 tournament champion (in the Bakuten Shoot Beyblade generation, I believe).
I had been in contact with him throughout the day. He had attended the event on the first day as well. On both days he arrived extremely early to get in line.
Apparently, he was the second person in line for the toy show on the day that I went. He arrived at around 3:30AM and hadn't slept through the night … crazy!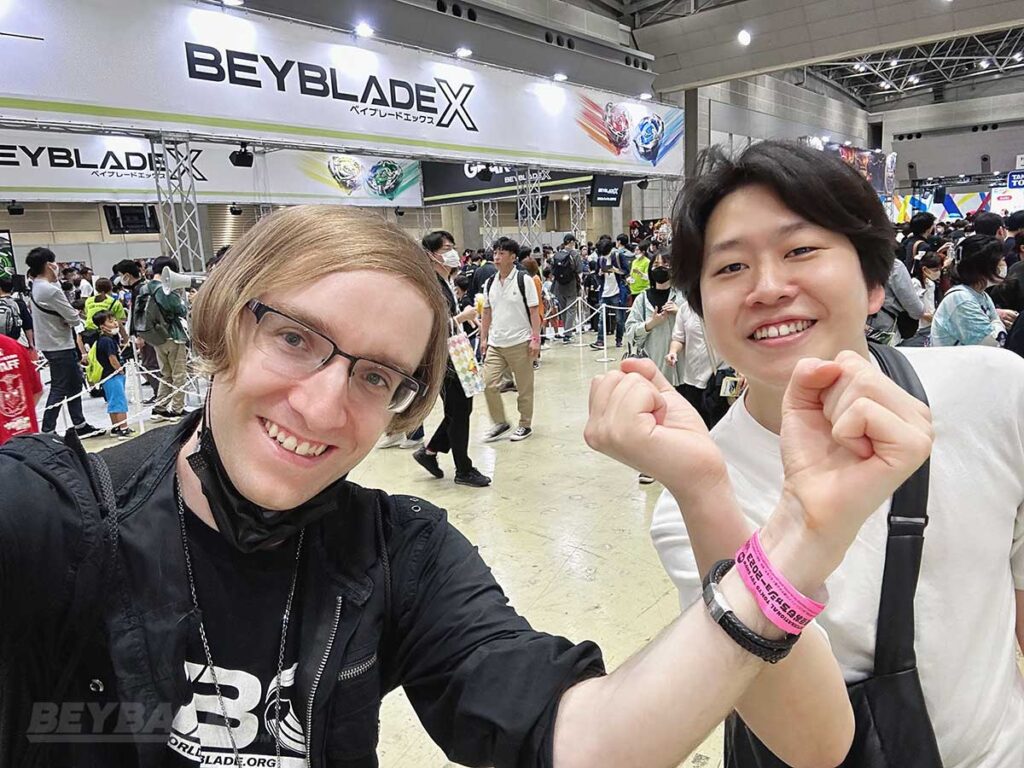 But it was for good (well, I guess some may debate that) reason; the stock for Beyblade at the CoroCoro Base store within the show was extremely limited, as I previously mentioned.
The ultra "rare" green BX-10 Xtreme Stadium and Takara Tomy's Beyblade X stock issues
He told me that while there were probably several hundred copies of BX-01 Dran Sword 3-60F and BX-02 Hells Scythe 4-60T available for sale, there was only 48 copies of the BX-10 Xtreme Stadium available each day. That's why it sold out basically within 30 minutes each day.
Because of that, you could actually say that during the pre-release period before July 15, 2023, the regular Xtreme Stadium with the green Xtreme Line is actually more rare than the limited edition one with the red Xtreme Line that kids had the opportunity to win.
I saw dozens of kids walking around with and picking up the red version just while I was there, so I don't doubt that.
How Takara-Tomy could think that having only 48 copies of the stadium available to the general public would be OK is beyond me. They've launched a new Beyblade series and done events like this many times before, so they know what the demand will be. I don't remember it being this difficult to obtain a stadium at a festival like this in the past even from overseas, so this left me puzzled.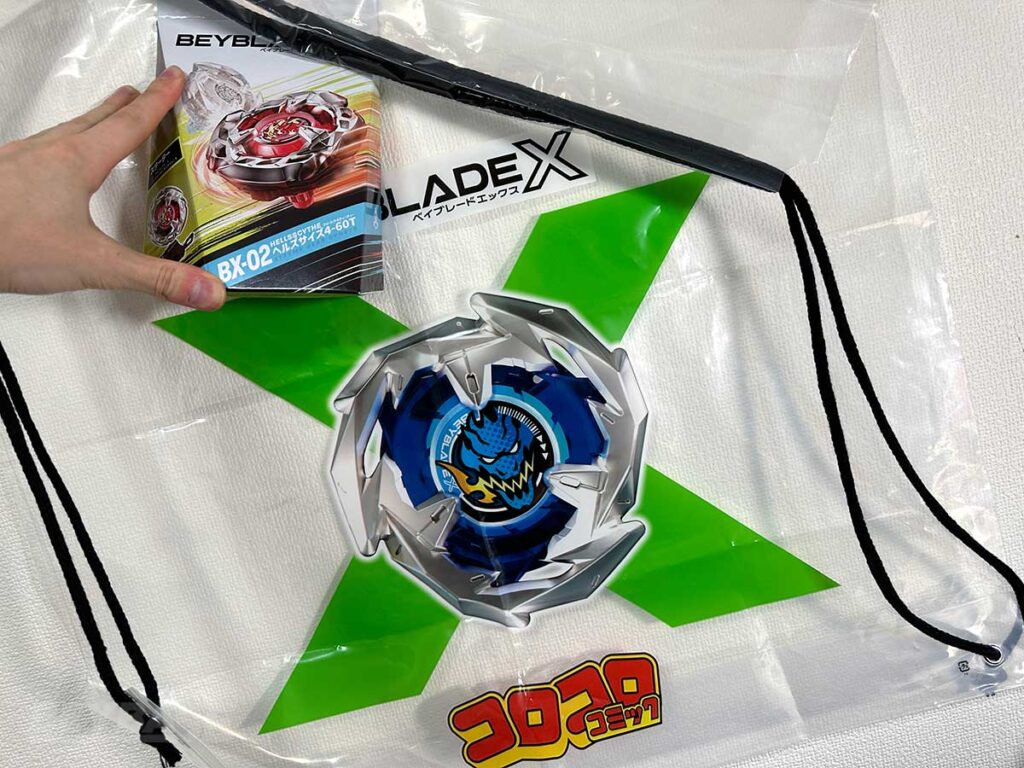 Luckily for me, Tatsuki was generous enough to offer me one of the two Beyblades he purchased that morning as well as a special drawstring bag only available to those who bought or obtained an Xtreme Stadium as a gift after hearing I wasn't able to get anything … I was so thankful for that. I ended up choosing Hells Scythe 4-60T.
---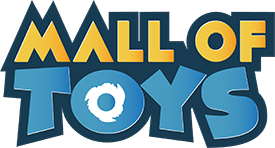 Sponsored: Order the
newest Beyblades

at malloftoys.com!
---
Heads up: If you buy something through Mall of Toys, you won't pay any extra, but I'll get a small commission. This helps me keep things running. Thanks for your support!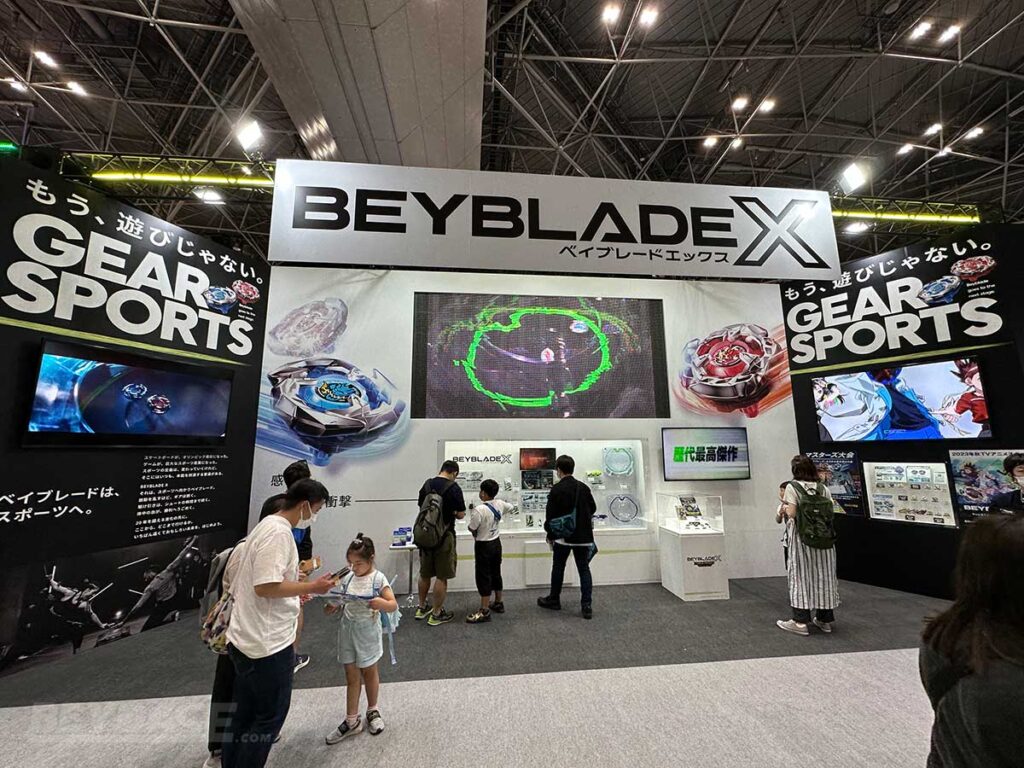 Visiting the Beyblade X products display
After going back into the venue to meet Tatsuki, he asked if I had seen the Beyblade X products display yet. I wasn't sure what he was talking about and then realized I had completely missed that they had a separate area in another part of the floor where all of the announced products were on display.
Everything that will be released to stores on July 15th, 2023 was on display here. This included:
Beyblade X Launch Products
---
Beyblade X X-Over Products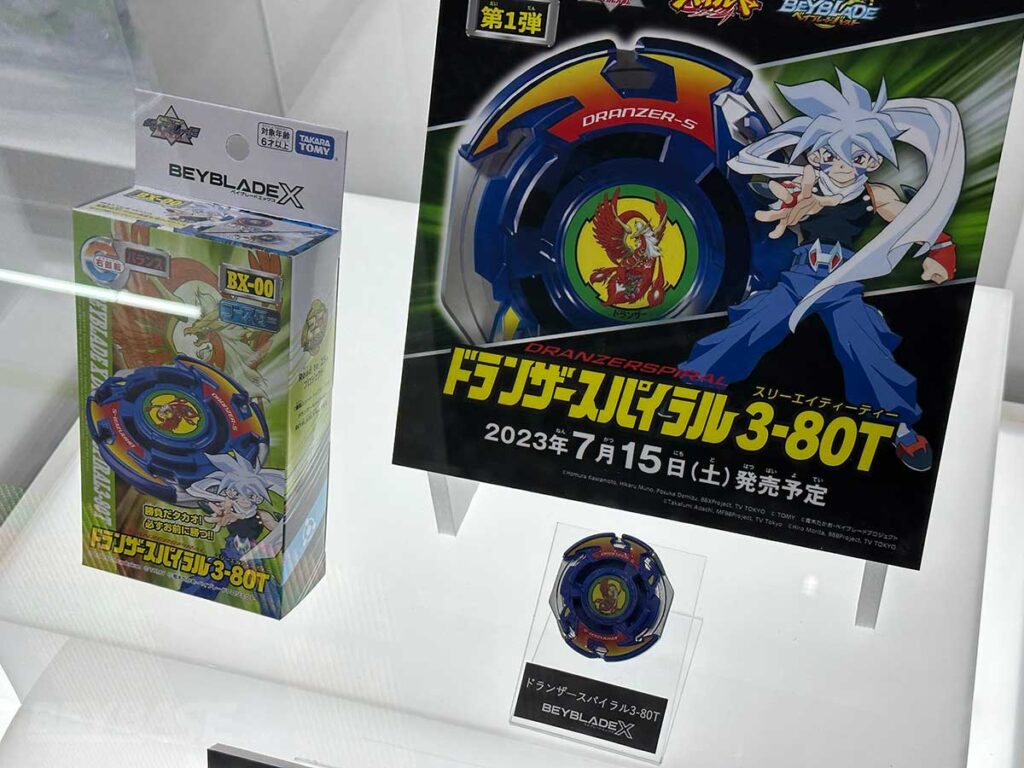 I was happy to see they integrated the Weight Disk into the design of the Dranzer Spiral Blade. It makes it feel more faithful to the original.
But what excited me even more than all of that was the secondary display showcasing all of the limited edition and tournament prize Beyblades and launchers! This included:
Beyblade X Limited Edition Products & Tournament Prizes
BX-00 Booster Cobalt Drake 4-60F
BX-00 Booster Knight Shield 3-80N (Gold Ver.)
BX-00 Dran Sword 3-60F Katsushika City Version
BX-00 Dran Sword 3-60F Gold Version (G1 First Place Prize)
BX-00 Dran Sword 3-60F Gold Version (G1 Second Place Prize)
BX-00 Dran Sword 3-60F Gold Version (G1 Third Place Prize)
BX-00 String Launcher Gold Version (G2 First Place Prize)
BX-00 String Launcher Silver Version (G2 Second Place Prize)
BX-00 String Launcher Bronze Version (G2 Third Place Prize)
BX-00 Knight Shield Blade Gold Version (G3 First Place Prize)
BX-00 Needle Bit Gold Version (G3 Second Place Prize)
BX-00 3-80 Ratchet Gold Version (G3 Third Place Prize)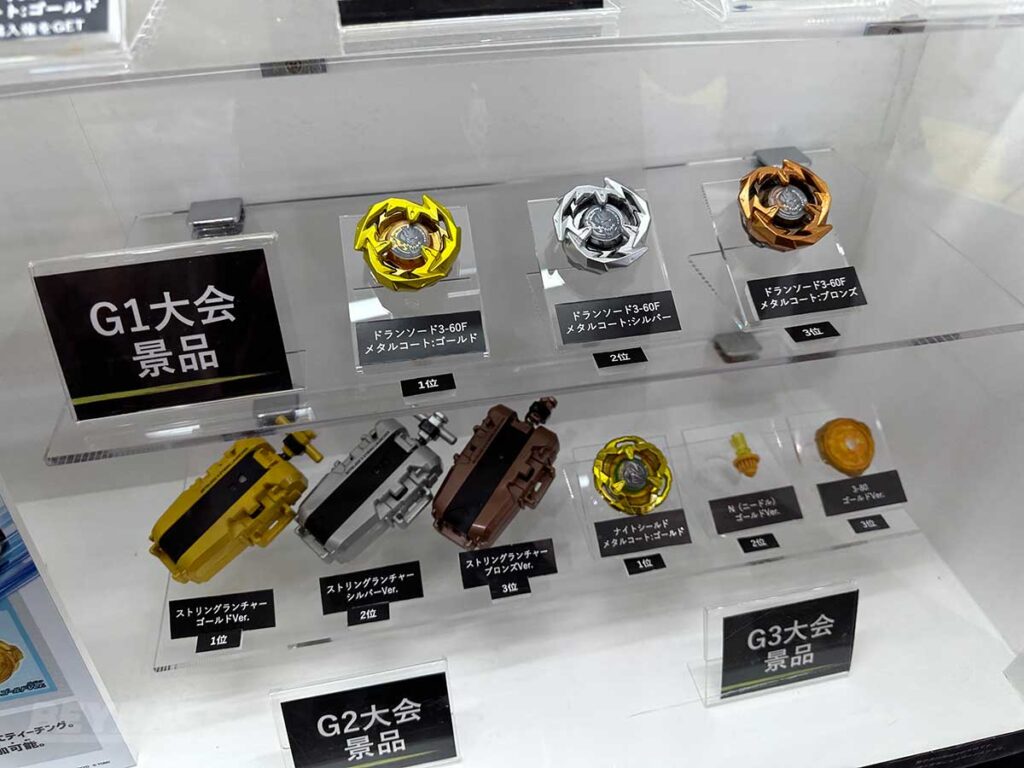 ---
Final battle of the day with Beyblade X
We then returned to the main Beyblade X booth to play one more battle together before heading home.
Because Tatsuki had come the day before and presumably had a chance to test out Beyblade X at home, I figured he might have a bit more insight than me in that moment about what the best combinations or shooting methods might be.
I mentioned that I wasn't sure how to play in the Xtreme Stadium yet to him and he told me that it actually might be better to not shoot parallel to the stadium floor and at full power. Launching on an angle might be better, and perhaps that could be to reduce the seemingly unpredictable nature of interactions that involve the Xtreme Line and also to preserve stamina.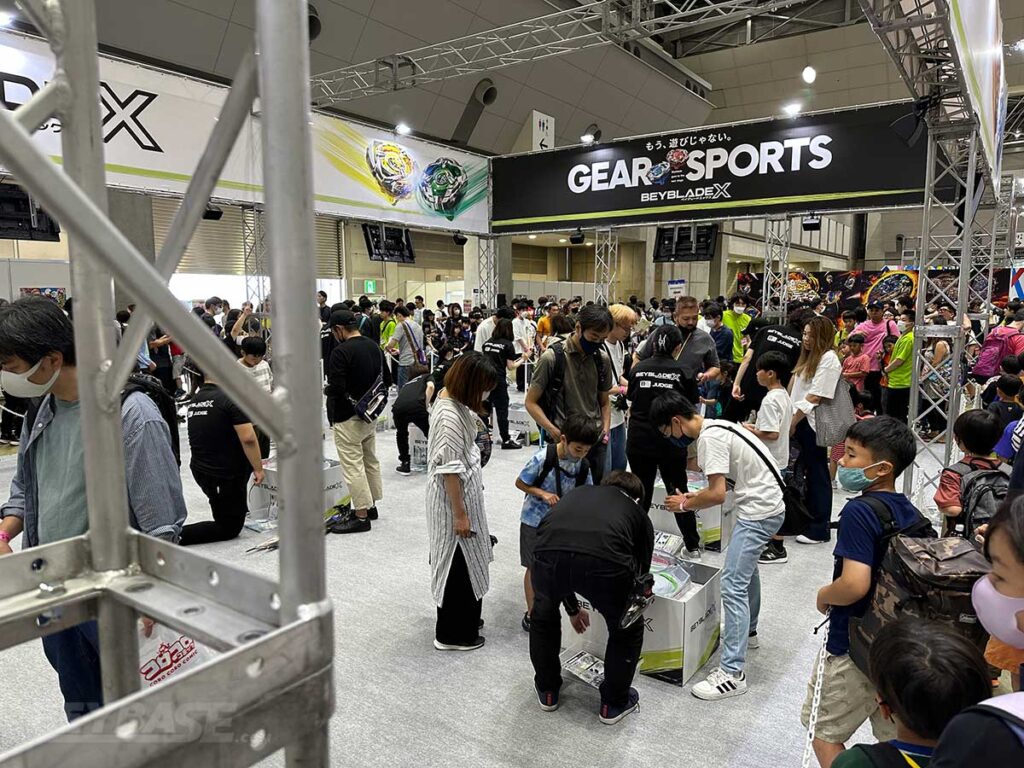 He also felt that Hells Scythe 4-60T was the better of the two available options that day. Small sample size here, but I agreed with him.
After arriving in the play area, I asked if I could use Hells Scythe this time. I tried his suggestion of launching a little bit lighter … but lost by outspin. I launched a bit harder in the next round and on an angle and was able to defeat Dran Sword 3-60F by outspin.
Because we had played two rounds, the match was over. No one will ever know the winner …
---
What makes Beyblade X special
I'm excited for the journey ahead. As successful as Beyblade Burst was, the game did need to hit the reset button. Despite any reservations I may have about the stadium gimmick, Beyblade X is a fresh take on the game that I'm happy to invest in.
Perhaps the most exciting thing to me is the way in which it seems they will be approaching organized play and community. They've shown this through, for example:
A great emphasis literally everywhere that Beyblade is a "sport"
Masters Class posters (see below) that have a team of people holding a cheque for $100,000 in prize winnings (I don't believe that for a second, but nevertheless, the idea means something)
The creation of the Beyblade Bladers Lab, indicating an interest in building not only offline connections, but a strong online community
The introduction of S1 ("Street 1") level Beyblade tournaments that fans can host
Seeing things like this makes me feel that Beyblade as a competitive game will continue to thrive. At least in Japan.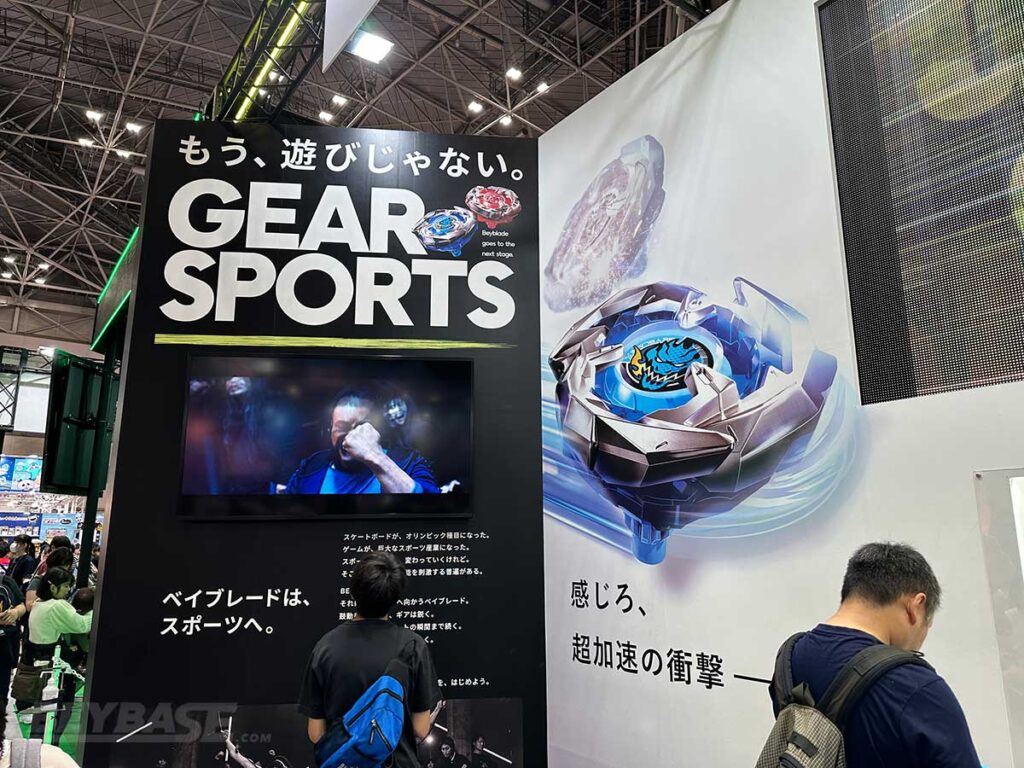 The introduction of S1 might be the most critical addition for the series if it is done correctly. Many players in Japan have been hosting fan-run events throughout the history of Beyblade. This will continue. But, there has never–to my knowledge–been a way for a fan to make any kind of "official" event.
The same is true outside of Japan, and it's a big reason why communities like the World Beyblade Organization exist. It's because the support offered by Takara Tomy and Beyblade license holders is not sufficient to meet the demand that exists for it. Especially now.
My hope is that the concept of S1 level tournaments (and GP, G1, G2, and G3, for that matter) will expand outside of Japan and Asia and into other areas around the world. It would be the ultimate demonstration of Takara Tomy's level of seriousness when they say that "Beyblade will become a sport".
Also, in the recent video from Takara Tomy reviewing BX-00 Booster Dranzer Spiral 3-80T, they stated that the "X" in Beyblade X didn't just connect with the "Xtreme" theme throughout the series, but to "Crossover". They're doing this most obviously with the remakes like Dranzer Spiral 3-80T, but they've also built in a variety of aspects from the history of Beyblade into the series. This includes things like the return of:
Metal contact points (Metal Fight Beyblade)
Height variance as a core feature (Metal Fight Beyblade)
Burst finishing carries over (Beyblade Burst)
Bit feels reminiscent of Heavy Metal System Running Cores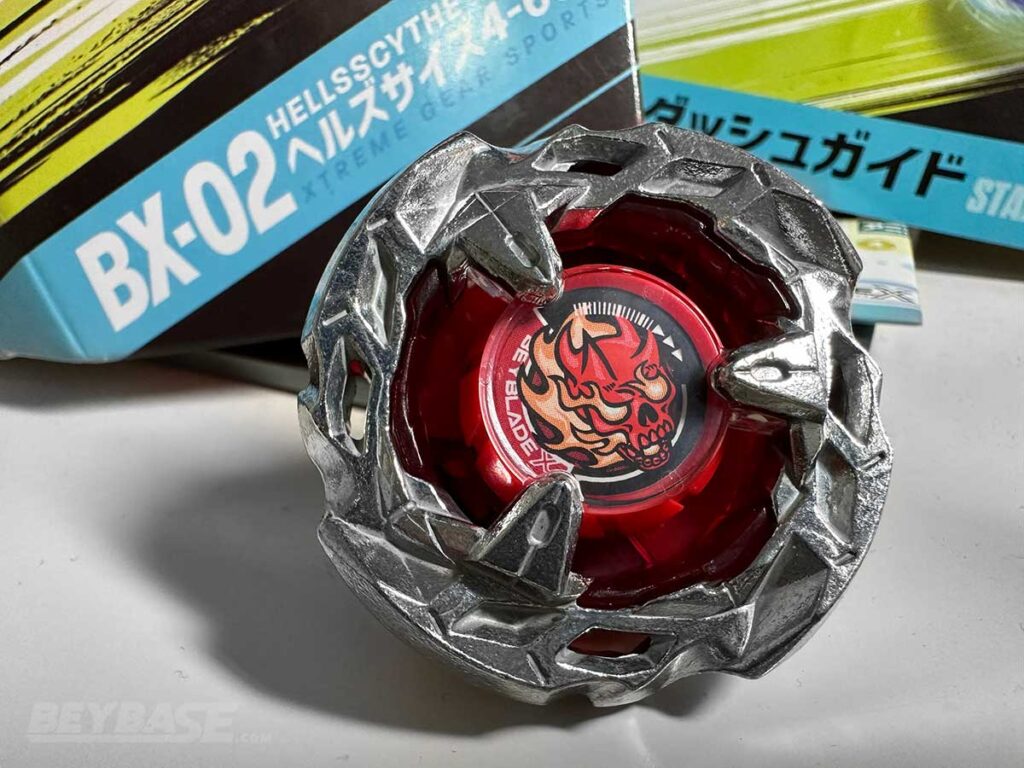 There's something here for everyone. But only time will tell if everyone's interest can be captured and sustained.
Takara Tomy is taking a little bit of a risk here by launching Beyblade X so soon after the end of Beyblade Burst. Rather than waiting for a new generation of kids to grow up and release a new series catered to them, perhaps Beyblade X is an indication of Takara Tomy's confidence in the brand and game.
It perhaps is also a manifestation of their continued shift towards a more inclusive perspective that allows for Beyblade–in all of its facets, not just playing for fun, but playing competitively–to be made accessible to the audience that it should be: everyone.
Enjoyed the article? Buy me a coffee to show your support.
Or become a BeyBase HQ member to get early article access and behind-the-scenes updates. Thank you!
What are your thoughts on Beyblade X?
Thank you for reading! Comment below and let me know: what are your thoughts on Beyblade X? What do you like? Dislike?