Affiliate Disclosure: If you buy something through some of the links on this post, you won't pay any extra, but we'll get a small commission. This helps us keep things running. Thanks for your support!
---
In this article we'll be diving specifically into the personal "Best Beyblade Burst Combos of 2021" lists the top ranked Beyblade players that I interviewed (including myself!) put together in order to contribute to my decision making for the primary list discussed in the previous part of this article series.
Examining tournament results and trends over time as I did in the first part series–How Competitive Beyblade Burst Has Evolved From 2019 & 2021–is important to understanding what Beyblade parts and combinations are good, but Beyblade is not always that simple.
In addition to the rules you play with, personal preference and experience can also play a huge role in determining what an individual player feels are the "best" Beyblade Burst combos.
You'll see some of this variance–as well as where there is some overlap–in the below lists from top worldbeyblade.org players froztz, Cscramon, Shindog, Ardmore Bladers, and myself.
You can find out more about these players, why they were selected, and the exact rules that were used to create these lists here.
BeyBase "Best Beyblade Burst Combos" Article Series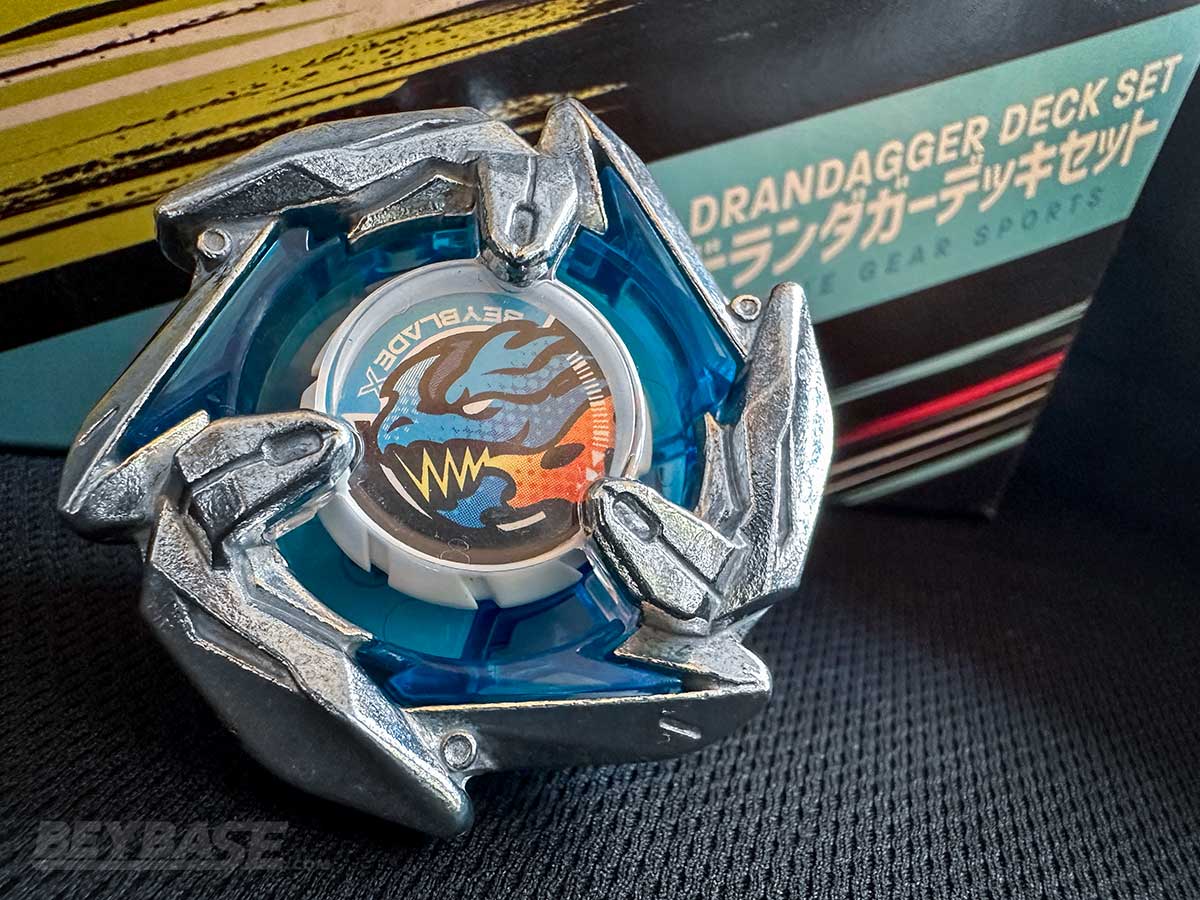 Enter Below for a Chance to Win a
Free BX-20 Dran Dagger Deck Set

!

Giveaway Ends December 31, 2023 – Sponsored by malloftoys.com
---
Giveaway Details
The Prize: One brand new Takara-Tomy Beyblade X BX-20 Dran Dagger Deck Set from malloftoys.com.
How to Enter: Subscribe to the BeyBase Newsletter below by Sunday, December 31, 2023.
How to Win: The winner will be selected at random from all active BeyBase newsletter subscribers as of Sunday, December 31, 2023. The winner will be contacted by e-mail directly within two weeks after Sunday, December 31, 2023. If you do not win, you will also receive an e-mail as soon as possible after the end of the giveaway once the winner has been confirmed.
You can unsubscribe at any time, but must continue your subscription to the end date of the giveaway to be entered in the draw.
If you're already subscribed, you've been entered!
Subscribe to the BeyBase Newsletter to Enter:
---
froztz Favourite Beyblade Burst Combos
The Top 5 Combos is a bit hard as most are using some variation of a Tempest, World, or Rage combo. I'll try to list without variations of same.

I'd say Rage is the #1 combo and then the rest are in no particular order:

5. Dead Hades Blitz Atomic

This is a combo that can be used against Tempest players. You do have to mind your launch but it's great at destabilizing and OS same spin combos. From what I've seen at tournaments it's also pretty decent at KO'ing Rage as well.

4. Hollow Lucifer 2 Xtend+ 2A

This is a combo we see here in NC/SC, if you can wear the Xtend+ down it has great KO potential and is capable of OS opposite spin Drift.

Hollow Lucifer 2 Xtend+ 2A

3. World Spriggan Drift 2B

This is one (Master Longinus Around Drift is just the FL variant of this imo) of the best opposite spin combos. You can't go wrong with this in your deck(switch in on right spin). I tend to think this combo is too big a gamble to use before final stage; unless you know your opponent is using opposite spin.

2. Tempest Solomon Wheel Xtend+ 1S

Tempest Solomon 1S Wheel Xtend+ – My main combo, I see a lot of players use this as a "safe" combo and end up losing to Rage and other combos. There's a lot more to this combo than hard launching in Stamina mode.. I personally switch Xtend+ mode depending on matchup.

1. Rage Longinus Destroy' 3A

Stock Rage – Really Rage 3A with any aggressive rubber driver(Xtreme'/Jolt'/Quick') is good. I've used with Ul' and Xceed'+Z and have also seen lots of Zone'+Z variants. I say stock version though as it's a combo almost anyone can use first stage and have a decent chance of making T8. When parents ask me what beyblade to get their kid for tournaments, I suggest this one.

Underrated: World Spriggan Orbit Metal 2B

Easily World Spriggan Orbit Metal 2B. I've been using this since my first tournament. I don't think a lot of players have experience using/going against one (at least not where I play). People seriously underestimate its potential. A fresh Orbit Metal can OS same spin Tempest on Xtend+. Once worn it gets aggressive and ups its KO potential. This is probably my favorite combo and I'm pretty sure in Top 8 it's won me more points than my Tempest has.
Blader Kei's Recommendation: Rage Longinus Destroy' 3A
Good pick by froztz. This might be one of the strongest stock Beyblades ever made. Every player needs these parts to compete and it's probably the easiest to control competitive attack type in the game at the moment.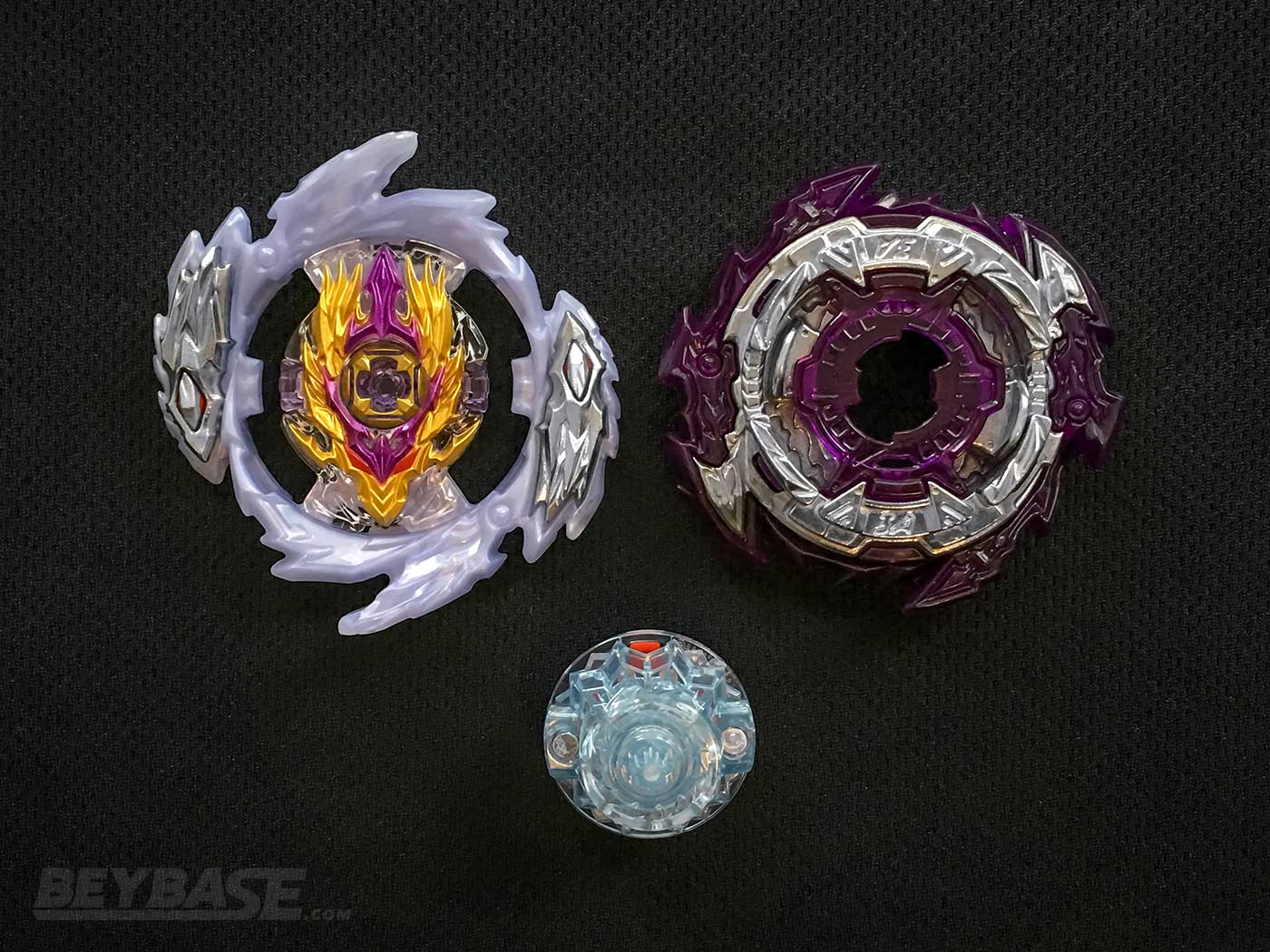 Want to build RLn.Ds' 3A? You'll need:
Rage, Longinus, Destroy' & 3A:
---
Cscramon's Favourite Beyblade Burst Combos
5. Rage Diabolos Jolt' 3A

While this combo is a little outdated (as most rubber tips are), it had it's time for sure. All you had to do was launch it with a slight angle or a sliding shoot and it would KO almost anything that stayed in the middle with its pure attack power, sadly there is more than thing to counter it but, it had its time.

Rage Diabolos Jolt' 3A

4. Master Spriggan Wheel Zone'+Z

Another combo good for making it into top eight is Master Spriggan Wheel Zone'+Z (Left-Spin). This combo (originally made by Firekingard) is definitely a top tier combo, and because of it's great LAD and good same spin abilities it can beat a wide selection of combos both spin directions.

But this beyblade takes a little bit of practice to be able to launch it in the center of the stadium when there's a left-spin vs left-spin battle. Nonetheless, this is a very competitive combo for tournaments.

Master Spriggan Wheel Zone'+Z

3. Rage Longinus Destroy' 3A

Talking about controlling your Beyblade, This next combo is a stock Rage Longinus Destroy Dash 3A. No need to control this beyblade as all you need is a launcher and Rage Longinus.

Of course, there are a ton of different ways to launch this beyblade to increase its performance, but no matter what it'll always give you a fighting chance. The Ring of this beyblade being "Rage" it is an extremely heavy Ring with two metal dragon heads on it. The Chassis which is shaped to match the layer making it have a hit stronger than ever and it driver being Destroy Dash not only has good movement around the stadium but also has enough stamina to keep you in the game for as long as possible.

2. World Spriggan Drift 2B

The next combo is World Spriggan (usually used in left-spin) Drift 2B (I personally prefer Master Diabolos Around Drift in left-spin).

With this combo If you guess correctly and end up facing an opposite spin beyblade, the chances of you out spinning your opponent are very likely, Drift is one of the best LAD drivers in the game, but no Driver is unbeatable.

Drift had a very poor performance when in same-spin and tends to run around the tornado ridge and eventually lose its stamina or self KO, but if you are able to launch it correctly, there's always a small chance you get a few points from keeping it in the middle.

1. Tempest Solomon (MCC) Wheel Xtend+ 1S

Number one would be Tempest Solomon (MCC) Wheel Xtend+ 1S, and I made this combo to get into the top eight of tournaments in an easier fashion. This combo can get you a top spot in any tournament if it is used correctly… Xtend Plus is one of the, or the best all around Drivers in the game where it has good enough LAD for opposite spin battles and great same spin capabilities, you can't go wrong using this combo in a blind pick.

Underrated: Rage Diabolos Zone'+Z 2B

In my opinion, most underrated combo was Rage Diabolos Zone- +Z 2B. This combo was always in my case but I rarely used it. This combo was good to face people that you didn't have an idea on what they were going to use. The combo gave you selection on how you wanted to play out the battle. You could either soft launch and battle it out in stamina or try to KO the other. The reason for Diabolos in the weight being in the middle gives it better LAD, Rage for a hit, 2B because it was heavy and circular, and Zone- +Z for stamina and a little movement. I feel this combo could have been more competitive if it was used more.
Blader Kei's Recommendation: World Spriggan Drift 2B
Hard to argue with this pick by Cscramon. The World Ring is capable of switching between spin directions outside of battle, and depending on the mode you've selected, if your opponent is spinning in the opposite direction you'll have an excellent chance of winning due to the Drift Driver's god tier "Life After Death" … well, it's not even really "Life After Death" because Drift just doesn't fall over!
Want to build WSp.Dr 2B? You'll need:
World, Spriggan & 2B:

Drift:
---
Shindog's Favourite Beyblade Burst Combos
5. Hollow Lucifer 2 Wheel Universe 4A

A bit unpredictable and a jack of all trades. You are never quite out of any match up with this, but you probably will never trust it entirely either.

Hollow Lucifer 2 Wheel Universe 4A

4. Infinite (Shield) Solomon (MCC) Drift 2B

In my opinion, the best defense against Rage.

Infinite (Shield) Solomon (Metal Chip Core) Drift 2B

3. Tempest Solomon (MCC) Wheel Xtend+ 1S

Combination of high same spin stamina and opposite spin LAD. Has the high weight to defend against KO attack.

2. Rage Helios 2 (MCC) Drift 3A

Combination of high attack and high LAD makes this combo so difficult to deal with.

1. Rage Helios 2 (MCC) Xtreme' 3A

The best attack in the game to date. In skilled hands, really no combo I know has an advantage against it.

Underrated: Hollow Lucifer 2 Xtreme' 2S

In my opinion one of the best right spin attackers in the game. Overshadowed by Rage and rightfully so.
Blader Kei's Recommendation: Rage Helios 2 (MCC) Xtreme' 3A
A nearly identical combo was named the top Beyblade Burst combo of 2021 in my previous article. If you have some launching skill, there's no battle you can't win with this.
Want to build MCC RHl2.X' 3A? You'll need:
Rage & 3A:

Helios 2 & Metal Chip Core:

Xtreme' (1 of the following):
---
Ardmore Bladers' Favourite Beyblade Burst Combos
5. World Diabolos Wheel Zone'+Z 1S

World Spriggan was an incredibly hyped release, as it's predecessor, Lord Spriggan, dominated Beyblade tournaments as the best overall Layer from it's release up until the release of the Sparking system, when it was power crept by Layers such as Tempest and Rage.

The Sparking Ring, World, is very smooth and round, giving it exceptional Stamina and Defensive abilities. This, combined with the well-balanced Diabolos Sparking Chip and the 1S Chassis, gives this combo exceptional opposite spin-stamina, allowing this combo to compete in stamina competitions with the most dominant Layers currently, such as Tempest and Master.

This well balanced Layer is perfectly suited to the Wheel Disk, as Wheel is also smooth and rounded, as well as weighing in at about 30 grams, which assists the combo in not only outspinning top-tier combos in both same and opposite-spin, but also aids the combo in preventing KOs from top-tier attackers such as Rage and Judgment.

The Zone'+Z Driver is a newer challenger in the stamina Driver competition, and through testing, it is shown to be able to take on dominant stamina Drivers such as Drift and Xtend Plus, both of which have been dominant in WBO competitive events. Zone'+Z functions like a metal bearing, and is shown to be able to hold up well on several different combos against top-tier stamina opponents such as Tempest and Master. In addition, this combo is also very versatile, and can switch up spin direction (albeit not in the middle of a match) to adjust to the diverse combos that it may be matched up with in a tournament. Overall, World Diabolos Wheel Zone'+Z is an incredibly versatile combo which is capable of taking on any opponent, and combined with high stamina, defense, and LAD makes this combo very effective, not only in the group stages of tournaments, but also in the deck format finals of WBO competitive tournaments as well.

4. Master Spriggan Wheel Drift

When the Master Layer Base was released in December, 2019, it instantly became one of the safest choices in both the first stage and final stage of WBO events, as well as non-WBO events around the world, due to it's high same and opposite-spin stamina, it's KO resistant shape, and it's high weight, which was significantly heavier than most other GT rings at the time.

Master is still a top-tier Layer in WBO events, with it's incredibly high opposite spin stamina and KO resistance allowing it to still go toe-to-toe with some of the best Sparking releases, such as Tempest and Rage. In addition to the significant burst resistance of the Master Layer Base, the Spriggan Chip's high, thick teeth allow the combo to tank harder hits from layer such as Judgment and Rage, as well as ensuring that the combination does not burst in a stamina battle.

The Wheel disk is one of the heaviest disks in the game currently, and the smooth, round shape allows the combo to retain stamina longer, boost it's LAD, and helps the combo to resist KOs through its massive weight. The Drift Driver has the highest opposite spin stamina in the entire Burst Driver lineup, capable of outspinning Bearing, Xtend Plus, and even newer Drivers such as Zone'+Z in opposite spin matches. Drift allows this combination to outspin almost every other combo in the game in an opposite spin matchup, allowing it to win every matchup its played in if skillfully used in deck format.

Overall, this combo provides best in-class opposite spin stamina, as well as high burst and KO defense, making it one of the safest options to play against opposite spin opponents such as Tempest or Perfect Phoenix, as well as putting up a fight against same spin layers such as World or Rage, exemplifying the the safe counter pick this combo provides in deck format finals.

3. Rage Diabolos Drift 3A

Rage Diabolos Drift 3A is a sort of jack-of-all-trades, master of none type of combo, in that it can perform well in a variety of different roles, but does not excel in any given field.

This combo is incredibly versatile, and allows the blader to switch up their playstyle according to the opposing combo. For example, you could go on the offense against Tempest and Master, but play more passively for an OS against combos such as Judgment or Rage X'. Rage 3A provides high levels of attack power to the combo, enough to KO almost any opponent it comes across, and Drift provides enough stamina to outspin what it cannot KO, making this combo very well balanced.

Drift will allow the combo to OS most stamina combos, as well as moving around enough to allow the Rage player to go on the offense, should the need arise. In addition, the Diabolos Sparking Chip weighs enough to add attack power to the combo, but is well enough balanced as to provide the combo more stamina. This allows the combo to take on just about any combo it may come across in a WBO tournament, whether it be group or deck format finals. Overall, Rage Diabolos Drift 3A is a very solid, well balanced combo, capable of taking on any opponent in a WBO tournament, and regardless of what the matchup may be, the Rage player will most likely always have a chance, as each part covers the weaknesses of the others.

2. Tempest Solomon (MCC) Wheel Xtend Plus 1S

Tempest has been the most prevalent and dominant Sparking Ring in official tournaments around the world since it's much-hyped release in August of 2020.

Tempest is the ultimate hybrid of stamina and defense, with it's fairly rounded shape combined with it's 13 grams of weight allows Tempest to not only outspin many of the higher-stamina combos in the game currently, but also allows it to shrug off all but the heaviest of attacks.

Solomon is the heaviest Sparking Chip Core available which, combined with a Metal Chip Core simply adds more weight to the combination, giving it higher stamina and making it more difficult to KO. The 1S Chassis, along with the Wheel Disk and Xtend Plus Driver give this combo best in-class same and opposite spin stamina due to the smooth, well balanced shape of 1S, the heavy weight (30 grams) of the Wheel disk, and the incredible LAD of the Xtend Plus Driver, which has dominated competitive Beyblade since its release in September, 2018. Overall, this combo is an incredibly powerful, incredibly safe choice in the first stage of competitive tournaments, and seems to be poised to stay in this position for the foreseeable future.

1. Rage Helios 2 (MCC) Xtreme' 3A

When Rage Longinus was released in August, 2020, it instantly became a dominant force in competitive tournaments, appearing in almost every podium player's deck from release to the present day.

This incredible amount of usage exemplifies the monopoly Rage has on the attack Meta in Burst, mostly due it its unprecedented usage of metal and sharp contact points, allowing Rage to outclass virtually every other attack combination in the game, including many Judgment-based attack combos which were formally the most effective attackers in Burst. This incredibly powerful Ring is supplemented with the 3A Chassis, which, similar to Rage, is both heavy and highly effective due to it's sharp and pointy design, which, combined with the Rage Ring, allows this combination to KO virtually every other combo in Burst.

The Helios 2 Sparking Chip along with the Metal Chip Core adds weight to the combo, allowing it to KO heavier combos, and the Xtreme Dash Driver, being the best attack driver in the game, gives this combo incredible speed, control, and grip on the stadium surface. Overall, Rage Helios 2 (MCC) Xtreme Dash 3A is a best in-class attacker, capable of KOing any other combination in Burst, and in the hands of a skilled player, can single handedly win a competitive tournament through entirely

KO and Burst finishes, a testament to the power of this combination.

Underrated: Naked Layer Base

I feel like the Naked Layer Base was very underrated in 2020/2021 since it was very slept on upon release due to the prominence of extremely powerful attackers, such as Judgment and Zwei.

When it was first released in Random Booster Volume 18, it was initially thought to be fairly useless, due to poor attack power, defense, and same-spin stamina, since it was a small circular base with very low weight. It was not until Naked was released in a mainstream booster (B-171 Beyblade Burst Sparking Triple Booster Set) that Naked's true potential was realized. In the modern meta, Naked provides best in class opposite-spin stamina against the likes of Tempest and World and akin to Balkesh B3, it can resist KOs as long as it gets some lucky wall-saves.

On the right combination, Naked can take on every single right-spin Layer Base/Sparking Ring and come away victorious due to its incredibly effective spin-equalizing shape. Even with its opposite-spin prowess, Naked is still highly slept-on, even today, due to its high-risk high-reward nature, but when it is given the right parts, in the right situation, it can be absolutely smothering in deck format finals when played well against high-tier right-spin stamina/defense combos.

Naked Spriggan Paradox Orbit Metal Ten from B-156 Random Booster Vol. 18 (Gold Version)
Blader Kei's Recommendation: Rage Diabolos Drift 3A
This combo is very similar to the #2 comblo of the year on the main list that I compiled. Especially if you are not comfortable with the harder to control Xtreme Dash Driver, using a combo like this with Rage on Drift is in my opinion the next best thing … it can KO what it can't outspin and outspin what it can't KO in most scenarios. Enough said.
(Also, I totally agree with Ardmore Bladers selection of the Naked Layer Base for his underrated combo/part! I talked a bit about it in this comment on my previous article.)
Want to build RDb.Dr 3A? You'll need:
Rage & 3A:

Diabolos (1 of the following):

Drift:
---
Blader Kei's Favourite Beyblade Burst Combos
5. Infinite (Sword) Lucifer 2 (MCC) Evolution' 1A
If your Evolution Dash Driver is awakened/worn down, this combo can be a nice counter to other Xtreme' or right-spin Drift combos due to its extreme speed, while still giving you the potential to KO or Burst right-spin combos like the Tempest Ring on Xtend+.
This combo takes some confidence to use, but the Infinite Ring is quite balanced, so it is able to effectively circle the stadium ridge without skipping it.
4. World Diabolos Paradox Rise 1S
For this combo, I will point you towards the thorough explanation I gave in my World Spriggan review here.
Before deciding to include this on my list, I spent some time researching and testing the Rise 2D variant some more. My feeling is still that the Rise 2D variant is slightly worse in terms of opposite spin performance, but it does prevent self-KOing a bit more when you need to play this combo aggressively. Virtuous Circle provided a nice explanation of Rise 2D and how it is used here on the WBO.
Ultimately, which variant you use will come down to preference and situation but regardless … the main thing I want to reiterate here is that the Rise Driver in particular has been severely underrated by western Beyblade players for a long time. If you can, try wearing it down and experimenting with it.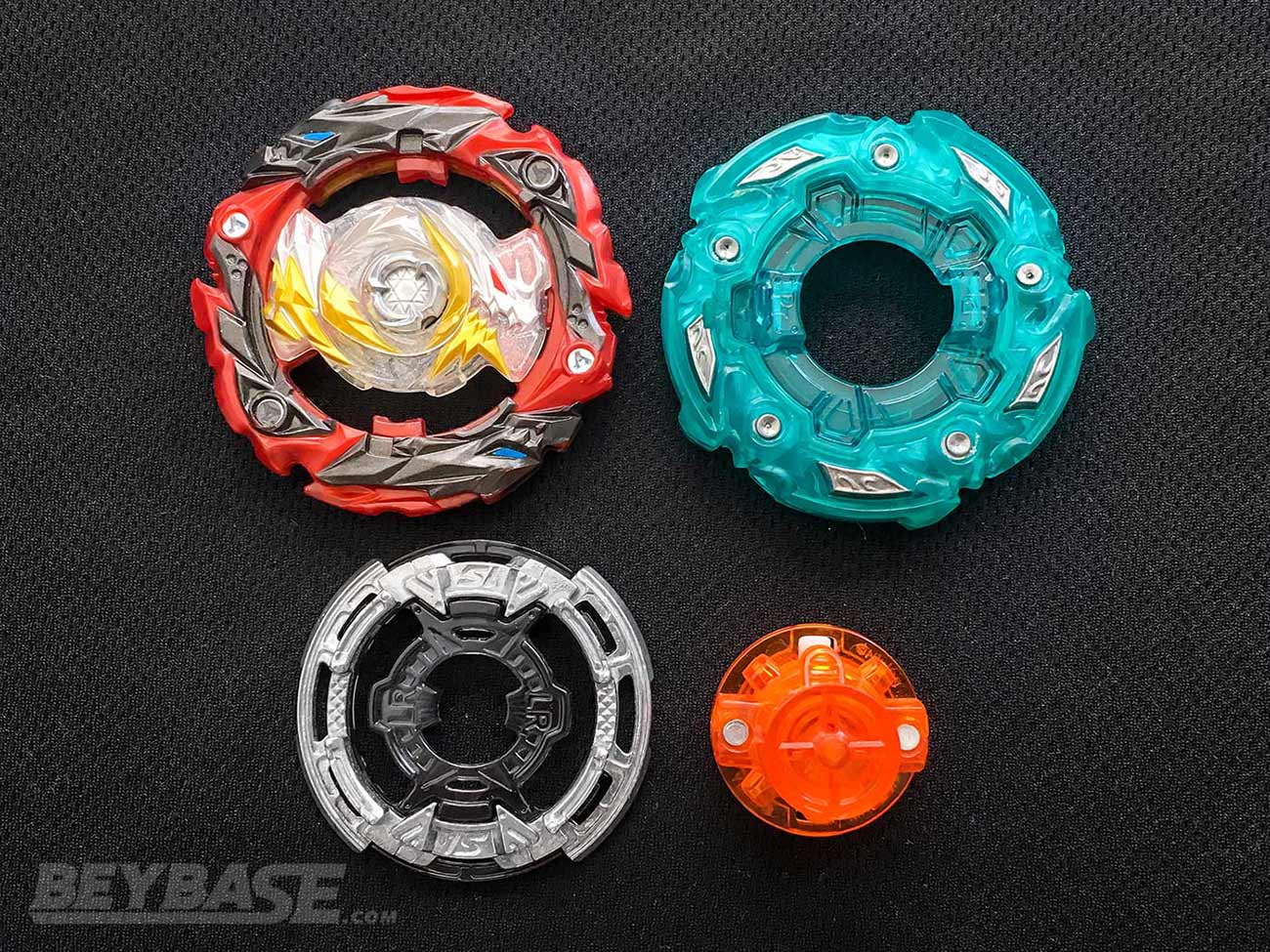 3. Tempest Solomon (MCC) Wheel Xtend+ 1S
High same/opposite spin stamina, defense, and ease of use combined to make this combo the MVP of the year for most players, especially before the release of the Zone'+Z and Drift Drivers.
2. Rage Helios (MCC) Drift 3A
The fact that this combo can outspin MCC TSl.Wh.Xt+ 1S is what puts it over top for me. It has weaknesses as I described earlier in this article, but all of the parts on this combo are just so powerful that you have the opportunity to win almost any match with this combo.
And as a side note if you were wondering: I chose to use Helios Sparking Chip with the Metal Chip Core over something like Helios 2 (MCC) here to try and centralize its weight a bit more to discourage movement; the Drift Driver moves a bit too much for its own good when launched with any amount of power. However, admittedly, I think the effect of this change is difficult to measure.
1. Rage Helios 2 Xceed'+Z 3A
I talked about a similar combo to this in my Limit Break DX Set review. Scroll down a bit after clicking that link to see my explanation.
I will admit that at this point I am still debating whether the Xceed'+Z Driver or Xtreme Dash Driver is the best Driver for this combo.
When I first put this combo together it felt a bit like the new age version of the Xtreme Dash version of this combo; it felt like the additional opposite spin performance of Xceed'+Z was necessary to compete in the modern Beyblade metagame.
This combo can't stand up against the top of the top tier opposite spin Drivers, but the opposite spin benefits of Xceed'+Z are worth considering as they can be beneficial in some situations against opposite spin opponents using Drivers like Atomic or Destroy' with lower tier opposite spin performance. It gives you a secondary win condition if you're not able to KO them.
That is the sort of quality that can make a combo truly scary to play against; being able to KO anything it can't outspin and outspin anything it can't KO.
One of the other reasons I liked Xc'+Z over X' was because I found more success KOing opposite spin Drift combos initially with it. Lately X' has done well for me too, so it could just be up to your launch technique … either way, Rage Helios 2 3A with either of these Drivers is very clearly to me the strongest combo in the game right now when in the right hands.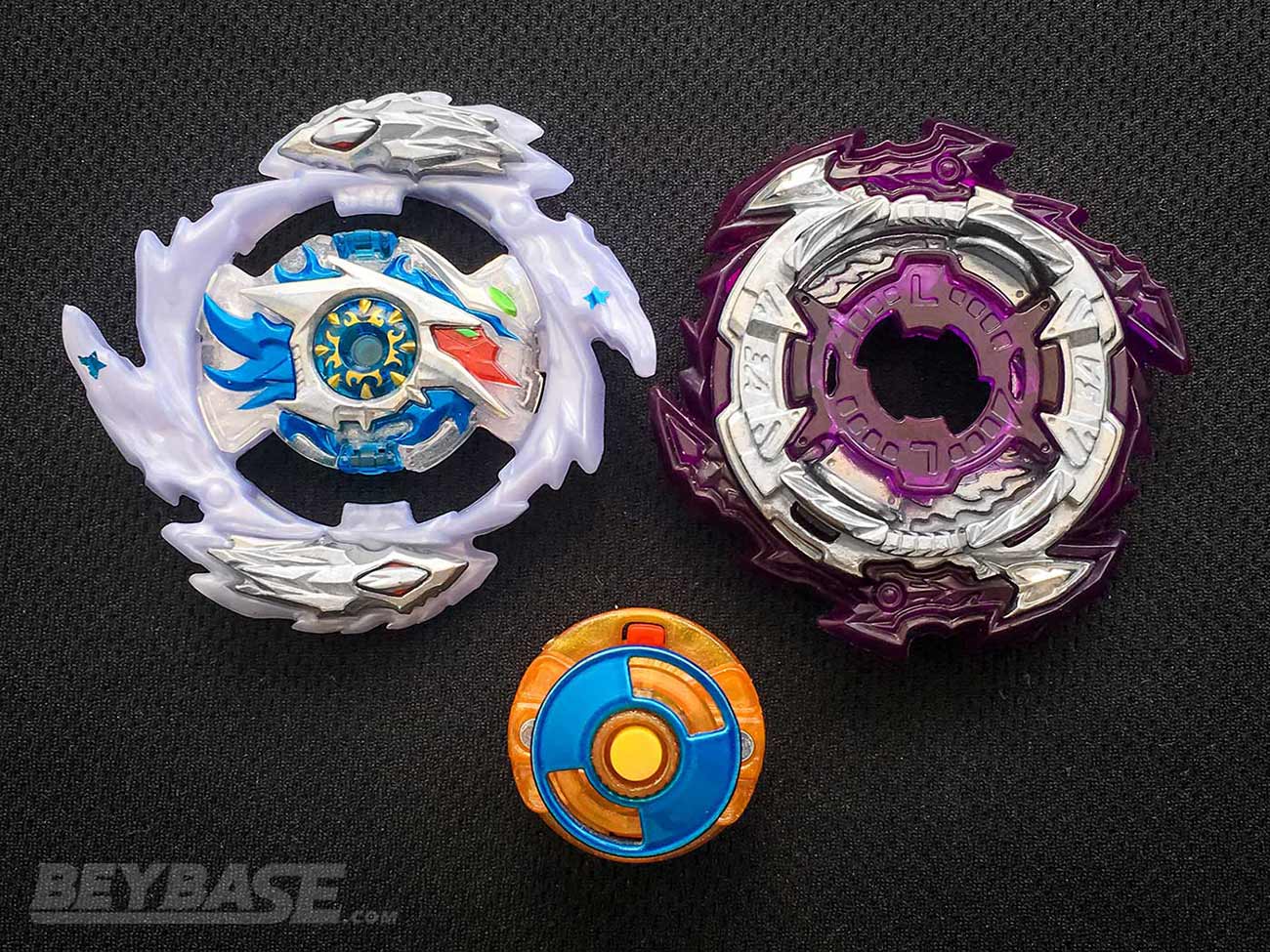 Underrated: Tempest Solomon (Metal Chip Core) Wheel Atomic 1S
Similar to froztz's underrated combo, the same-spin stamina of Tempest Solomon (Metal Chip Core) Wheel Atomic 1S can be used to catch many unsuspecting Xtend+ users off guard.
Thanks to the Atomic Driver, this combo can destabilize opposing same-spin Xtend+ combos and outspin them. The movement of Atomic also gives you a chance against some attack types where you have the option to launch lightly to stay closer to the center or harder to try and KO them.
Blader Kei's Recommendation: Tempest Solomon (MCC) Wheel Xtend+ 1S
Along with stock B-168 Rage Longinus Destroy Dash 3A, this combo is probably one of the most friendly to new players who want to use something competitive. I view this combo as arguably the poster child of 2020. Great same and opposite spin stamina, high defense, and easy to use.
Try using and mastering the nuances of combos like this before taking a step forward to use combos that use parts like the Atomic Driver or Xtreme Dash Driver, which require a bit more practice with to fully understand and succeed with.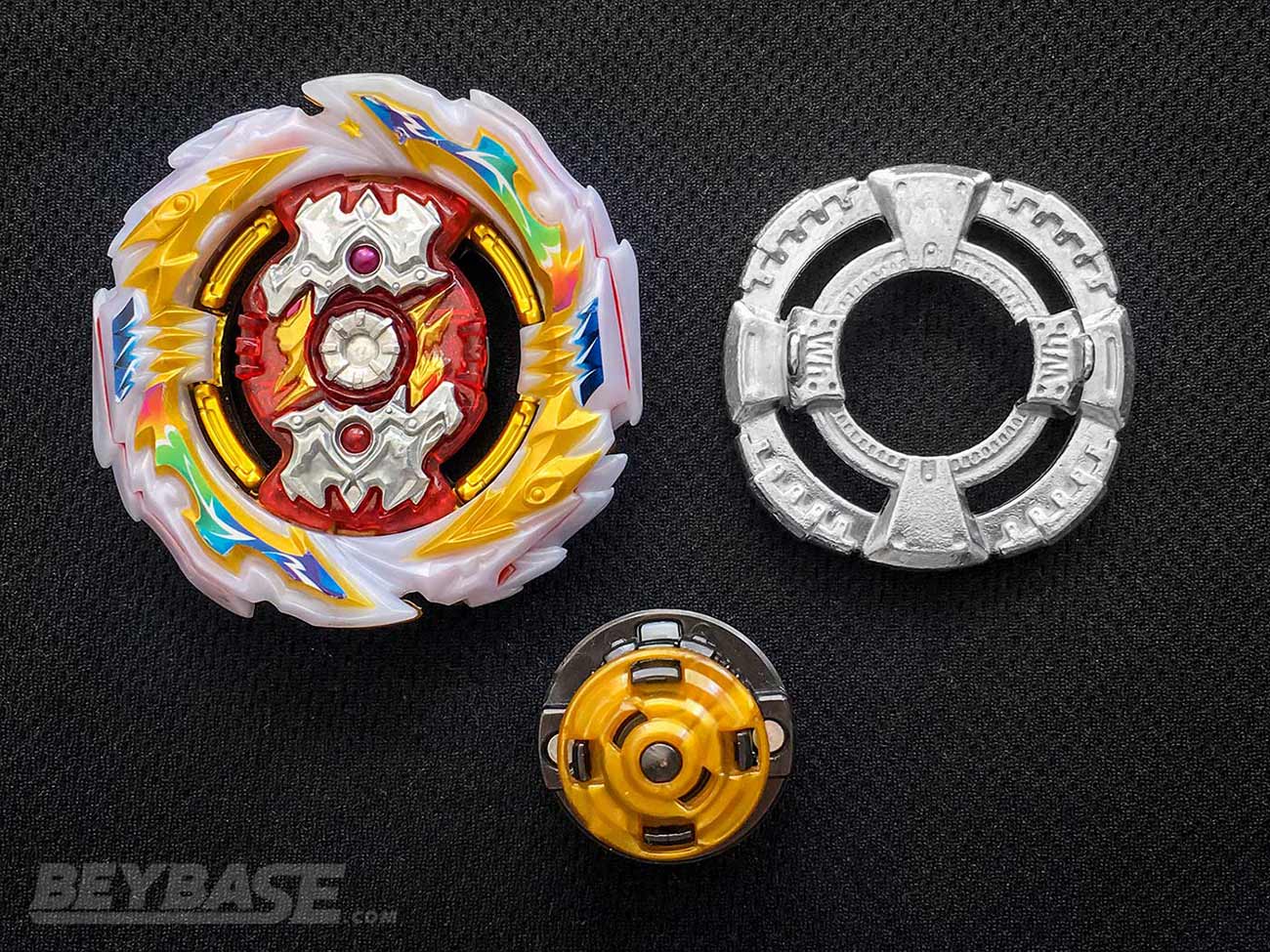 Want to build MCC TSl.Wh.Xt+ 1S? You'll need:
Tempest:

Solomon:

Metal Chip Core:

Wheel & 1S:

Xtend+: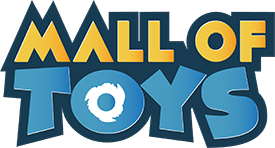 Sponsored: Order the
newest Beyblades

at malloftoys.com!
---
Heads up: If you buy something through Mall of Toys, you won't pay any extra, but I'll get a small commission. This helps me keep things running. Thanks for your support!
---
Thanks To
Thank you to everyone who helped contribute to this article! Check them out:
---
What are your favourite Beyblade Burst combos? Comment below!
This article should really be viewed as a starting point for your own exploration. There are countless variations each of which carry their own unique benefits depending on the rules you play with, the situation you find yourself in, the mold of certain parts that you have, your own confidence, and the skills you have developed as a player.
If you enjoyed reading this article, please also feel free to share it with any of your friends who are into playing Beyblade competitively.
BeyBase "Best Beyblade Burst Combos" Article Series